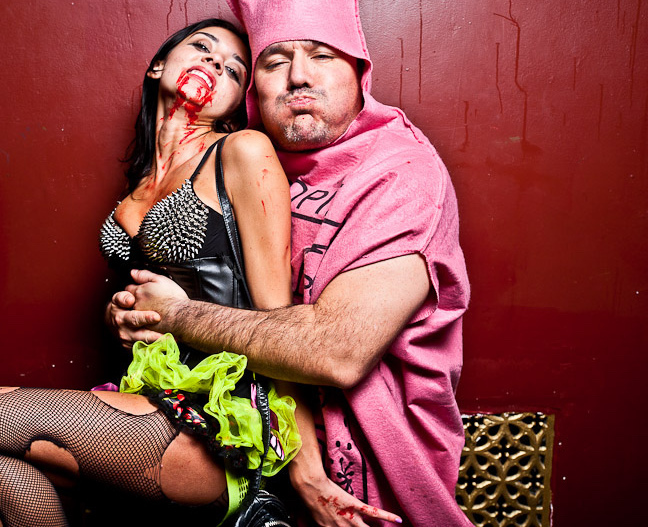 "Sex is kicking death in the ass while singing." ~ Charles Bukowski
.
There is just something about a holiday that encourages us to dress up and act out our deepest sexual desires.
Halloween was great as a child—the trick or treating and the mountains of candy accumulated while our cheeks became rosy with the chilly autumn air.
But there's something truly arousing about celebrating Halloween as an adult—the night when we can be anyone, and when we can indulge our alter egos by acting out our inner fantasies.
There's something freeing about being able to play dress up as an adult and express ourselves sexually, but the costumes we choose also say something about what our personal sex style is.
Are you a dominatrix? Seductress? Innocent submissive?
Read on to find out—and may you all have a little treat with whatever tricks you play this Halloween.
Catwoman
A bad-ass with just a little bit of temptation; she is just as likely to pounce on you, biting your neck, making your knees weak, as she is to softly purr in your ear. She knows she's a lot to handle but she embraces every aspect of herself. She is the ultimate femme fatale, equally attracting and antagonizing the men in her life. She doesn't usually take no for an answer, and is usually the one quietly planning on how it is she can get exactly what she wants. She's frisky in the bedroom, usually preferring to be on top or against the wall—the one guarantee with Catwoman in your bed is that you will never be bored.
Nurse
She is sweet enough to give you a toothache and naughty enough to excite your deepest desires. She likes to take care of her lovers, be attentive to them and tending to their every desire and fantasy. She's not old-fashioned but simply knows that it's okay to play up her feminine qualities. She likes to have sex in different places other than the bedroom—the bathroom at a friend's house, the backroom of the club, or that quiet park at night. She is quiet but that doesn't mean she won't make some noise once she is in the act—she's so good it hurts.
Pirate
Are you ready to have your heart stolen? Because that is precisely what these dastardly dames enjoy doing the most. She is ruthless and passionate, sexy and seductive. There isn't any man alive who can resist her treasures. She likes to be taken though, not because she is submissive, but because she needs a man who is just as strong as she is. As a pirate she likes to be picked up and have her legs wrapped around your waist, setting her down on top of the counter or nearest surface—anywhere. Because this damsel doesn't like to have to wait for what it is she wants, and she will be just as ruthless with you.
Maleficent
The ultimate bad girl; she delights in making up her own rules and hates being bored with her lover. She won't use witchery in seducing a man but he still may feel as if he is under a spell in her atmosphere. This ultimate queen likes to take the long road to pleasure, so there are no quickies in her repertoire. She revels in being able to turn on every aspect of a man and his psyche, to her it's not just about getting him off but how he gets off that makes her one of the most creative lovers. And though she may be bad, there is something about her that is just oh, so good too.
Princess Leia
The ultimate male fantasy comes to life—the sweet girl next door. What Han Solo hasn't wanted his very own Princess Leia? She is a classic beauty and enjoys the traditional aspects of sex—just don't be surprised if she asks to turn the lights off. She is still tender and learning how to harness her sexual energy, so you shouldn't expect sex to get too kinky and wild. Yet, even in the missionary position there is still something about a woman who makes you feel special just by her choosing you—all she asks if that you chose her too.
Wonder Woman
This name says it all because she does it all. She will save you, but only after having made you go crazy in the first place. She will want it in the morning and again at lunch time, but only if it serves her schedule. She likes to be in control, and expects her lover to let her play that role. She doesn't like to fight someone for the position of lead superhero, and will want her man to let her be his savior—if only in the bedroom. She likes to be needed, and to call the shots. If you want a woman who can tell you exactly how to please her the most and precisely where she wants to touch you then look no further.
Witch
Just because she may do things that are expected doesn't mean that she won't be able to surprise you. She likes dressing up as a witch because the truth is—she is one. She's in touch with herself and her divine feminine energy. She knows what she has and exactly how to use it to her advantage. She's powerful, but centered; balanced but sexy. She will be the one using hot oils or Tantra during sex. She enjoys the earthly pleasures that sex brings, and expects that her lover will as well. She likes an equal amount of power and submissiveness during sex and appreciates the touch of an attentive lover—because the one thing for sure is that she just always will feel like magic.
Pocahontas
She is the ultimate earth mother, but don't think that means she won't be able to arouse your deepest desires. She is simple, yet complex and while she may enjoy that expensive candlelit dinner she also appreciates that mountain hike on a warm fall afternoon more. She feels at home in nature, and with her own rawness and sensuality. She won't be the one all dolled up in makeup or lotions, but instead will smell like sweet bergamot and cinnamon.
She'll seem ethereal at times and aloof at others. It's not that she's disinterested, but sometimes some women are like the seasons and she may just be seeing if you can handle her winter so she knows if you really deserve her summer. She will be the enchantress during sex and will delight you with her open sensuality. She will seem to kiss you deeper than anyone else ever has—just by meeting you in your wild and delighting in the man you naturally are.
~
Author: Kate Rose
Image: Flickr/Banditob (photo cropped)
Editor: Travis May