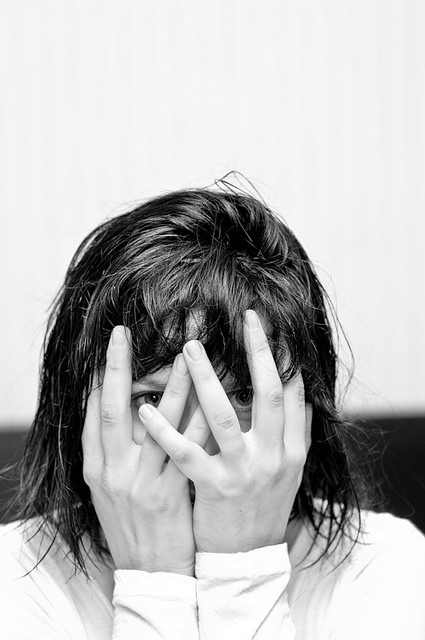 "When you hold up your light, people gather." 
I was at a conference in Chicago when these words were spoken by an accomplished author. Speaking from his own experience, he urged us to tell our stories. To stand in our truths. To own everything that happened to us, and share it with the world.
It was exhilarating, inspiring, and utterly terrifying—and exactly why I had gone to hear him speak.
I wrote the words on the front cover of the shiny new legal pad I had brought to fill with wisdom from the weekend. I was there to learn how to write a book proposal. I left with so much more than that. Those simple words—his icebreaker for a two-hour talk—helped me begin to see the value of what I dreamed of doing with my life.
I am a memoir and creative non-fiction writer. In the beginning, just calling myself a "writer" was a huge deal. I started a blog with stories based on real people and events from my crazy family about eight years ago. Some people think it's genius. Others have told me that it's the stupidest thing I've ever done. People get a little itchy when you start writing about things they would rather ignore, conceal, or leave behind in blissful denial.
I left Chicago knowing that I had found my life purpose.
I knew that I was given this story and the desire to tell it for a reason. I was ready to start sharing myself—all of me—with the world, in hopes that it would help and inspire others. I could never have imagined how powerful this would be.
I decided to start with writing about the sexual abuse from my childhood. I wrote an open letter to my abuser, in which I listed all the things he took from me when he touched my three year old little body. I explained the impact the abuse had on my life, my family, and my relationships with men. It was the most difficult thing I had ever written—I employed what I call "the Hemingway method"—I drank a bottle of wine to help me get to that raw, real, uninhibited place to share as deeply as I could.
This process brought back the shame I had faced so many times as a survivor of sexual abuse. It was the single most destructive force in my life. It made me feel completely worthless. I was convinced that I was damaged beyond repair. That no one could ever love me, or desire my body. I spent my whole life believing that I had an inherent flaw, and I was abused because I deserved it. Just verbalizing and sharing these parts of myself brought tremendous healing.
Next, people near and dear to me surrounded me with love. They told me how brave I was for talking about the sexual abuse I had endured. Friends, neighbors, and family members reached out in support. The response was overwhelming.
Then, people I didn't know began reaching out. Sometimes, they wanted to thank me for sharing a piece of myself with them. Many times, they shared their own stories with me. I was absolutely blown away. Perfect strangers were reaching out to tell me that they, too had been abused in their early childhood. They, too had lost years of memories because of the trauma they suffered at the hands of another. They, too had rocky familial relationships because of the secrets they carried to protect the ones who harmed them.
This process was heartbreaking at times, but also the most rewarding part of my writing career—and still my favorite part of what I do. I am deeply honored to share this experience with other survivors, and always grateful to know that my story is resonating with people in the world. It's quite humbling to think that lives are changed because of something I shared—that message has come to me time and time again from wonderful, brave, beautiful souls who have taken time to connect with me.
The next thing that happened is so amazing I can hardly believe it. People around me started writing. Watching me share my experiences and thoughts had inspired them to do the same. One by one, my friends started reaching out to me with their desire to step into their own truth, and share their stories with the world. They started blogs of their own, some even started submitting work right here on Elephant Journal. When I think about the impact we can all make sharing this way, my heart could pretty much explode with gratitude. To think for a second that I inspired this movement in my circle just makes me cry great big joyful tears.
I didn't fully understand what Mike Dooley meant the day he said those amazing words. I thought that gathering the people meant that they would show up to hear what I had to say. But, it was so much more than that.
When we hold up our light we create a safe space for others to do the same. Our vulnerability encourages others to open doors within themselves that were closed for their own protection. When we share our naked souls with the world, we show everyone around us what it is to be brave, and real, and free.
Holding up my light showed me that it is safe to embrace my darkness.
My past has no power over me now. Exposing my deepest shame allowed my scars to heal, and has brought hope and healing to others who have suffered the same abuse in their lives. My story has helped others navigate their own wounds, and inspired many to stand with me and bare their beautiful, perfect souls.
My light is amplified each time another person shares their story. Holding up my light didn't just gather people. Holding up my light gave others permission to shine. Together, we can illuminate the stigma of sexual abuse, and help others release the years of pain and shame associated with it.
Together, we can bring healing to the world, one story at a time.
Author: Renée Dubeau
Image: Global Panorama/Flickr 
Editor: Renée Picard