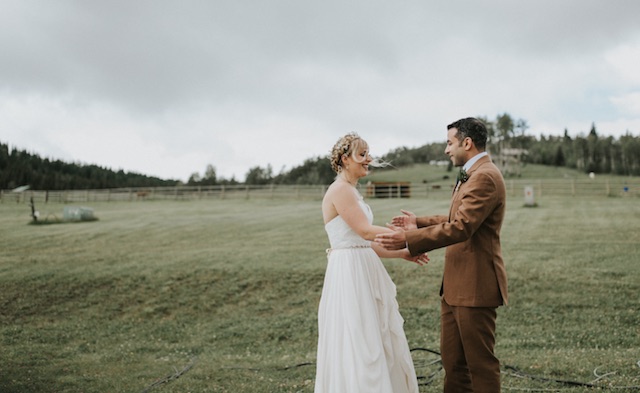 Within four months, my husband and I have overcome some major obstacles and experienced huge milestones in our lives.
In fact, I am writing this from my favourite café in Seattle, Storyville, home to the delicious cashew coconut latte, sitting across from my husband as he gestures and speaks (ever so loudly, might I add) his way through a conference call.
Here we sit, both dressed in our own version of office wear. He glances at me and nods, as my eyes suggest that it's nearing time for our lunch break. Where we'll have lunch and how long we'll take (and if it might include an alcoholic beverage) is undecided. What we do know is that today we are enjoying the nostalgic grey fall skies of Seattle together from the comforts of one of our favourite cafés.
And in this moment, that is all that matters.
Rewind six months and we were saying goodnight to each other from the distant space of my father's hotel apartment in Dubai. We were unmarried, unsure of where we would end up, what jobs we'd be doing and slightly squished in the small serviced apartment space.
Rewind one year and we were cuddling from the warmth of our bed in our high rise apartment in Business Bay, Dubai (neighbour to the infamous Burj Khalifa). It was at that time, one year ago, that we had conversations of where we would be and what we would be doing. I spoke of my dreams to run my own business and do my thing, and my husband envisioned a life where he was working from a space of inspiration, in a small tech-driven team that he felt empowered and supported by.
I'll never forget the morning that we ventured out to the running track outside our apartment building to get in our morning workout together. At the end of the laps, pushups, squats and whatever else he had me doing (he's cross-fit-savvy), we walked toward our front door and something came out:
"Chloe, we need to make a decision on where we are going to live!"
"Faris, I can't just say a city and it happens. There is a lot that goes along with these changes…your job, my job, money, a green card, our wedding, family, a home…"
"Tell me where we are going to go!" He demanded.
To be honest, it all seemed impossible at that time. I couldn't understand how we could still be intact if so much change were to take place. I feared the strength of our relationship. Could it endure all of these life changes and withstand some of the best-known stressors of our world?
I grew up in a family surrounded with travel, change, hellos, goodbyes, and flexibility. My dad was always traveling and we got used to the global travel "third culture kid" life. I remember times, as a girl, when I would send out a prayer that my life wouldn't be like it was. That I would meet someone, find a home and not have to say goodbye to my loved ones ever again.
It's funny how we spend so much of our lives wishing to not turn out like our parents. As we age, we see more of our parents pop up in our characteristics and mannerisms, and we cringe. The thing is, we are a part of our parents; we're connected. The more we resist these patterns and profiles, the stronger and more apparent they will become. As the saying goes, the greater we resist, the more it exists. It's like anything in life; we always have the opportunity to approach these things as gifts and offerings of love that we welcome into our life as an opportunity to learn or grow—or we can resist them, and unconsciously give away our power.
At some level, we do operate control in our life decisions. The choices we make impact how our life is going to go.
I do believe, however, that there is a divine path for each of us. There is a direction that calls our heart, and has been decided by a universal power in a time beyond our knowing. It is that path which calls our hearts deeply and speaks to our souls innately. It is that call we must answer. And when we find ourselves on a path that intertwines with another, we are offered the opportunity to learn more about ourselves (our true selves) than we ever had before.
So why did I mention my life, as it is now?
As I sit here, in my favourite Seattle café, facing my husband, I breathe it in and realise the divine. It is not everyday that you align yourself with another human being, and together create a future you'd only dreamt of. This is where celebration comes in. Here we are, married, I run my own business, he just got offered a job of his dreams—and we are just in it. And guess what? We struggle at taking a moment to celebrate.
When I explore this, I know that our lack of celebration comes from a self-love and self-worth belief. Somewhere, deep beyond our consciousness, we share a belief that we, as individuals, are not good enough. Somewhere, deep beyond the conscious layer, lie two children who learnt to search for worth externally. To be seen. To be recognised. So, despite the fact that we have actively taken part in creating our dreams, we are still too focused on filling that purpose even more than we already have that we don't even see what is here, now.
The thing about realisations and moments of insight is that they are a gift. They offer a small pathway to your higher self, a deeper knowing of what is fundamental. And when you can come to that sense of knowing together, in your relationship, a collective shift just might take place.
There is no such thing as a perfect relationship, and the best of these imperfect relationships (in my opinion) are the ones that are built on authenticity, honesty, compassion and humility. So we've forgotten to celebrate these moments and we became too engulfed in our visions for getting through these times of stress and challenge. That's okay. The most perfect part of awareness is that once we have it we can move forward with it, and let the resistance go.
This is why celebration is so important—because it offers us a moment to notice where we're at, who we are and where we've come from. Celebration is like meditation, it allows space to be present. When we fall into flow sometimes we forget to look up and see what is around us. In the literal sense, I can see that my husband is so in the flow that he could just skip lunch and leave me hanging. Although this might be great for work (and our minds), our bodies and souls require a little more TLC.
So what is here for you now that you haven't celebrated?
A celebration can be anything: a moment of insight; an actual party; a gift of love; a toast of recognition; an expression of gratitude. My point is, celebration is fundamental to creating a life of purpose. Recognise when you have fulfilled your dreams. Appreciate when the universe has aligned with you to bring you to a place you envisioned. Notice the miracles that come into your life as reminders that you are on your divine path or purpose.
And now, I'm going to head to lunch and celebrate this insight, this moment and the gift of being here, at my favourite café, in one of our favourites cities, with my new husband.
Author: Chloe Elgar
Image: The Apartment Photography (used with permission)
Editor: Emily Bartran