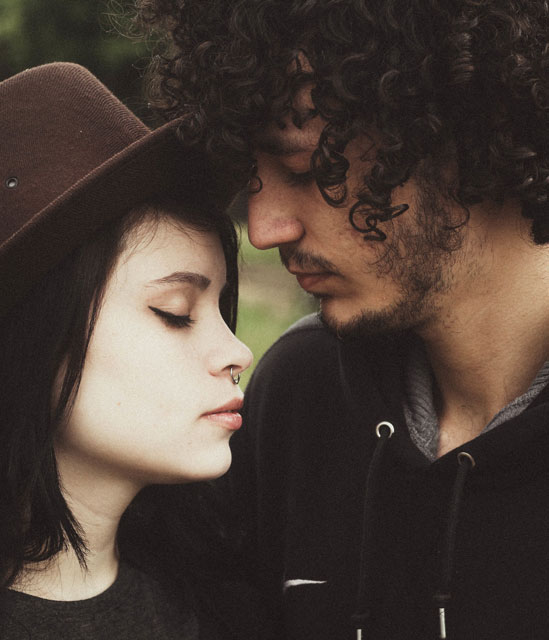 "Love is not warm and fuzzy or sweet and sticky. Real love is tough as nails. It's having your heart ripped out, putting it back together, and the next day offering it back to the same world that just tore it up." ~ Glennon Doyle Melton
~
Don't fall for my bullsh*t line when I tell you that I just can't find a good guy.
It's a lie I allow to fall from my lips to cover up the fact that I've found many.
So many good guys out there have found their way up the chipped, concrete stairs leading to the somewhat splintered wooden door of my patched-up heart.
They've bravely knocked and asked to come in, undeterred by the non-existence of a cheery welcome mat out front or the fact that I like to keep the door tightly locked because I'm still afraid someone might find their way in.
I like to playfully joke with a twinkle in my eye, "There's no point in coming in here, boys, because I know you're going to leave anyway!" I breathe it out with a light-hearted laugh, the wave of my hand a last ditch effort to convince them it's totally okay with me because I wouldn't really want them to stay too long anyway.
I may even tell you that I don't allow them in because, just by sizing them up with my guarded hazel eyes, I can tell that they wouldn't rock my world—and I'm a strong and independent woman who knows what I'm looking for so I'm not gonna settle for any ol' love.
Nope, not me…I won't settle for anything less than a total shake up of my world.
This is a lie. You know that right?

The truth is, I'm not at all afraid that these men won't rock my world. In fact, I'm fairly certain I let a few go who most certainly would have shaken the boots off my trembling legs.
The truth is, I'm afraid that I won't rock theirs.
And I don't want a man to settle for me when I can't rock their world.
I think we all deserve a love like this. One that leaves us sleepless when we lay in bed at night thinking about that person—the one who leaves us breathless, our heart excitedly pounding in our chest when we watch them walking toward us, anticipating the feel of their lips meeting ours. One who stokes our sexual fire and creates a deep and penetrating longing in our bellies counting the hours until the next time we can make love.
We often settle for much less. We settle for sleepless nights because the one we're with hasn't returned our calls or texted us back and we're wondering where they are or who they're with.
We can't catch our breath because we're filled with anxiety that we may not be the only one in their life, but we're too afraid to ask.
We feel that sexual fire within us, but the longing in our bellies is because our sexual needs are not being met and we're too scared to ask for what we want or express what we need.
We deserve a love better than this.
One that leaves us wanting more of the person, not because they aren't enough, but because being in their presence makes us feel so damn good, we want that feeling every second we can have it.
And if we know we can't give someone the very same experience, we need to walk away. Until we know we can.
So don't settle for any old love that's in your life now and not making you happy. And don't allow yourself to be led into one if you know you're just not ready.
Wait. Just wait.
Be patient and listen to your soul—the part of you that knows with absolutely certainty that this love has potential. That this love is the kind that is going to shake you up, tear you open and rock your world.
Then hold on for the ride of your life.
~
Author: Dina Strada
Image: Allef V./Unsplash
Editor: Catherine Monkman