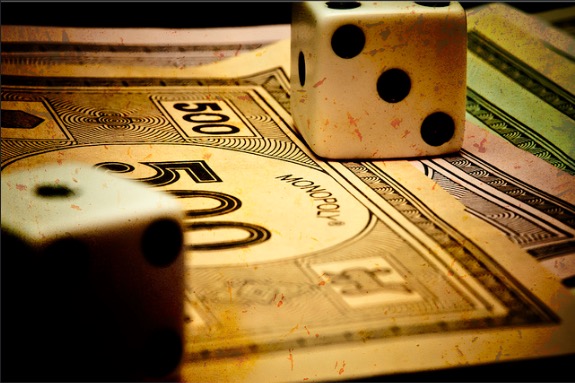 If you want to take action right now to resist our new president and the distorted economic system that perpetuates inequality, then move your money from a bank to a credit union.
Why a credit union versus a bank?
Revisiting the banking headlines over the last decade quickly reveals a clear picture of the wreckage big banks have created in American lives. Banks have failed the American people throughout history and credit unions are an ethical alternative to a bank, if you seek to put your money where your values lie.
Banks continuously fail America and its workers: from the unethical practices of Wall Street to the bundling of mortgages and derivatives trading depicted in the film The Big Short, to the most recent scandals related to Wells Fargo's unethical and potentially illegal practices.
If Americans are seeking another way to resist and rebel against the "elite," then they should move their money out of a bank and to a local credit union.
Here's why.
The evolution of credit union philosophy spans nearly 150 years. It's a story that began in the middle of 19th Century Europe as it was emerging from a long history of feudal relations and tyrannical rule that created poor economic conditions for the masses. At the time, people began to realize that trusting banks controlled by aristocratic elites with ties to tyrants and monarchs, was likely to leave them as destitute as the feudal peasants who had been plowing the fields for centuries.
What led to this revolution in thinking?
It was classical liberalism, the same philosophy that led to the American Revolution, the U.S. Constitution and the Declaration of Independence. The democratic ideals articulated by classical liberal philosophers in the 17th Century, like John Locke and Thomas Hobbes, began to be increasingly institutionalized by the 1800s, including the credit union movement that we know today.
As classical liberal ideology increasingly took hold in Europe and America, folks woke up to the idea of taking individual responsibility to ensure their own wellbeing. In short, they realized that tyrants and monarchs weren't going to do it for them. In 1852 and 1864, Herman Schulze-Delitzsch and Friedrich Raiffesen, took action to put Locke and Hobbes' democratic ideals of shared decision-making, emancipation, liberty and equality into practice through the creation of financial cooperatives in Germany. [1]
Schulze-Delitzsch and Raiffesen's idea was simple: to create financial cooperatives that would allow individuals to pool their finances and loan each other money as needed. By pooling their resources individuals would be able to maximize their interests as a collective whole by increasing their access to capital, individual social and economic gains and, therefore, leveraging their individual capacity, while increasing the capacity of all those participating in a financial cooperative.
The two fathers of credit union philosophy, Schulze-Delitzsch and Raiffesen, believed in democratic governance and participatory decision-making as a necessary and fundamental component of financial cooperatives. Their commitment to these ideals led them to create financial cooperatives for the purpose of protecting people's livelihoods, while offering greater economic security. Both believed that human emancipation and equality were more likely to be achieved by empowering individuals to work toward their common interests through financial cooperatives rather than turning it over to outside institutions to manage their affairs.
Schulze-Delitzsch and Raiffesen's ideas were based upon a deep moral conviction that people ought to be able to participate in decisions that work toward their collective financial and social interests. They also believed that people ought to have financial access to capital markets through credit cooperatives. In order to make these values a reality, they established an institutional mechanism to achieve these objectives.
Today, these institutions are known as credit unions, which the National Credit Union Association defines as "unique depository institutions created, not for profit, but to serve members as credit cooperatives."
In practice, credit union philosophy has always been rooted in the cooperative ideal of mutual self-help for the improvement of one's economic and social condition. Deep within the heart of the movement are the values of cooperation, character, integrity, social responsibility and community.
The success of these ideals is apparent in the fact that it took a little less than 50 years for the concept of financial cooperatives to spread to Canada and the United States. In the early 1900s, Alphonse Desjardins established the first credit union in Levis, Quebec. Soon after, he began supporting their establishment in the United States.
Like Raiffesen and Schulze-Delitzsch, Desjardins believed "that more by far can be achieved by working together for common objectives than in isolation from one another." The ethos was captured in Dumas' historical novel, The Three Musketeers. [2] Their motto was: One for all and all for one.
These same ideas were independently embraced by Edward Filene in the U.S., the pioneer of credit union philosophy in America. Filene had just completed a trip around the world and saw how financial cooperatives had been set up in India, which was British Colonial territory at the time.
Upon returning to the U.S. he advocated the ideas and principles of the early credit union movement and began to set up financial cooperatives. Eventually his work led to the Massachusetts Credit Union Act of 1909: the model for the Federal Credit Union Act of 1934, which was an outcome of the Great Depression.
Filene was the strongest proponent and advocate of the credit union movement in the U.S. in the early 1900s. He felt an obligation to employ his resources in "work that will prevent the social and political and economic wounding and killing of great groups of our citizens [and it was] good government, world peace, and enlightened [social] capitalism" that would underpin credit union philosophy for Filene. [3]
Filene's basic philosophy was clearly articulated in a speech to the Ohio Credit Union League in 1936 where he stated that "human society would be impossible without credit—without faith, without belief in human organization and reliance upon human responsibility." [4] He saw the credit union movement "as a way to put power into the hands of working people through low-cost credit" so that they could take individual responsibility for themselves. [5]
Later, Filene worked with Roy F. Bergengren to take the movement nationwide. Bergengren felt that it was his duty "to launch the movement as a nationwide social and economic force for the betterment of mankind." [6]
Empowerment was a critical concept to Filene and Bergengren and it became the leitmotif of the evolution of credit union philosophy; a philosophy that remains as important today as it did during Filene and Desjardins' time.
The proliferation of the values and ideals set out by Schulze-Delitzsch and Raiffesen and carried forth by the Desjardins, Filene and many others are put into practice in a vast variety of ways in the hundreds of institutions that represent the credit union movement today.
However, according to the National Credit Union Association, they're quickly dying. Between 2005 and 2015 credit unions declined by 40 percent, and in 2014 alone, 546 institutions closed as Americans increasingly handed over their finances to the same big banks that contributed to the Great Recession. By choosing to place your capital with a credit union, you're not only rejecting the practices of big banks, like Wells Fargo, you're also making a more ethical choice that supports people and small businesses in your community.
George Bernard Shaw captured the credit union movement's ethos nicely when he said, "I am of the opinion that my life belongs to the whole community and, as long as I live, it is my privilege to do for it whatever I can." [7]
To this day, the credit union movement still stands on Shaw's ethos, but its future success relies on us too: individuals who are willing to engage in co-operative forms of social relationships to create conditions that foster social capital while allowing us to achieve our individual and collective economic interests.
The motto of the credit union movement, "Not for Profit, Not for Charity, But for Service" is as true today as it was 150 years ago. And, if we wish to be of service today, while resisting 21st Century plutocrats and tyrants, all of us should move our money from a bank to a credit union to keep the movement alive, while resisting a resurgence of autocratic and oppressive regimes often tied to big banks.
If you're in the United States, you can find a credit union near you by visiting the Credit Union Locator.
Once you've found a credit union you're interested in learning more about, research a Credit Union here.
The National Credit Union Association (NCUA) has great information available on its website for those seeking to transition from a bank to a credit union.
References: 
[1] Credit Union World, Celebrate the Difference, Volume 1, Issue 3, Pg 1, October 1999, http://www.woccu.org/pubs/cu_world/article.php?article_id=240
[2] Mathews, Race; Understanding Mutualism: The Desjardins and Mondragon Experiences, Arena Magazine, Pg 1, April 1, 2001.
[3] Brann, E.R., You and Credit Union History, CUNA International, Pg. 26, 1970.
[4] Filene, Edward A.; Industrial Evolution and the American Credit Union Movement: An address by Edward A. Filene at the Luncheon Meeting of the Ohio Credit Union League, Columbus, Ohio, October 10, 1936, Credit Union National Association Archives, Pg. 1, 1997 reprint
[5] SYMITAR, About Credit Unions, Pg. 1, 2003
[6] Brann, E.R., You and Credit Union History, CUNA International, Pg. 26, 1970
[7] Credit Union Executives Society: Credit Union Management, Reaching Out, Pg. 1, Volume 25, No. 11, November, 2002.
~
Author: Matthew Wilburn King
Image: flickr/Jason Devaun
Editor: Ashleigh Hitchcock