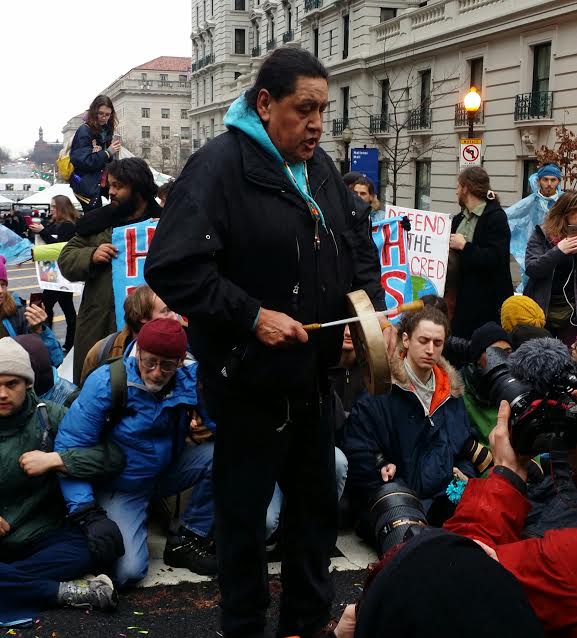 What is, is.
A shaman taught me that six years ago. I'm glad I learned it before my first protest at 55 years old.
Right now, I'm in Washington, D.C. I stood with the Standing Rock protestors who were at the inauguration today and reminded myself that enlightenment means paying attention and participating.
Last night when I drove into town, there were fireworks going off over the Lincoln Memorial. A feeling of grief traveled over me in waves.
Grief for everyone.
Grief for the rage that brought us here.
Grief for the principles that carried hate into power.
This isn't what America is about—but it is who we are showing ourselves to be.
As I walked through the streets of our nation's capital with the #NODAPL protesters, supporters of the next administration screamed hateful things at us.
Their red hats matched their crimson faces, and spittle flew from their mouths unchecked. Women in high-heeled boots, swathed in riches, shouting because they had to walk a few more feet than planned. Awful, ugliness dressed to the nines and wanting more than half the population of America to shut up, leave or self-obliterate.
Hate.
Parents spewing vitriol that originated with our future leader, walking with children, their young eyes wide, collecting behavior for future use. Shocking red insults directed at peaceful people who are trying to protect everyone's water.
I could feel my anger rising with that ferocious tide. But a man on crutches, with a smoking bundle of sage, reminded me of what I believe.
I believe in healing.
I believe in hope.
I believe in peace.
On January 21st, at the Women's March, I will protest again, alongside sisters I've never met. We've got work to do and it begins with active citizenship. Our democracy and our world depend on a sweeping grassroots movement built on healing, hope, and peace.
Let's get busy.
May the peace that resides in nature and in the hearts of those who remember, wake us to the truth of our existence. We are each one of all and we are bound to this truth. What is, simply is.
Author: Deb Lecos
Image: Author's own
Editor: Callie Rushton