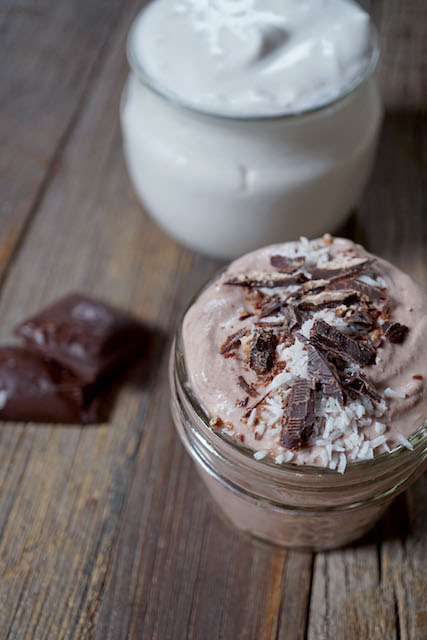 Lately I've been into "bressert" (breakfast plus dessert).
It's the idea that your first meal of the day can be as special as the most dreamy dessert in the world.
Why wait until dessert time if you can start your day with a bressert?
It's easy with all the healthy swaps for our old (less healthy) favorite breakfast and dessert foods that the booming health food industry offers. My personal favorite product right now is local coconut yogurt—a thick, creamy, delicious probiotic alternative to dairy yogurt with no sugar or additives. In New York, I get Anita's Yogurt (it's off the charts!). You can also make your own coconut yogurt. I've been using it in parfaits, bircher muesli, baking and savory dips.
This Superfood Coconut Tiramisu is my go-to bressert, especially when I want to impress.
It's super easy to make—it will only take 10 minutes to put together. Add the toppings and you're good to go for breakfast, dessert or a snack with a coffee kick.
Ingredients:
○  1 cup local or homemade thick coconut yogurt
○  3 tbsp. strong brewed coffee
○  1 tbsp. raw cacao
○  1 tsp. maple syrup
Directions:
First, mix coffee and cacao with a whisk. Then, combine the cacao and coffee mixture with yogurt and maple syrup. Mix well. Top with cacao nibs, chocolate chips or dark chocolate. If desired, chill in the fridge for 20 minutes before serving.
Recommended toppings: shredded coconut and raw cacao nibs, dark chocolate chips or dark chocolate squares.
~
Author: Ksenia Avdulova
Image: Author's Own
Editor: Caitlin Oriel