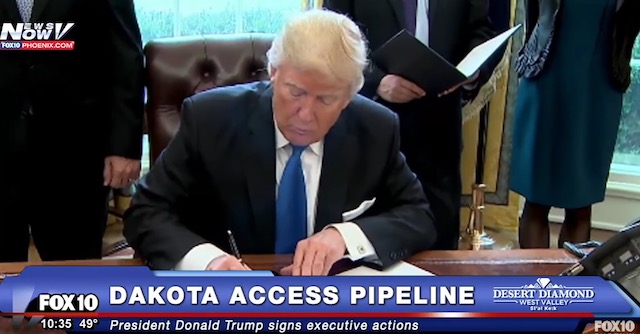 In a move that has been feared and half-expected by many, today, on Tuesday January 24th, President Donald Trump signed two executive orders that authorize the completion of work on major oil pipelines.
One order gives the all clear for work on the controversial $3.8 billion Dakota Access pipeline, and the other clears the way for the Keystone XL oil pipeline.
These orders, which have been made on Trump's fourth full day in office, are highly controversial and they also go against former President Barack Obama's environmental policies, as they instead move to expand traditional energy infrastructure.
On November 14th, the U.S. Army Corps of Engineers issued a statement calling for a halt on the Dakota Access pipeline and requested more time to review the construction plans so that alternative routes could be considered.
In November, 2016, Obama released a statement saying, "Today, the United States of America is leading on climate change with our investments in clean energy and energy efficiency. America is leading on climate change with new rules on power plants that will protect our air so that our kids can breathe." Adding, "America is now a global leader when it comes to taking serious action to fight climate change. And frankly, approving this project would have undercut that global leadership."
One main reason that Obama's administration had put the project on hold was due to the project's likely contribution to climate change, as the pipeline would carry tar sands crude, which is greenhouse gas intensive.
However, despite this, Trump explained his reasons for signing the Keystone pipeline order at a press conference this morning saying, "With regard to construction of the Keystone pipeline, something that's been in dispute—and is subject to a renegotiation of terms by us—we are going to renegotiate some of the terms, and if they'd like, we're going to see if we can get that pipeline built."
Trump also said that the pipeline projects would be subjected to renegotiation before going ahead, as he wants the projects to make use of American steel, explaining, "I am very insistent that if we're going to build pipelines in the United States, the pipe should be made in the United States," adding, "We will build our own pipeline, we will build our own pipes, like we used to in the old days."
The signing of the Dakota Access pipeline order will be a major blow to the Standing Rock Sioux tribe and their supporters who have been protesting the 1,172-mile pipeline project since April 2016.
Many of the peaceful demonstrators, who call themselves water protectors, have been camped out since April 2016 to oppose construction work of the Dakota Access pipeline that is planned to run through the Missouri River, the Standing Rock Sioux tribe's main water source.
There is strong reason to believe that in the future the pipeline could potentially poison the tribe's and the surrounding area's, water supply.
If the pipeline is completed, it will transfer crude oil from the Brakken field in the northwestern area of North Dakota and run southeast and through South Dakota and Iowa and then join an already constructed pipeline hub in Patoka, Illinois.
The reason Native Americans are opposing this pipeline is that it will reportedly run through Native Americans' sacred burial grounds and prayer sites and it potentially poses a serious risk to their water supply, if the pipe leaks. Approximately 8,000 native tribe members reside in North Dakota.
In light of today's events, it is believed that the water protectors will once again create a powerful alliance to oppose Trump's orders.
Energy Transfer Partners, who are responsible for this pipeline, have been anticipating this order from Trump as they are waiting to install a final 1,100-foot piece of pipeline, which will run under Lake Oahe and complete the project.
Trump's campaign disclosures declared that, in 2015, Trump owned between $500,000 and $1,000,000 in shares of Energy Transfer Partners. However, he sold off his shares and the Trump campaign has vehemently denied that Trump's interest in the Dakota Access Pipeline project has anything to do with his previous personal investments.
According to Bloomberg, TransCanada stock climbed as much as 3.1 percent as soon as news of the Executive Order broke and, in New York, Energy Transfer Equity LP climbed about 4 percent.
Pipelines are a real and serious concern as just yesterday it was reported that hundreds of thousands of liters of oil have spilled onto aboriginal land in Canada.
Last year 55,000 gallons were poured into one of the United States' most endangered rivers in Pennsylvania, threatening the drinking water of up to six million people.
Oil spills are not a rare occurrence. Sunoco Logistics (the pipeline company who owns the pipeline in Gambletown, Pennsylvania) has recorded 200 leaks on their pipes since 2010.
Sunoco's parent company, Energy Transfer Partners, is the company responsible for constructing the Dakota Access pipeline.
In total there were 3,000 pipeline spills in the U.S. between 2010 and 2015.
"The courage and eloquence of the Standing Rock Sioux in calling all of us to recognize that in their words, 'Water is Life,' should be applauded, not silenced by those who are driven by their business model to continue spewing harmful global warming pollution into our Earth's atmosphere. This is also an opportunity to acknowledge and learn from the traditional values being expressed by the Standing Rock Sioux to protect life on Earth." ~ Al Gore.
~
~
~
Author: Alex Myles
Image: YouTube
Editor: Travis May