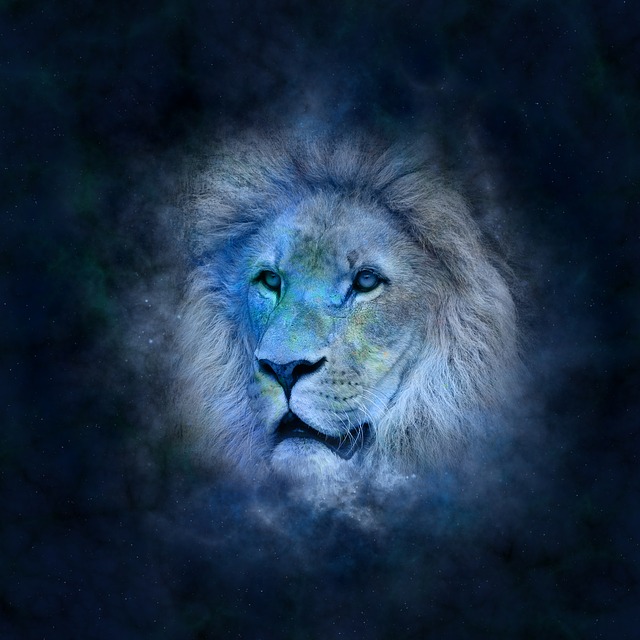 *Whether Astrology is science or magic, we're open to most things, if they may be of benefit. ~ Ed.
Although February's full moon is in the sign of Leo, all zodiac signs will be affected by the current energy. However, those who were born under the sign of Leo will feel it a little more intensely than others.
On February 10th, 2017 at 19:33 EST, there will be a full moon and powerful penumbral lunar eclipse in the sign of Leo, the King/Queen of the zodiac.
Eclipses work in cycles and the last lunar eclipse was on September 16th, so we are now going to be releasing everything that has occurred from last September until now as a way of clearing this past eclipse cycle.
We will then embark on a new eclipse cycle, which will remain active until the lunar eclipse in August 2017.
The shadowing of part of the moon during a penumbral lunar eclipse signifies a time when we have a rare opportunity to blink an eye and press reset on everything that has happened up until this moment so that we can center and start again, refreshed and renewed.
It is as though the temporary dark section of of the moon symbolizes the closing of one door and the opening of a new one as we pass into a new chapter in our lives.
Before we are able to fully put the past behind us, we have to ensure that we have learned the lessons that arose during the period between September 2016 and now, so we don't just sweep any issues under the rug where they could resurface in our near future.
This transitionary period is extra intense (and symbolic) as it also marks the end of a tense and emotional healing phase that involved the Black Moon Lilith. This Lilith healing period aligns with the eclipse cycle, as it also peaked in September and closes mid-February.
The glow from the full moon highlights the aspects of our lives that have been hidden in our subconscious mind. It also allows us to see old patterns of behavior that we have been repeating so that we can make necessary changes to shift ourselves away from these deleterious habits.
This first lunar eclipse of the year forces our attention on romantic relationships and demands that we look at the emotional baggage we have been carrying around that weighs us down and damages the bonds we have with loved ones.
Along with the eclipse, the majestic Leo Full Moon radiates a bright burning light of healing energy that illuminates any unresolved issues lingering from our past. We will feel called to dig under the surface and unearth any harmful emotional issues that have been triggering pain and causing us to react in ways that are harmful and destructive.
One of the main wounds that the Leo Moon opens is our fear that we are unworthy and inadequate.
The regal Leo has a great desire to feel secure, worshipped and cherished.
If Leos do not receive love and affection in abundance, they may question their meaning in their loved one's life, along with their own self-worth. They like to feel like royalty at the center of their loved one's attention and can become demanding, controlling and possibly even have emotional outbursts if they feel they are being ignored or not adored.
During this full moon, many of us—especially if we are highly sensitive to cosmic energy—will be feeling the effects of Leo's more dominant characteristics. These characteristics are only making an appearance so that we recognize and heal the emotional wounds that have been challenging us in numerous areas of our lives, particularly within romantic relationships.
This full moon is calling us to courageously open our lion's tender heart and love ourselves so hard and deeply that we transmute all of our pain and suffering.
The pain we are going to be healing is the pain felt when we convince ourselves that we are unlovable, unworthy, inadequate, undeserving and when we behave in destructive ways that create self-fulfilling prophecies by causing us to push and test the ones we love.
This is the time to let out a bellowing roar and release any aches and pains that have become embedded in our hearts and minds.
It is time to lick our wounds clean and turn the internal hurt and trauma into a healing, unconditional love that will first soothe ourselves and then go on to heal and soothe others around us.
To release our pain we can gently focus attention on whatever has been causing us upset, and then close our eyes and spend a few minutes trying to trace the root cause of it. It isn't always possible to immediately see the reason, so it is sometimes better not to apply too much pressure on ourselves to solve everything that is challenging in our lives and instead repeat this practice regularly whenever we have a few moments of peace.
We can inhale deeply and visualize loving vibrations infiltrating our entire body and soul, and then exhale and visualize any negativity or pain leaving with our outgoing breath. This will help clear out painful emotions and remove the buildup of stagnant toxic energy that has become blocked over the years.
This little exercise will need to be repeated regularly until whatever was triggering our emotions no longer causes disruption in our lives.
Although it can be traumatic to reenter and tiptoe around in our past, it is often the only way to clearly see all of the emotional inflictions we have received throughout our journey so far. More importantly, it gives us the opportunity to offer ourselves love, compassion and understanding for what we have been through now that we are older and wiser and have a better and clearer insight into what we've experienced.
The way to heal a Leo is to infuse the fractured heart and fragmented mind with limitless love and affection and to pamper and nourish the body and soul.
Before we take care of others it is essential to take care of ourselves. This full moon is all about finding ways to celebrate ourselves so that we boost our confidence and self-esteem and our radiant glow shines through from the inside out.
This full moon is also the time to reconnect with our inner child. Often much of our subconscious pain has been with us since our younger years—when we first started learning about the world and how to relate to family, friends and the people around us.
Many of us find we lose touch with our playful innocence as we become wary, cautious and guarded, particularly if we are highly sensitive and have felt hurt or betrayed in any way by those around us. Fortunately this Leo Moon is here to show us how to reconnect with the child within and how we can then eliminate our pain.
Leos are all about fun, laughter and loving life to the fullest. They exude enthusiasm and have an infectious, curious and adventurous outlook. They live for the magic and mystery in the present moment. Their imagination is wild and carefree, which encourages them to create a life that is exciting, intriguing and immensely pleasurable.
This Leo Full Moon signals a time when we will feel a revolutionary, inspirational energy flooding into our lives, which will encourage us to do more of what makes us feel carefree, happy, and highly charged with vitality.
We will feel more compelled than ever to pay special attention to whatever or whomever we feel passionately about, so that we show how much we care. When we do this, we will notice how the love and affection is returned in abundance.
The unconditional love that we radiate offers healing to our own hearts and the hearts of everyone we connect with, whether near or far. This flame burning inside attracts joy, happiness, love and harmony into our lives.
This Leo Moon is beaming out a cosmic warmth and loving glow. The lunar eclipse serves to magnify this positive healing energy.
When we take note of how the lunar eclipse temporarily covers the moon's light we can look at our own lives and remind ourselves how we often step into the shade for a temporary reprieve and an opportunity to rest, recuperate and awaken refreshed.
As soon as the moon emerges, the energy will surge through each one of us as a spectacular symbol that tells us that we have been given a chance to begin again and offload the heavy emotional burden we have been carrying from our past.
We will find ourselves removing the steely armor that our lionesque pride tried to convince us was necessary so that we protect and hide our emotions and instead we will stand bravely and vulnerably awaiting to see what happens when we fearlessly exist with a wide-open heart.
We are going to march into this next chapter living straight from our passionate, love-filled hearts and the reason we are able to maintain this blissful state of being is that we are finally discovering how to generate an endless flow of love from our own internal source.
No longer will we seek love externally as it finally clicks that everything we have ever wanted and needed was within us all along. We have all the love we need inside and when we truly recognize and accept this, the charismatic fire burning in our hearts and eyes will magnetize love and connection from every direction.
We will be blessed with more love, peace, joy and happiness than we ever imagined simply by turning up the heat inside our unguarded hearts.
We just need to love ourselves deeper and harder than any heartache or pain we have ever known and then just to be sure, love a little more.
Learning to love is the entire reason for human existence.
~
Relephant:
~
Author: Alex Myles
Image: Pixabay
Editor: Caitlin Oriel