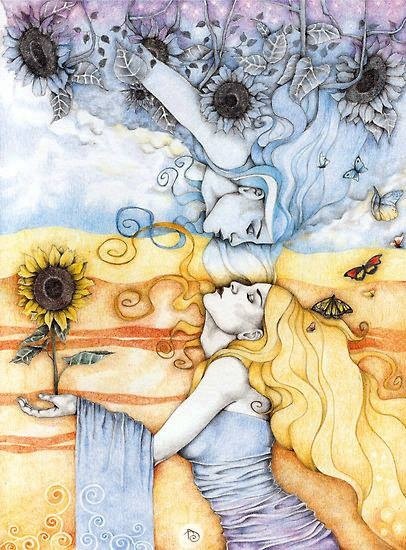 Editor's Note: Astrology isn't a religion. We're not sure it's a science, either. It's magic, maybe. But, as with feng shui, say, things affect things. So as long as we don't go blaming our problems on the stars, as long as we assume responsibility for our own actions…well, hell, a little auspicious coincidence and applicable wisdom can't hurt. And so, with that grain of salt…enjoy! ~ the Editors
~
The truth of the matter is that the sign of Gemini can be tricky to pin down in regards to love matters.
It's absolutely possible, as well as incredibly rewarding, if we can put our mind to the task.
Before I get into the ins and outs of one of the most unpredictable hearts, I want to mention a secret about Gemini that can be overlooked.
The unspoken truth is that Gemini will usually find their grounding roots through a relationship. Gemini, after all, is the sign of two. Having a true confidant by their side allows them the opportunity to discover more about themselves in a way they never could alone.
Of course, we can't ever ask them if this is the truth because they can't stand being questioned. Try to psychoanalyze them, and we'll lose them for good. A true Gemini wants to ask all the questions and never be put on the spot when it comes to feelings.
Being a sign that likes to bounce from here to there (both physically and mentally), they tend to need a little grounding. A truly intimate relationship is a missing ingredient in their being able to find serenity. Finding a true partner in crime gives Gemini a bit of peace and opportunity to be a little less scattered.
Being able to talk to someone up-close and personal allows them the chance to discover their own needs and sensitivities. These are the things they tend to overlook when flying solo.
Being an air sign, they literally need a ton of air to breathe and space to fly. We always have to remember to give them their space and never put them on the spot about how they are feeling. They thoroughly enjoy communication of all sorts, but not the kind that involves discussing their feelings. That would be like tossing them into jail and throwing out the key.
A true kid at heart, there is usually some sort of disconnect between their expression and emotional realm. It's so much easier to fly away than to have to deal with the complications that come along with feelings. Some may call it a lack warmth or emotional detachment, but that's where the misunderstandings begin to happen.
Gemini is very capable of feeling and attachment, but they will need to talk their way into it. If we want to truly capture their heart, we've got to be willing to listen. It's a not a bad thing—just something that needs to be honored when it comes to wanting to get up-close and personal with this sign.
The world is a logical place to a Gemini, and feelings defy all their rules. They are embarrassed and sometimes scared of what can happen if they step outside their zone of safety. Feelings aren't safe because who knows what could happen when we start to play with them.
We need to save the emotional drama for one of the other signs because it simply won't play for a Gemini.
If we really want to make a Gemini's eyes sparkle, we've got to be interesting. The more interesting the better—because dull will never do in their world. They will flutter away more quickly than we can ever realize. They need someone to talk to, or write an email to, or text. Words will always find a way to fascinate Gemini. Really though, any sort of communication will do. If it's possible to throw a joke or funny story into the mix, I'm sure we can stop them in their tracks. Nobody likes to laugh more than a Gemini.
Now in regards to commitment: Play is one thing and settling down for good is another. There is no doubt that the spontaneous Gemini likes to play with relationship connectivity of all sorts. As I said earlier, this is a sign that can get bored easily and likes to mingle. However, we can be too quick to equate that with promiscuity. Gemini is perfectly capable of settling down and not having a wandering eye. The magic ingredient to tapping into their love potion is to keep things interesting.
Keep a Gemini mind alive and the relationship will thrive.
Another thing to keep in mind, if we truly want to connect to a Gemini permanently, is the importance of both partners having a life of their own. This isn't a sign that's going to carry our emotional baggage or be willing to have long, drawn out conversations about our love for one another. Remember that a Gemini needs to breathe, and they enjoy having different facets to their life. Knowledge and mental stimulation is what they crave. Experiences are much greater than security in a Gemini world.
From a general standpoint, the signs that Gemini tends to attract most are, ironically, the emotional water signs. The magnet pulls us closer to the thing we're missing. Cancer, Scorpio, and Pisces types seem to do quite well with our Gemini communication master. Their emotional sensitivity, and willingness to listen, can appreciate the Gemini view of the world more than others. They tend to help him/her get more in tune with their emotional side. In turn, the light and airy Gemini helps to lessen the emotional load that the water signs tend to carry.
At the end of the day, all a Gemini really wants is to feel satisfied in their mind and calm the forces that continually churn there. The mind, in all its facets, is the key to their heart and the life-force of their soul. A true beauty to a Gemini is not in how good looking a person is—but rather how they can invigorate their mind.
If we can stop their thoughts for just a moment (or two) and mix up their world, we've found one of the secret ingredients of capturing a Gemini heart for a lifetime. A beautiful mind beats out a beautiful body every day. That's the winning ticket when it comes to getting your favorite Gemini as the grand prize.
~
~
~
~
Author: Crystal B.
Image: Patricial Ariel
Editor: Travis May