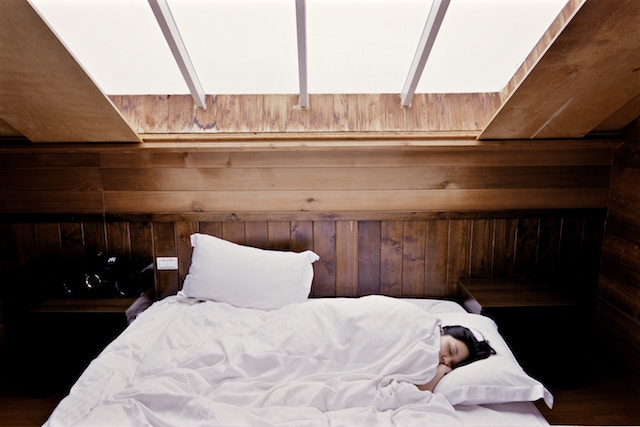 This article is a continuation of "Most of Our Mattresses are Slowly Killing Us." 
~
I searched for months for the best non-toxic, eco, affordable mattress.
Upon realizing the dangers of sleeping on a mattress not made from natural, organic materials, I knew I had to make a better choice on my next one—while still watching my budget. Read the first half of my article here to learn more about why this is so important and about some of the brands that ultimately weren't good fits for me.
Through my extensive research, I ultimately learned that the most comfortable, 100 percent non-toxic mattresses—including my two top picks below—incorporate natural latex foam, which is made from the sap of the rubber tree.
Latex foam is known for being more durable than its memory foam counterparts and it is also biodegradable—though it does take a looong time to biodegrade under natural conditions.
This means if you have a latex sensitivity or latex allergy, you'll want to consult with your doctor before testing either of these out. You can also request a latex sample from the companies to test out a small patch and see how your body reacts.
The two companies reviewed below sold mattresses that fell within my price range ($1200 to $1500) and met my criteria for 100 percent non-toxic, natural, and organic-where-possible ingredients.
Both of these companies also met my standards for being independent, small companies operated by extremely responsive, knowledgable, and caring individuals genuinely motivated to make a high quality, healthy, environmentally-sustainable product. They both assemble their mattresses here in the United States.
Sleep on Latex: The All-Foam Mattress
Sleep on Latex may win the award for least-hip, least-sexy mattress name, but don't be fooled—it's also the highest ranked mattress on Consumer Reports, beating out many luxury brands with frilly names and fluffy toxic ingredients. If you are looking for an all-foam mattress with no springs, this would be my recommendation.
Ingredients
Sleep on Latex is made of 100 percent all-natural latex foam, which is made by combining sulfur with rubber sap. A thin layer of organic New Zealand wool serves as a non-toxic flame retardant, and the entire mattress is wrapped in an organic (German, Canadian, or Pakistani-grown) cotton cover.
There are no glues or chemicals used in the mattress, and when I first unwrapped it there was only a slight straw smell (which the company attributes to the organic wool), which dissipated over the next few days.
Manufacturing
The Dunlop latex used in the mattress is harvested from rubber trees in Sri Lanka. The rubber trees that provide the latex sap can actually benefit local landscapes, providing shade and biodiversity for local fauna—if they are "shade grown" and the plantation hasn't bulldozed existing rainforest to plant this profitable crop.
Side note: Look for the Forest Stewardship Council certification on natural latex to make sure latex plantations are using their crops to promote and protect biodiversity.
Karl Shevick, the owner of Sleep on Latex, said, "I was told that the plantation that most of our latex is sourced from previously had this certification, but let it lapse. I think there may be a lack of understanding about the value of this certification at the plantation level. I would like to use the leverage that we have to push our suppliers and the industry forward in this respect."
Their Sri Lankan source also has a Global Organic Latex Standard certification, which monitors labor practices and wages—though in my research, I couldn't find any details about what these labor standards actually are.
The latex is shipped to the United States and the rest of the mattress is constructed in the company's Chicago facility.
Biggest Benefits
>> Durability: The notoriously rigorous Consumer Reports has ranked Sleep on Latex as their #1 mattress, with the highest scores for long-term durability after simulated tests.

>> Motion Transfer: Because Sleep on Latex is 100 percent dense foam all the way through, there's pretty much no motion transfer through the mattress. This means you can sleep undisturbed while your partner tosses and turns just inches away.
Biggest Drawbacks
>> Weight: It's heavy! And there are no handles to help grip the mattress, which makes it a difficult job that you'll probably need three or four sets of hands to do. I live in a rented, three-story walk up apartment in New York City. So the thought of most likely having to move this thing one day was not appealing to me. But if you own your home or live in a more permanent situation, that may not be a concern for you. And on the plus side, the weight does mean that once situated on your bed frame, it will not budge or slide.

>> Firmness: I've found that 100 percent Dunlop latex tends to run on the firmer side. I like firm mattresses, but as a side-sleeper, I need more cushion to support my bony hips and shoulders. I first ordered a nine-inch "Firm" mattress, but ended up adding a two-inch thick soft topper to get the firmness closer to what would be offered by a nine-inch "Medium Firm."

I would definitely recommend this mattress to back and stomach sleepers. But for side sleepers, I'd recommend going with an even softer topper or a softer mattress option. I did like that Sleep on Latex offers many variations of firmness and combinations of mattress and toppers to find the right fit for each body. I'd definitely recommend speaking with them directly to find out which combo would be the best fit for you.
Bonus: Can't Afford a Mattress Right Now? Sleep on Latex Toppers
If you are looking for a cheap way to upgrade your current mattress with an eco topper, the Sleep on Latex mattress toppers are a great option. The softest version is a great cushion but still has a buoyant feel, which keeps the foam from sleeping too hot.
I also tested out two Sleep on Latex pillows, which because of their cloudy softness, I would definitely recommend for back and stomach sleepers. Side sleepers may need something a bit more dense or firm for optimum neck support.
Avocado: The Innerspring & Foam Mattress
The magic sleep island at the end of my mattress quest, Avocado turned out to be my big winner. Mattress preferences are obviously a personal thing, and while a lot of people prefer the all-foam feel, I found that a traditional spring mattress provided me with the perfect mix of support and cushion.
Avocado offers two variations of their mattress: a firmer spring and foam mattress, and the option of an additional foam topper for those looking for something slightly softer. As a side sleeper, I opted for the pillow top.
Ingredients
The Avocado has a spring coil base, made from recycled steel. The coils come in three sections, offering stronger support for the hips and softer support under the shoulders. Like other eco mattresses, the Avocado uses 100 percent Dunlop latex for its cushion layer. I'm a bony side sleeper, and my partner is a much bigger and heavier back sleeper, and Avocado's spring and foam construction proved to be the most comfortable option for both of us.
Like other non-toxic mattresses, Avocado relies on organic wool as a natural fire barrier, but it also uses hydrated silica as an additional natural fire retardant. And Avocado avoids using any toxic glues in their mattress and instead relies on craftsmanship, threading yarn through each layer of the mattress. This "button tufting" feature is usually only found in very high-end luxury mattresses, and also keeps the materials from bunching or clumping over time.
Manufacturing
Jay Decker, responsible for "customer experience" at Avocado, states:
"We source our latex from a reputable supplier in Vietnam who invests heavily in sustainability. The rubber trees that we harvest are grown in designated plantation areas as to not impact the biodiversity of the region. These plantations help prevent soil erosion in the southeast regions of Vietnam. Workers are trained extensively in planting and harvesting methods, and only organic fertilizer is used in the growing process. The plantation is actually undergoing the application process to become certified organic. Furthermore, our latex manufacturer uses biofuel, as opposed to fossil fuels, to generate the electricity which powers their operation." 
Without offering any specifics about labor or wages, Decker also added, "We're highly conscious of the facilities we source from and the working conditions of our partners in the supply chain. We've spent a considerable amount of time finding the right partners who share our values in this respect, and therefore, they help augment our social and environmental agenda."
The rest of the mattress—coils, wool, and cotton covers—is assembled and shipped from Avocado's facility in Southern California.
Biggest Benefits
>> Design: It's obvious that the makers of the Avocado mattress put detailed thought into every aspect of the design and construction of their mattress. It's as if the Avocado team went on a similarly exhaustive search for the perfect affordable, non-toxic, ethical, comfortable mattress that I did, and, not finding anything that would meet their needs, decided to design one themselves, from scratch. Finding them was like an answer to all of my dreams.

Although Avocado is a relatively new company, and I haven't found any reports about its durability long-term, the materials are high quality. I honestly don't have any concerns about the mattress lasting.

>> Transportation: Besides the overall comfort of the mattress, one of my favorite features is the durable, sewn-in handles. Like other 100 percent natural latex mattresses, this one is heavy. But the handles make the idea of moving it seem like a possibility and not a nightmare.

The mattress was shipped in a small box, folded over, and compressed and didn't give off any odor whatsoever when it was unboxed and expanded.

>> Motion transfer: Because it's a spring mattress, there is more motion transfer and bounce than I found with the all-foam versions I tested, but it was much less than my old IKEA mattress. And I haven't found it to be distracting, even when sleeping with a partner.
Biggest Drawbacks
I honestly have very few minuses to report on this mattress. Like other mattresses that use Dunlop latex, it runs on the firmer side. If you are used to plushy, sinkable pillow tops you may be a bit surprised by the firmness of the pillow top on this mattress. But although it may be an adjustment, I don't think it impacts the overnight comfort of the mattress, and I've found few negative online reviews.
The back pain I experienced while testing other mattresses (and after sleeping on that old IKEA mattress for five years) has basically disappeared with the Avocado, and I love the combination of spring support and foam cushion.
Bonus: Try the Avocado Pillow for an Easy Sleep Upgrade
Whether or not you are ready to purchase a new mattress for yourself, the Avocado pillow is probably the fastest and best sleep upgrade you can give to your bed. Made from Dunlop latex strips and biodegradable Kapok fiber with an organic cotton cover, these pillows are the most supportive and cushiony all-natural pillow I've found across the board.
Last but not Least—Remember to Recycle your Old Mattress!
Sleep on Latex has provided us with this handy list of 100 places to recycle your old mattress.
Full disclosure: both Avocado and Sleep on Latex provided sample mattresses for this review. I decided to keep the Avocado as my mattress-of-choice, and donated the Sleep on Latex to a friend-in-need, who completely loves it.
~
~
Author: Merete Mueller
Image: nomao saeki/Unsplash
Editor: Callie Rushton
Copy Editor: Travis May
Social Editor: Khara-Jade Warren