Diwali (or Deepavali) is the Hindu "festival of lights" that is celebrated annually in India.
Being the biggest festival of all, the streets are illuminated with lights across the country for the five-day celebration. Diwali spiritually signifies the victory of good over bad. The wonderful energy from this holiday can be likened to a hybrid of the Thanksgiving and Christmas seasons in the States.
I travel home to India each year for Diwali to help my family prepare for the festivities of our national holiday. We begin by making sure everything is pristine and pretty for the celebration. We all thoroughly clean our homes in anticipation of this festival. Also, we purchase new clothes for dressing up and buy gifts for family.
On the big day of Diwali, we start our day early—showering in sandalwood and dressing in our new clothes. We carefully place gifts for the family and I help my mum with all the final touches around the house, including setting up the food for feasting.
The following are two of my favorite recipes from this festive holiday:
Karanji (Sweet Coconut Turnovers)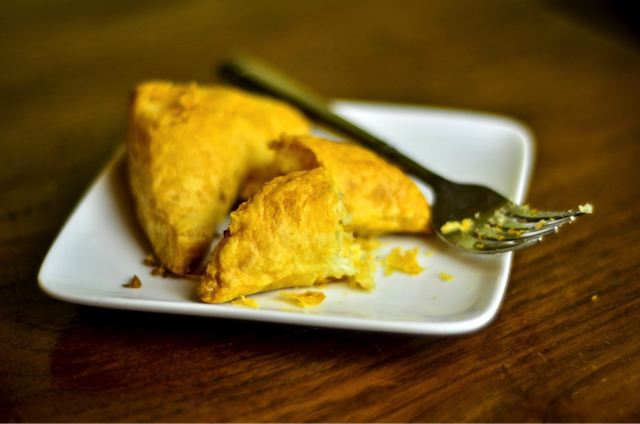 Many different dishes (and sweets!), which are all vegetarian, are made to celebrate the festival. One of the most popular recipes—that is made in my home state of Maharashtra—is karanji (sweet coconut turnovers). The dough for this sweet is usually deep fried, but to keep it simple, I used store-bought puff pastry and baked it. Enjoy!
Ingredients:
>> 2 sheets puff pastry, each sheet cut in 9 same-size squares and placed in the refrigerator
Filling:
>> 1 cup unsweetened shredded coconut
>> ½ cup sugar
>> ½ teaspoon cardamom powder
Instructions:
>> Preheat oven to 375 degrees Fahrenheit on bake.
>> Combine all ingredients for filling. Set aside.
>> Take one pastry sheet square in your palm and place 1 tablespoon of the filling in the center of the sheet. Wrap the sheet so the diagonal ends meet to form a triangle. Seal ends. If needed, use water to help secure the seal.
>> Set aside and prepare remaining sheet squares. Place the triangles on a cookie sheet. Place the cookie sheet in the center of the oven and bake for 20 to 25 minutes or until the turnovers are light brown in color.
>> Remove from the oven. Let cool for about 10 minutes and serve warm.
Kesari Bhaat (Saffron Sweet Rice)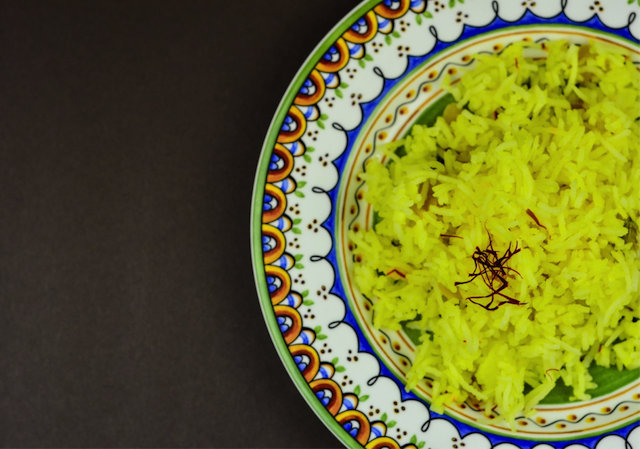 My mom makes this dessert on many auspicious occasions, including Diwali. I remember, as a child, I used to eat this sweet rice as a meal. This dessert is made all over India. The key is to add sugar only after the rice has almost finished cooking—otherwise the rice may not cook thoroughly.
Ingredients:
>> 2 tablespoons ghee
>> 4 cloves
>> 1 cinnamon stick, broken into two
>> 1½ cups white basmati rice, rinsed under cold, running water
>> 1 cup white granulated sugar
>> 1 teaspoon saffron soaked in ½ cup warm water for 30 minutes
>> ¼ teaspoon cardamom powder
>> Handful of golden raisins
>> Handful of unsalted cashew nuts, roughly chopped
Instructions:
>> In a 5-quart sauté pan with a lid, melt ghee over medium heat.
>> Add cloves and cinnamon and sauté for 2 minutes.
>> Add rinsed rice and sauté for 5 minutes. Stir every minute, making sure not to break rice grains while stirring.
>> Add 1½ cups water and mix. Reduce heat to simmer and cook—covered—for 15 minutes.
>> Add nuts, sugar, cardamom, and the saffron along with its water. Stir gently.
>> Cook covered for another 15 minutes or until all water has been absorbed by rice. Serve.
Enjoy!
~
Author: Rupen Rao
Image: Author's Own
Editor: Leah Sugerman
Copy Editor: Lieselle Davidson
Social Editor: Catherine Monkman