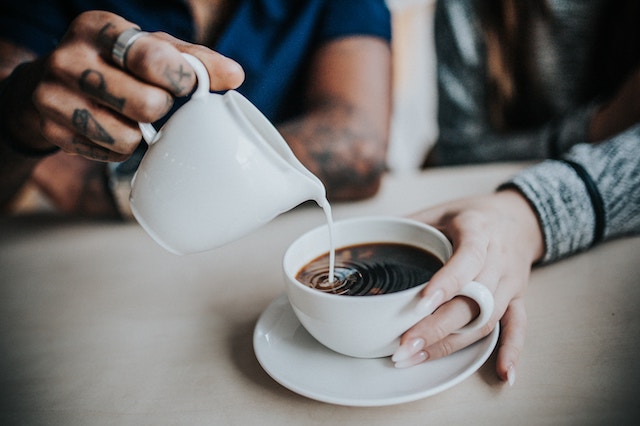 A dear friend is currently in hospice care, felled by a rare and aggressive ovarian cancer. She is currently comfortable but unconscious, probably not long for this world.

I have had entirely too much cancer lining my path over the past few years: family, friends, family of friends. I am sickened at the struggle and loss of those near and dear to me and those close to those who are near and dear to me. And I'm so tired of it all.
And yet. I am currently healthy, and I have the long view of all this suffering and loss. I see that, in a way, it is a big wake up call, because it makes me re-evaluate and re-prioritize my life—while I'm here. It makes me realize what—and who—is important to me.
Robyn was my "Caffeine Queen." She worked the drive-thru at Scarborough Grounds, and as I became a regular, she knew me, and eventually knew my order before I arrived at the order box. Thus, by the time I pulled up, I was usually greeted with fierce sarcasm. "You again!?" "Why don't you go play in traffic instead of bothering me?!" I would return serve, and my morning was absolutely made.
It was a nothing morning routine, two minutes of the 1,440 daily minutes. Two strangers in the night, or in this case, the morning. But we connected.
When Robyn told me she was leaving Scarborough Grounds for another job (would she have told any of her other regulars? Did she think that much of me?), I felt a nauseating kick in the gut, and I told her I might just pull her out of the drive-through window and into my car for a long hug. Not long after, I connected with her on the almighty Facebook, and we picked up where we left off. And we connected even more deeply.
Robyn is a hardcore warrior. Her mom (likely) committed suicide, and she left her home in Southern California to get as far away as possible from family drama. She played it close to the vest and didn't reveal too much to me during the times we met for drinks after work and the many online conversations we had. But she gave up just enough to let me know that she was hurting…and that she could sense that I was hurting, and maybe it was okay for us to hurt together, even if neither of us knew the whole picture.
But she was always there for me, offering sage advice for whatever I was dealing with, and always accepting my "sage" advice for whatever she was dealing with. All of this out of nothing more than a two-minute, customer-server relationship.
On December 1, 2016, Robyn was diagnosed with Small Cell Hyper-Calcemic Ovarian Cancer. She was just shy of 30 years old, 14 years younger than me. But I never thought of age when we interacted; she was just a sh*t-cool friend, a Betty Paige pinup come to life with a badass sleeve tat and wisdom beyond her years. And an empty pit of pain and strength—the kind of strength that inspired me and that I hoped to mirror.
I hope I helped her realize how hardcore she is, and I hope this knowledge is helping her now.
A day is made of 1,440 minutes. Out of those 1,440 minutes, any one—or more—can be minutes that change your life forever. We never know when life will fall out of the sky and into our laps. We never know when a smile will lead to a deep friendship. We never know when a chance encounter will lead to a relationship that makes us challenge ourselves and rethink what matters to us and others.
We never know when our loved ones will be taken way too early.
We never know, so we need to make each of our 1,440 daily minutes count. We need to live each minute as if we might not have another…because we never know. We need to be kind to every soul we pass, and welcome every person and every experience into our life, always. We need to be awake always, alive, and open to what each of our 1,440 daily minutes brings our way.
We need to live as if we are all strangers in the night—or the morning—with a story to tell, because we never know when our stories will matter to others. And we never know when and how we can be there for others. Every one of our 1,440 daily minutes counts. And we never know which will be the last.
I love you, Robyn. Thank you.
~
Update: this article was written on the afternoon of Sunday, 10/15/2017. On the morning of Monday, 10/16/2017, Robyn passed away peacefully. She was 30 years old. 
~
~
~
Author: Brian Westbye
Image: Unsplash/Anete Lusina
Editor: Travis May
Copy Editor: Callie Rushton 
Social Editor: Waylon Lewis