Compare ingredients in this actually healthy bar to popular kids' snacks: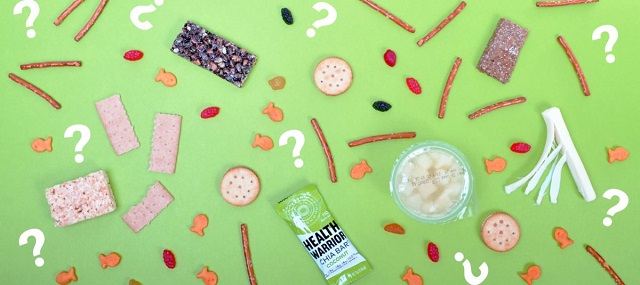 ~
Everyone and their workout partner has jumped onto the healthy habits bandwagon in the last few weeks.
We've signed up for gym memberships, pulled out our running shoes, dusted off our weights, and dug out our active wear from the bottom drawers of our dressers.
All the articles I see out there at the moment are about how to get active again or how to lose those extra pounds through fitness, but it's also important to understand how essential our diet also is to our health. This is the area most of us overlook or get wrong when it comes to equipping our bodies for our fitness journeys.
What we put in our mouths is the fuel that gets us through our day—especially the active parts. Unfortunately, many of the foods marketed as work-out fuel are loaded with sugar or highly-processed dairy or soy protein or ingredients you cannot pronounce (or all of the above). These ingredients are not helpful for maintaining a healthy gut or jump-starting a healthy lifestyle, as they can cause inflammation or bloating and actually may decrease recovery time after a workout.
When we want to gain the fullest benefits from our workouts and reach our goals, fueling our bodies with the right foods is key. To fuel our workouts, we need to reach for whole, real foods, especially nutrient-rich "superfoods." This includes things like quinoa, coconut water, chia seeds, and nuts. These nutrient-rich foods provide our muscles with the nutrients they need to move, recover, and to keep our tummies happy.
And speaking of keeping our tummies happy, it's important to choose pre-workout fuel that won't have us running to the bathroom soon into a workout. Before your workout, choose foods rich in healthy fats and soluble fiber like chia seeds. Soluble fiber takes longer to digest, helping us feel full longer with fewer calories and helping prevent gastrointestinal (GI) distress, which is something many of us experience during a run or intense workout. Pre-fueling with healthy fats is beneficial as you train your body to burn fat first in low and moderate-intensity workouts. Healthy fats also will slow down absorption within your GI system, allowing the key nutrients of protein and carbohydrates to be better absorbed post workout.
Registered dietitian Lydia Nader talks fueling your fitness:
Healthy fats slow your digestive system during a workout, but you want to refuel with foods rich in protein, iron, and magnesium like pumpkin seeds and legumes. By refueling with these foods, you set yourself up for success by repairing muscle fibers and aiding in blood flow to your muscles after a workout. If you fuel right before and after a workout, you will not only gain the most benefit in your workouts, but also recover faster to be able to jump into another workout with more ease the following day, getting you to your goals faster.
But what if we're too busy to whip up real, whole food snacks at home and have to rely on high sugar and highly-processed foods? We all lead busy lives, especially in the New Year, so for most of us it's unrealistic to expect that you'll have time to fuel with homemade whole-food meals and snacks all or even most of the time. Instead, look for packaged foods that put real, whole foods first to reach your fitness goals.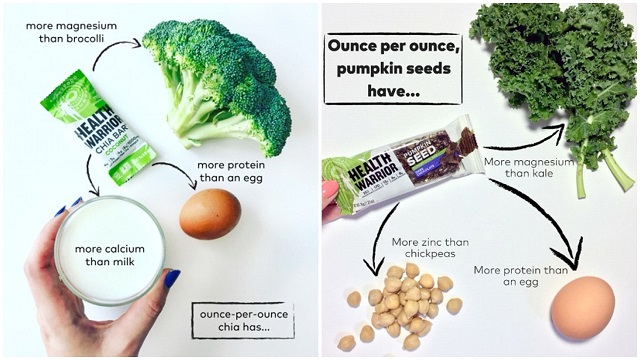 Health Warrior provides quality bars that are actually good for you and made with superfoods.
For pre-workout, they have created the Chia Bar that will fill you up without weighing you down in your workouts (remember chia seeds are packed with healthy fats and soluble fiber). For re-fueling or even a midday snack, their Pumpkin Seed Bar will provide you with those key nutrients like protein, iron, and magnesium to aid your body in the building of muscle and provide you energy for the rest of your day.
As a company that was born from the vision of former college athletes who confronted the desk-bound realities of their adult lives, you can trust that they are producing nutrient-packed products that use real food to fuel your body, and you can pronounce all the ingredients on the ingredient list!
Health Warrior was inspired by two books, Michael Pollan's The Omnivores' Dilemma and Christopher McDougall's Born to Run. Both speak to the ancient wisdom of our ancestors who ate diets rich in whole, nutrient-rich real food. Born to Run introduced Health Warrior's co-founders to chia seeds, telling the story of the Tarahumara Indian peoples of Mexico who regularly run eye-popping distances of 50 to 100 miles through the canyons they call home. Chia is one of the foods that fuels their movement-rich lives.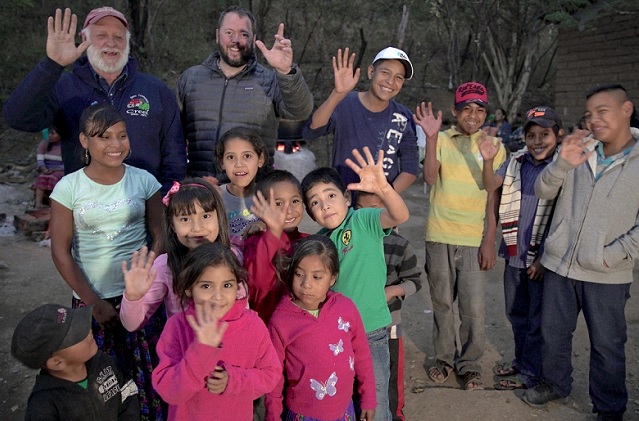 Health Warrior gives back to the Tarahumara through Operation Farm & Run.
Launching this effort with a Kickstarter campaign, Health Warrior raised funds to restore drought-stricken Tarahumara farms. Health Warrior continues to provide funds to the Tarahumara by donating a percentage of annual sales. The farms raise chia seeds and will hopefully become a commercial operation for the Tarahumara to provide greater economic certainty and help preserve their land and their traditional and inspiring way of life. By fueling your own body with Health Warrior's Chia Bars, you also support a great cause. Transform your body while transforming a community: win-win!
As you set your goals for 2018, make sure to pack your gym bag with real, nutrient-rich food that your body needs so you can do what you were designed to do—move!
~
~
Author: Lydia Nader, MSNW, RDN, LDN, Founder of RUN Performance Nutrition, LLC
Editor: Khara-Jade Warren