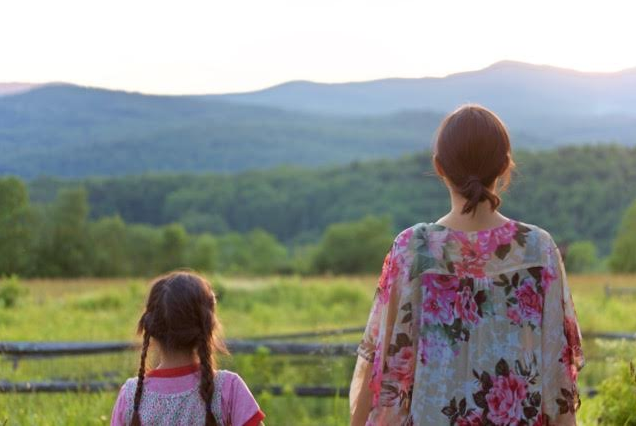 My daughter recently turned nine years old, and I finally feel like I've just emerged from the cocoon of early motherhood, which I began referring to as "Mom Land" when she was about three.
This cocoon can often be a terribly isolating place, where all of our worst insecurities, fears, and neuroses are vividly on display and seem magnified, as though a direct beam from a lighthouse is shining oppressively down upon them.
To all of the moms out there who are doing your best, yet never feel quite good enough, this one's for you.
Let me start by saying, with resounding empathy: I'm with you.
To the moms who have had a small human in the bathroom with you for every shower, poop, and pee you've taken for the past however many years: I'm with you.
To the moms who have not showered or brushed your hair in two weeks, or your teeth yet today, because you were too busy brushing someone else's: I'm with you.
To the moms who feel judged by other parents (and non-parents) for every move you make: I'm with you.
To the moms who sit in the car outside Target or a donut shop, eating forbidden snacks that you (finally) don't have to share, while checking Facebook on your one, gloriously liberating solo outing in weeks: I'm with you.
To the moms who are scarfing down that quickly thrown together meal in three breaths so that you can get back to tending to your kids, wiping their butts, making their lunches, cleaning their rooms, driving them to who-knows-what practice, or giving them boob so they'll stop wailing: I'm with you.
To the moms who have wiped feces or projectile vomit off of every surface known to man, including cowboy boots, car seats, hair, beds, floors, walls, between fingers and toes, phones, and shopping carts: I'm with you.
To the moms who have been watching (and crying through) marathons of "Grey's Anatomy" while the kids nap: I'm with you.
To the moms who have been doing non-stop loads of laundry for a month straight: I'm with you.
To the moms who practice radical self-care and self-love, who've realized how important and crucial these are for surviving and thriving as a mother: I am so with you.
To the moms who feel guilty for almost everything you say, do, think, and feel: I'm right there with you. (Hang in there—it's not your fault, or maybe it is, but say sorry, give a hug, and move on. Don't worry, it will probably only slightly traumatize them.)
To the moms who feel like every breath, word, and step you take is somehow damaging your kids in some way: I am with you so hard. (And who knows, maybe they will end up damaged, but that's life, right? We can't do it all perfectly and they'll forgive us some day and move on—hopefully.)
To the moms who don't know what to cook for dinner, so it comes from a box, again: I'm with you. (Just add something green to the mac and cheese, please.)
To the moms who love your kids unconditionally, no matter what they've done, said, thrown, broken, or hit: I'm with you.
To the moms who aren't quite sure how to discipline these actions: dude, I'm with you.
To the moms who need at least 20 minutes of yoga or breathing meditation every morning in order to get through the day without throwing something or yelling loud enough to shatter glass: I am deeply with you.
To the moms who have had to deal with third grade, mean girl drama, with what feels like the entire class and all their moms: ugh, I'm so with you.
To the moms who have had a plethora of uncomfortable conversations with countless teachers, coaches, and slightly weird parents: oh boy, am I with you!
To the moms who have had millions of miserably awkward interactions with other disheveled or "judgey" moms for years, and can't seem to find any other moms to relate to, no matter how hard you try: I am with you.
To the awkward moms at the playground, standing by yourselves, feeling out of sorts, ugly, tired, depressed, anxious, irritated, and confused by how other parents are parenting (or not parenting) their kids, while they throw sand in your child's eyes and nose: I'm with you.
To the moms who have watched other parents not help your kids—even when they are screaming for help, hanging dangerously from the top of a tall, scary structure, and you can't get to them in time—because it's not their responsibility to help your kids: well yes, I'm with you.
To the moms who are losing their patience in public, once again, even though you said you wouldn't: I'm with you.
To the moms who fear sending your kids to school each day because of our country's current school safety issues: I'm with you.
To the moms who often feel unthanked, underappreciated, unnoticed, unseen, unkempt, unheard, and undone by the roller coaster ride that is motherhood: I'm with you, for real.
To the moms who feel like you've lost yourself in the whirlwind of motherhood and can't seem to find an inkling of who you once were, as you've given your entire body and mind over to nurturing and nourishing someone else's life— keeping them safe, keeping them fed, keeping them happy, keeping them alive: I'm with you.
To the moms who've found themselves again after feeling lost in "Mom Land" for years, welcome to the other side— where you are still you, but even better, stronger, wiser, tougher, more skilled, and more creative than before you birthed tiny humans onto planet Earth.
To the moms who struggle, cry, weep, and lose sleep over your kids, yet support one another, talk through issues patiently, avoid drama at all costs, practice kindness, and still have a hard time mothering—thank you. I see you, I appreciate you, I hear you, I love you, and I am you.
If you're a mom who is struggling with your role: welcome to motherhood!
I know it can be lonely, anxiety-inducing and all around, just plain scary. As my girl has gotten older, some things have become a lot easier: like finally getting a good night's rest after all those years of sleep deprivation, or not having to wipe her butt anymore, or letting her brush her teeth so I can focus on my own. But other things have gotten much more difficult, like dealing with her emotions (how could I possibly have such an emotional, sensitive, dramatic child?), or helping her to become more responsible for her objects and their whereabouts, or teaching her how to be a respectful, kind, tolerant, well-balanced kid.
As they age, we start switching over from physical labor to a more psychological labor—losing sleep over more pressing issues like their emotional well-being and growth. Thankfully, I have a husband who is more than willing and able to take on loads of co-parenting work with me, who cooks, cleans, bathes, and attends to our child constantly; but many don't have that help, and parenting can be utterly exhausting, with or without it.
If you're a mom who needs more support than you have, please find someone to talk to, whether a counselor, a mom's group, or an online forum. There are lots of resources out there, and countless others who are also experiencing every feeling and thought that you have had about yourself, your kids, and motherhood.
Postpartum depression is real, and I can relate 100 percent to the grief, sadness, fear, isolation, anxiety, and daunting emotions that may come along with new motherhood, and that sometimes last for many years after birth.
Now that I feel I've emerged from the "Mom Land" cocoon, prioritizing self-care and being sure to carve out time and space for the things that I love, I am brimming with massive creative energy and drive, which has largely arisen from settling into the role of mother, along with all the other aspects of myself that make up who I am. Over the past nine years, all of the challenges and growth associated with motherhood have further impassioned me to use my skills and talents with even more vigor as I continue on this learning process.
Despite the difficulties of parenting, being this incredible girl's mother has bettered my life exponentially, and given me more purpose than I'd ever thought possible.
It truly takes a village to raise our families up, and sometimes it can feel like we are alone in this marathon. Remember that this world is our village, so find other moms to relate to. I know from nine years of experience and lots of moving around (four states in six years), how difficult it can be to find a community and a place to fit in beyond our own families.
But you are not alone. It does get better.
And I'm with you.
~
Relephant:
~
Author: Tina Picz Devoe
Image: Courtesy of John Devoe
Editor: Nicole Cameron
Copy Editor: Travis May