This is a post written by Shapr—an Elephant partner. We're honored to work with anyone who is this dedicated to offering a more mindful way of building professional relationships. ~ ed.
~
Surround Yourself with Great People, Do Great Things.
The people we surround ourselves with have a large impact on our success.
They give us energy, support, structure, and encouragement to be our best selves.
When we welcome other positive and driven people into our lives, they can motivate and challenge us to work harder and help us to accomplish our goals.
One app, Shapr, specifically started with this goal in mind—to introduce positive, thoughtful people who want to help you succeed. The founders came up with the idea after realizing their first company was a success thanks to friends who had referred new hires, walked them through television advertising for the first time and invested in their startup.
They wanted an easier way to meet other people who shared their mindset.
Hence, Shapr was born, a free app that introduces nearby people who want to collaborate, mentor, or learn from each other. The app is so easy to use—you just add a few interests based on what you want to talk about and the app's algorithm will find nearby people who are open to grabbing coffee. Swipe right on the ones you want to meet and you will be able to message when the interest to connect is mutual.
~
start making positive moves: download shapr, free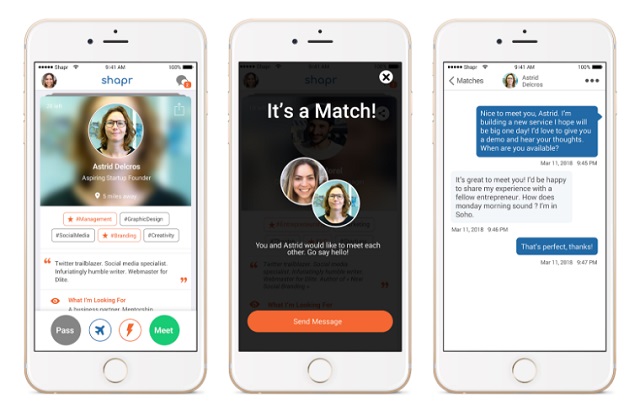 While Shapr is a professional networking app, it is also one of the only social platforms that truly seeks to be social.
The point is not to like things and amass followers, the point is to connect to other living, breathing human beings in a genuine way. Sure you can keep things in the in-app chat but 99 percent of the people using Shapr want to meet in person, have a phone, or video call. They understand the importance of getting off the app and out from behind a screen.
In today's world where online anonymity often disconnects us from ourselves and each other, this is one of the only ways we've found to meet new people, mindfully.
Plus the way you connect is by swiping so if you don't want to meet with someone there is absolutely no pressure to connect. No annoying messages or requests, just honest connections based on who you are or who you want to meet.
Matches through Shapr have lead to many fantastic conversations, job offers, investments, and collaborations.
If your close circle of associations is not a supportive one, Shapr is an easy way to begin to make new connections who have things in common.
Like #yoga? Put that as an interest and meet others who can recommend good retreats or help you launch your own practice.
Love talking about #photography? Add that to your profile and meet others who want to scout locations together or who may be interested in hiring you for an event.
The fact that the app is on your phone and takes only minutes a day to use is a true testament to how technology can be a force for good in our lives.
collaborate your way to success: download shapr, free
~
Editor: Khara-Jade Warren