View this post on Instagram
Giving birth isn't always an option.
I couldn't have been more than four years old. My older sister and I sat on the set of a local children's TV show, "Mr. Knozit," with about a dozen other kids.
I waited patiently for Mr. Knozit (a.k.a. news personality Joe Pinner) to ask me what I wanted to be when I grew up. When he finally made his way to me, I whispered my answer: "A mother."
Now, some 45 years later, my first dream for adulthood hasn't come true. It's complicated. Life and biology have gotten in my way.
Motherhood itself is a lightning rod. Whether a woman has no children or eight or something in between, judgments are made without knowing the woman.
"Fixer Upper" star Joanna Gaines is celebrated after bringing into the world a fifth child, and she and hubby Chip are contemplating the possibility of a sixth. (Isn't she amazing?) Jennifer Aniston's empty uterus is a constant topic of speculation. (What's wrong with her?) "Red Sonja" and "Rocky IV" actress Brigitte Nielsen gave birth to a daughter one month shy of her 55th birthday. (Is she crazy?)
The choice of whether and when to have children is guided by many decision points: relationships, marriage, education, career, outside support, financial stability, and more. Plus, there is much outside of our control that determines whether we have children. Sometimes the choice is not ours.
I always assumed I'd get married and have children. Based on everything I saw around me, that's how it worked. It was a given, and something I didn't ruminate over. Completing my education and getting a job were my first priorities. I then met a man, and we married. I was 24 years old and on track to achieve the family and the white picket fence.
But that's when the story gets stuck.
After three years of marriage (and just when we began talking about starting a family), I was offered a new job. It was a sought-after job in my field in my city. I became the Public Information Officer for the local school district. It paid well and was high profile. I told my husband that we needed to wait to start our family. After all, I couldn't take this job and immediately be out on maternity leave. I needed to establish myself in this new arena. He agreed.
I'm not alone in delaying having children for education or career.
According to a 2015 Pew Research Center study, 41 percent of women say the best career strategy is waiting to have children until they are established in their careers. At the time I took my big new job, I was only 28—plenty of time to create a mini-me.
Not too long into the job, I discovered that although I wasn't a teacher, I could earn tenure. When I told my husband, he suggested we wait until after the important three-year mark on the job. Made perfect sense to me. I'd be in my early 30s—no problem.
Keeping my career on track wasn't the only reason I was okay with waiting.
The truth is, I also was scared. Scared I'd make a horrible mother. Scared I was too selfish. Scared I would make every possible mistake, emotionally scarring an innocent child. Scared my marriage wasn't strong enough.
Turns out I was right in one regard. After 10 years of marriage, we divorced. We had no children.
At 35, I hit a monumental milestone in fertility, when ovulation, egg quality, and egg quantity go to hell. I was aware of these biological facts, but in my naiveté I believed if I wanted to have a child, I could. Science says my age gives me lemons on one hand, yet science also makes lemonade possible on the other: assisted reproductive technologies.
Once again, I'm not alone.
In a 2017 Yale University survey of 4,712 women ages 25 to 45, 90 percent agreed that medical advancements (such as in vitro fertilisation or IVF) make it possible to have children in the 30s and older. This survey also showed that career-focused women have high confidence in pregnancy-planning options. I certainly fell in that category.
I met another man and fell in love. We decided to marry.
As we stepped up to the counter to get our marriage license, the clerk asked, "Are you two going to have children?" She quickly followed her question with an apology. She didn't normally ask such a question, she said. But we smiled and replied in the affirmative.
"Good," she said. "You'll have such beautiful children."
We started our life together clearheaded. We both had been married before and knew some of the potholes on the road to marital bliss. But I was completely naive about conceiving in my so-called advanced maternal age. I was healthy and convinced I'd soon be sharing ultrasound pictures of our growing child.
After two years and zero pregnancies, I could hear the dialogue from "Raising Arizona" repeating in my mind: "Her womb was a barren desert in which my seed could find no purchase."
The fun of getting pregnant was replaced with pills and shots. A mural of purple, green, and yellow grew across my belly from all the bruising. At times, I lost feeling in my glutes. First came love, then came marriage, then came egg retrieval and transfer. Hmmm. I remember the words to that song differently.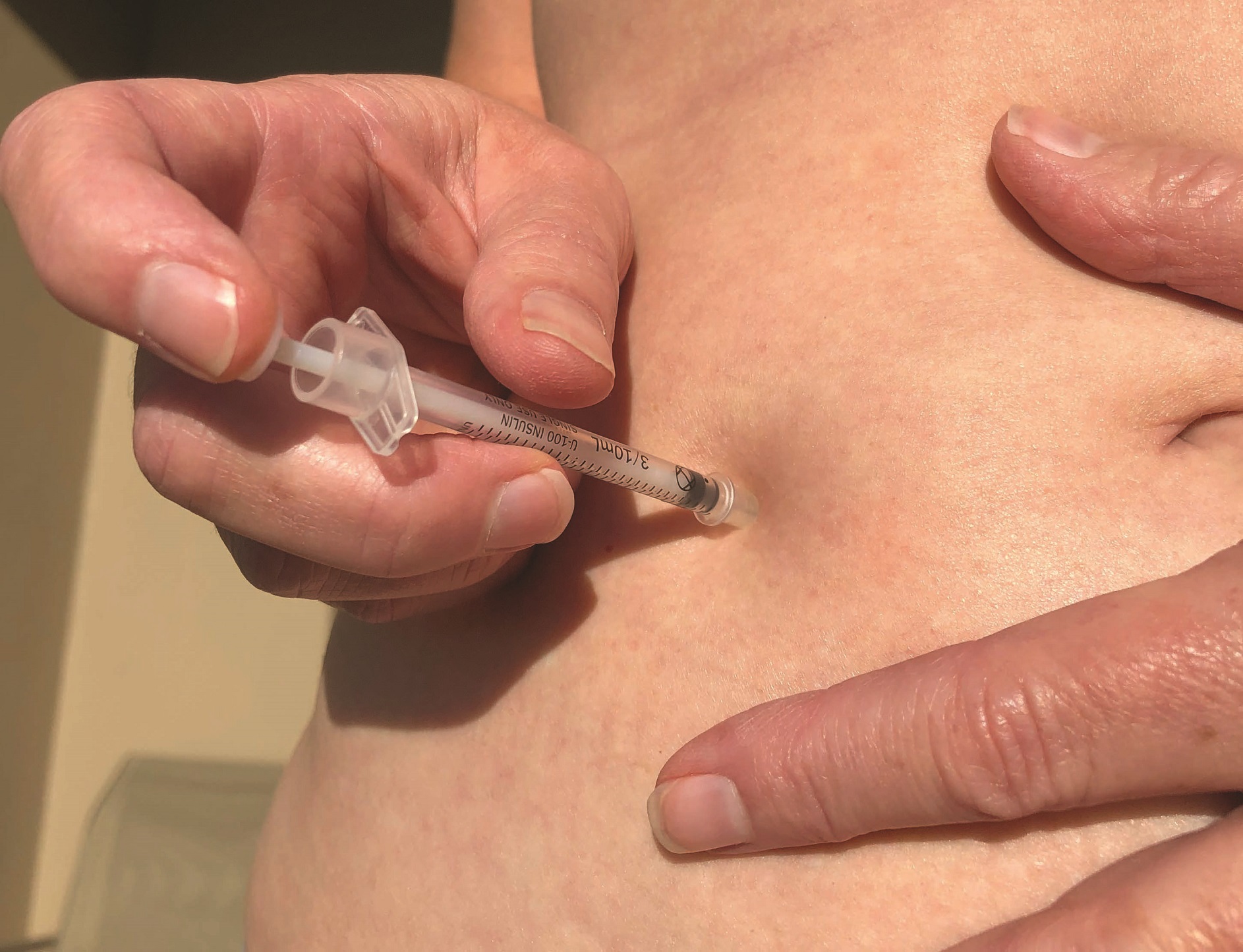 That first IVF attempt was filled with great promise. According to my doctor, we had two practically perfect fertilized eggs. (I had no idea, but fertilized eggs are given a grade.) The doctor persuaded me and my husband that we should transfer only one because the chance of twins was so high with the quality of the eggs. I brought home the picture of our beautiful petri dish baby and displayed him/her on my refrigerator. Transfer was textbook, and we went home to rest and prepare for the good news.
The only thing that grew in my gut was bottomless disappointment. I cried for a day solid. Then my stoic German bloodline told me to suck it up. I had spent enough time wallowing.
That first try was followed by many more. More pills, more shots, more tears. I changed my diet completely. Acupuncture. Meditation. Mayan abdominal massage. Reflexology. Donor eggs. Whatever might help lead to a baby bump, I did it. We tried again and again. It would take two hands of fingers to count how many times we received bad news.
The physical and emotional tolls were great. And we basically were alone in our suffering. It's not hyperbole to say 99.9 percent of people in my sphere had no idea I was even trying to get pregnant, much less aware of the measures we were taking.
Then, one time was different.
I was pregnant.
I remember the first time I saw the baby's fluttering heartbeat. The unbelievable was real. We shared the miracle with immediate family. But our joy didn't last long. At eight weeks, I miscarried. The doctor explained that sometimes the body corrects a situation. Most likely there was something wrong with the baby, and the body knew it. A dilation and curettage was scheduled. The fetal tissue was analyzed.
There was nothing wrong with the baby. There was something wrong with me.
Perhaps my inability to maintain a pregnancy—and the difficulty in getting pregnant in the first place—is related to the autoimmune disease issues that run in my family. I'll never know. But after seven years of trying to get pregnant like my life depended on it, I hung up my baby booties.
I, no we, were emotionally, physically, and financially exhausted. Tired of sobbing, yelling, talking, praying, blaming. In the end, as a couple, we decided to focus on each other. We were enough—and we still are.
There have been moments when I wanted to try again. I've read about women giving birth in their 50s. The National Vital Statistics Report (Centers for Disease Control) in 2014 showed 743 babies were born to women over age 50. There were 677 such births the prior year. Such statistics can be encouraging, but when I look deeper, I realize that my pangs for motherhood are partly due to my hatred of failure. That is not a good reason to have a child.
If you are contemplating having a baby, here are some things to consider. These points are also good to remember about life in general.
Realize you are a whole person as you are. Your value in the world is not dependent on whether you give birth. You have an inner light that reflects your gifts to the world. Celebrate who you are, show kindness to others, accept the love of others, and take time to notice all the magnificent beauty in your life. It's there, just look.
Get comfortable with not having control. Don't become too attached to any plan. You may think you'll marry at 25, spend five years establishing yourself in your career, and get pregnant in your early 30s while maintaining your status at work. None of that may happen. And it's okay. You may choose to not have children. Also okay.
Determine how you feel about assisted reproductive technologies. If you decide to try to conceive, get real with how you feel about advanced technologies. Are you willing to try IVF? How do you feel about donor eggs and sperm? What are you willing to do emotionally and physically? What are your financial limits? Is adoption an option? Don't keep pushing yourself physically and emotionally in order to fulfill some perceived picture of family. Change your definition of family; understand family takes many forms.
Throw every statistic out the window. It's not only women post-35 who struggle to get pregnant. And 40-year-olds get pregnant without any medical help. Statistics sometimes gave me hope, but other times made me feel like a complete loser. Recognize that your body and mind are yours alone.
Have a strong support system. I don't mean you have to be married. You don't even have to be in a committed relationship. But surround yourself with friends, family, therapists, doctors, and others that can help you deal with whatever is thrown into your path. You'll need them if you have a child, or if you don't.
Give birth to something other than a baby. Find ways to nurture something or someone else. Foster loving relationships. Develop a love for a creative endeavor such as writing, photography, or sketching. Build a business. Volunteer your time and expertise at a local nonprofit. See the fruits of a beautiful labor, no cutting an umbilical cord required.
As I am set to begin my second half century, I am at peace. My life has been fits and starts. I expect that to continue. But I know I'm not done giving birth. I may not hold my own child in my arms, but I can know deep love. I can cultivate deep friendships. I can guide the younger generation to love themselves. I can grow a garden that feeds others. I can make a difference. And you can, too.