This is a post written in partnership with Aspiration—an Elephant Mindful Partner. We're honored to work with anyone this dedicated to making money moral again. ~ ed
Update: "Award-winning actor Leonardo DiCaprio is adding to his portfolio of investments aimed at combating climate change, this time with a company that is providing a socially conscious alternative to traditional banks. The company, called Aspiration, offers a Spend & Save account that touts 100 percent fossil fuel-free deposits, as well as a competitive 2 percent annual percentage yield. DiCaprio will join Aspiration's board of advisors with the investment, which was made as part of a Series B round of funding."
~ Lori Konish, CNBC Markets
If you bank with one of the major financial institutions, have a pension or a 401(k) or an investment in index funds, listen up.
Your money is likely funding both the fossil fuel and gun industries. (2)

As a conscious consumer—someone who cares about where and how my hard-earned dollars are spent—this bothers me. And it should bother you too, if you give a care about our children's lives, and their future on this planet.

At Elephant, we do give a care about things like this. So our CRO, Dave decided to put his money where his heart is in support of ethical, transparent, firearm free financial practices with one of our mindful partners, Aspiration.
This is what he had to say about his experience with them so far:
No BS, this company is the best for conscious consumers, travelers, and those on a budget.


Many of us have banked or invested with the same institution for as long as we've been earning, and it might seem somehow either too risky or too difficult to switch to a newer, more ethical option, but here's the good financial news:
Aspiration is a financial partner with a mission to do good by the consumer and the community at large. I now use Aspiration as my secondary account and I love them. Here's why:
1. I don't pay fees.
Well, I still pay $10 monthly, but this is completely elective. Because Aspiration doesn't charge any monthly fees other than what their customers decide to pay them. Rather than the mandatory service fee that most banks charge, they allow their customers to choose between $0-$10 per month as a tip.
If you decide to pay, Aspiration in turn donate 10 cents of every dollar to an organization that helps low-income Americans start their own businesses.
You make this selection during the sign up process, and may change the amount you choose to pay at any time, by logging into your Aspiration account (this change can only be made from a desktop!), clicking "Settings," then "Pay What is Fair," and "Fee Settings."
One thing I kept in mind when choosing the maximum monthly tip amount is the high interest Aspiration offers, cash back rewards, and the ATM fee reimbursements (more on that in a hot second) when considering the monthly tip.
2. I don't pay ATM fees.
Use any ATM anywhere in the U.S.A. with no fee. Travel internationally? Then your ATMs are not only the most dependable method to get the best exchange rate, but they allow you to not roll around the puebla with enough money that you'll cry why when it gets nabbed from your beach bag. Mastercard does charge 1% for foreign transactions, but that's well cheaper than what your other card will cost you for ATM withdrawals.
3. I get nearly 200x more interest.
Aspiration pays 2.00% APY interest if you deposit at least $1 per month, which is nearly 200 times more than the < 0.02% I get from from my Big Bank. And speaking of Big Banks…
4. I don't have to play the Big Banks' game.
I believe Big Banks are a Big Problem. Chase, B of A, Wells Farcical…all win when we pay fines, fees, reap the smallest yield on our interest and help them run their scheme.
Their favorite scenario is to loan us more money than we can pay back on time. Aspiration isn't playing the same game as Big Banks. They are 100% online, which makes them much leaner, more capable, and intent on being fair to consumers.
But that's not even it. Remember, they also commit to donate 10% of earnings to micro-loans to help struggling Americans transform their own lives—not a hand out, but a hand up.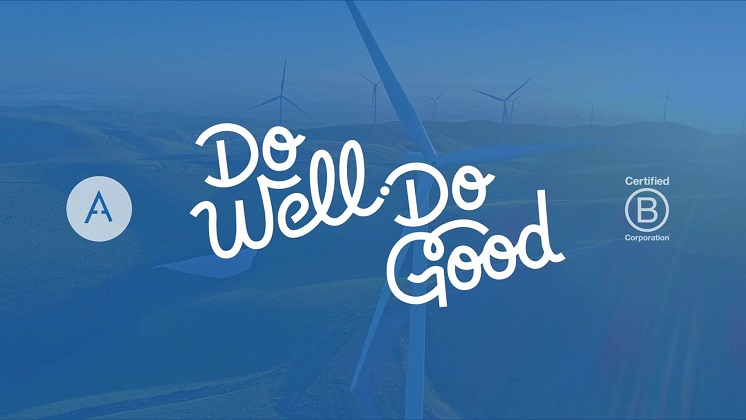 5. I don't own a gun that I didn't buy.
Many of us want to do what we can to help stop gun violence. Part of the answer is making sure our money—including our investments and retirement funds—isn't part of the problem.Your investment and retirement funds could be propping up the gun industry without you even knowing it.
As The New York Times wrote (3), "If you own any of the broad index funds or even a target-date retirement fund, you've got a stake in the gun industry." That means your money may be funding gun manufacturers, who then use it to create and market assault weapons and fund the NRA's efforts to block gun-control legislation.
If Washington isn't willing to tackle gun violence then it's up to all of us. In this moment, we all have a responsibility to take action. Ethical, firearm free investing is one answer to the question, "What can I do to help?"
"The country's financial giants hold more sway over the gun industry than any politician. If banks and credit card companies were to stop doing business with gun shops that sell assault weapons, the supply of such firearms would be greatly reduced." ~ Andrew Ross Sorkin, The New York Times
The Aspiration community is helping to fight back against industries that put power and profit above people's lives.
But don't just take my word on all this. Money magazine rates Aspiration as the "best checking account in America," for many of the same reasons I do.
~
References: