This post is by Rebecca, the lovely founder of Shaman Sisters—and one of our favorite Mindful Partners. She's dedicated to ethically sourcing the finest crystals, gemstones, and spiritual tools to uplift your spirit so you can live a fulfilling life—we're truly honored to work with her. ~ ed.
I first started learning about energy and crystals while working as a RN years ago.
I was in my first year as a new nurse—feeling exhausted, unbalanced, and stressed out.
Desperate to try anything, I went to a shamanic healer who told me I had unwanted negative energies in my aura from working in hospitals and, not only that, I was bringing them into my home.
She recommended I wear a stone called black tourmaline and also to keep it in my home to transmute negative energies into positive energies.
Black Tourmaline placed in all the windows and doorways in the home will help to repel unwanted energies that you bring in from the outside world, keeping your space cleansed, protected, and the energy positive.
Black Tourmaline worked wonders for me over the years and this was my intro into the world of crystals. It was the beginning of my journey to starting Shaman Sisters.
Home should be a sanctuary.
And it often is. Many of us put a lot of care and love into creating a safe space for ourselves and our families…

But it's also where some of the most difficult things in life manifest most strongly for us: late night arguments with our partners, door-slamming blow-ups with our children, tension round the dinner table at family gatherings, extended sadnesses on burned-out Saturdays…
Different people coming and going from our homes also bring their own energy, as do we when we step in from the hectic world into our personal sanctuary.
So, how do we rebalance and preserve a calming, nurturing energy at home despite all the ups and downs that life and living together in a shared space inevitably brings?
Gemstones in certain areas of the house can instantly work their magic, bringing protection, uplifting our surroundings and awakening the well-being of the inhabitants within.
Here are some of my favorite ways to use crystals and gemstones to maintain good energy in your personal sanctuary, plus how to set up a crystal altar at home.
Selenite and Auralite23 in the bedroom and/or living room:
The living room and bedroom are typically the places where we spend most of the time so it is important to keep these spaces clear. Selenite works well under the bed, on the night table, or a lamp nearby.
Selenite is an excellent stone for clearing negative/unwanted energies of all kinds, purifying your space, and cleansing other crystals. Selenite in the bedroom will help with a restful sleep and because it works with the upper chakras it will enhance your dreams.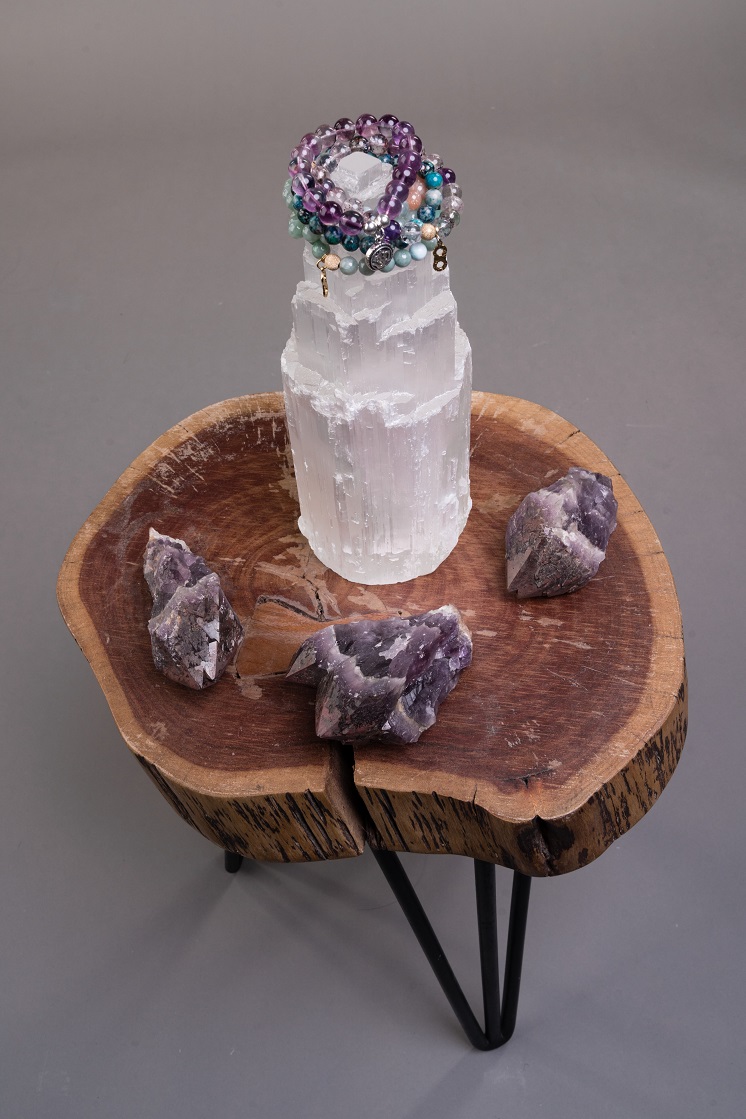 Selenite also charges and cleanses the environment and any crystals nearby, or placed on it.
Keeping a piece of Selenite in your living room creates a beautiful appearance and high energetic vibration—it will continue to cleanse this space and keep the energies clear for you to enjoy and feel good in. 
Auralite23 is primarily Amethyst which in itself is a powerful crystal that brings harmony and protection into the space. Auralite23 is much stronger because it contains up to  23 different highly beneficial minerals: Titanite, Cacoxenite, Lepidocrosite, Ajoite, Hematite, Magnetite, Pyrite, Geothite, Pyrolusite, Gold, Silver, Platinum, Nickel, Copper, Iron, Limonite, Shpalerite, Covellite, Chalcopyrite, Gilalite, Epidote, Bronite, and Rutile.
Auralite23 is a powerhouse crystal for the home with a very high vibration that brings: peace, tranquility, protection, self-love, spiritual growth, physical healing and rejuvenation , release of anxiety and accelerated healing benefits.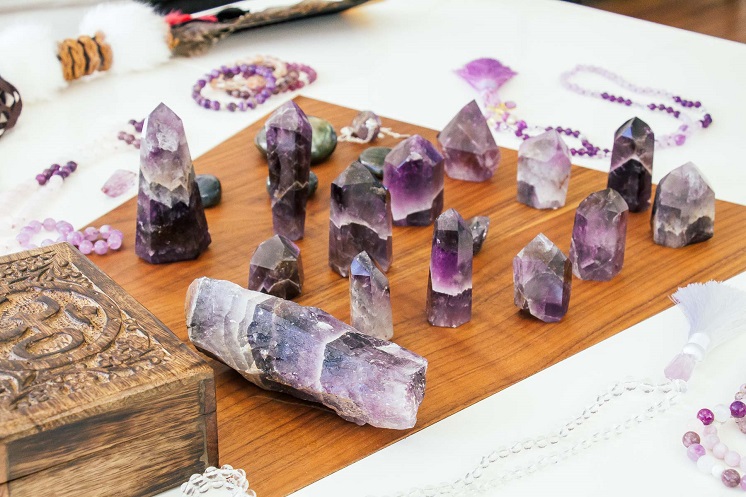 Shungite in the office, near electronics, and in the bedroom:
Shungite is known for its incredible healing and protection properties, including: boosting energy and immune system, balancing mind and emotions, protecting from harmful electromagnetic frequencies (EMFs), detoxification, and purification of the body.
We are bombarded by WiFi and electromagnetic frequencies 24/7. These disrupt our energetic field and negatively affect the cells in our body; leaving us feeling drained, frazzled, and out of balance. Shungite has been proven to neutralize EMFs.
I feel strongly that Shungite should be kept in the areas of our home where we spend the most time, near electronics, and internet modems. Having a pyramid or sphere will help to neutralize these frequencies and have a positive impact our health.
Super Seven on your desk, bedside, or altar:
Super Seven is used to bring in a high vibration and harmony. Similar to Auralite23 with a composition of seven different crystals: Amethyst Cacoxenite, Smoky Quartz, Quartz, Rutilated Quartz, Geothite, and Lepidocrocite, Super Seven brings you protection, release of negative emotions and past patterns, and purification allowing you to reach a place of clarity,  focus, creativity, positivity, and alignment with your Highest Path. Removing the blocks that are holding you back from your life purpose, and stimulating the soul to its divine brilliance—Super Seven is a catalyst for expansion and transformation. 
We can also use Crystals like Rose Quartz to help bring more love (self love, self forgiveness, and love from others) into our lives and Green Jade to bring in abundance, including financial wealth, prosperity, good luck, and health.
Another way to use crystals in the home is by creating an altar…
View this post on Instagram

An altar is an ancient practice of creating a sacred space for ceremony, prayer and meditation—used to ground your practice, amplify your intentions, create beauty, raise your vibration, and serve as a sacred space.

There is no right or wrong way to set up or use your altar space, it is the intention and energy you put into creating it. Here are three simple steps to set up your own altar:
Find a space in your home on a raised surface: it can be a coffee table, bookshelf, night table etc. Gather crystals and sacred items that you will place on it. (These can be any items that are meaningful to you).


Smudge yourself and the space with sage (link to blog on smudging) with the intention to clear any stagnant or unwanted energies. Meditate, pray, and set an intention for your altar.

Let your intuition guide you in placing the sacred items and crystals, and gemstone jewelry on your altar. Place each item down mindfully and with a specific intention. Think of your crystals as a living entities that take instruction, when you give them a job to do (by your intentions), they will do the job by amplifying your intentions out into the universe.
You can set up a medicine wheel with your items by placing them in the four directions or place them in a way that feels right to you.
You now have a sacred space that works quietly to magnify your intentions and serves as a reminder for you of what energies you are calling in. Use it for meditation, prayer,  or however else it serves you.
Bringing the vibration of crystals into the home is a powerful way to cleanse and balance the space you hold most sacred—but, when you leave that space, be sure to keep that vibration in your energy field by wearing your choice of crystal and gemstone jewelry on your body.
By clearing and balancing the energy both in our own homes and bodies, we can help to raise the vibration of the world as a whole. May it be of benefit!
Ethically sourced crystals, gemstones & spiritual tools 1. Black Tourmaline Protection Mala Transmutes negative energy into positive energy
1/5
Black tourmaline has been used since ancient times by Shamans and healers for protection. Comes smudged with sage and charged with healing Reiki energy. Includes silk pouch.
Shop Now