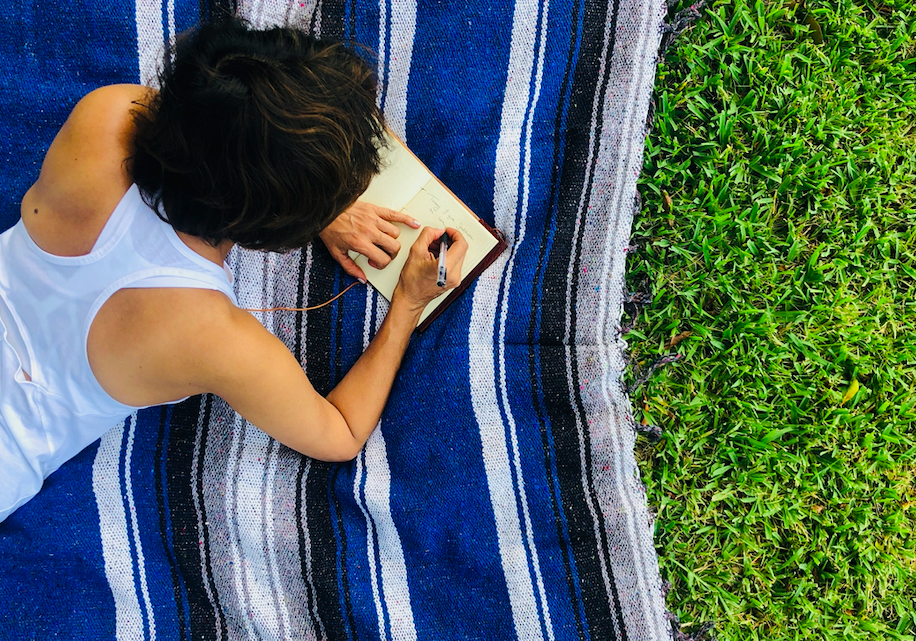 "Feeling gratitude and not expressing it is like wrapping a present and not giving it." ~ William Arthur Ward
~
I meditate early morning outside on my back lawn overlooking a lagoon that feeds into the Caribbean Sea.
It is serene. The waves come and go like the hundreds of thoughts that are running through my mind. I hear the birds having their first conversations and experience the new shades of amber appearing on the horizon. A soft cool breeze blows playfully through my hair.
How can I feel so inundated when I live in a place where people vacation?
Was I focusing on the choppiness of the surface of the ocean rather than the tranquility that lies below?
Was I being ungrateful?
I imagined that if I got my thoughts onto paper, at least they wouldn't be in my head, and maybe, I wouldn't feel so anxious.
I began by writing a sentence about feeling overwhelmed and restless on this first day of December. I continued with a gratitude note to my practice: "I am grateful for my practice; my time early morning to be with nature and myself."
I made a commitment to do a 25-day gratitude practice and share it on social media. As soon as I clicked "post," I felt as if a weight had been lifted from my heart. I let out a long exhale—I could breathe again, and that felt good.
The first few days of my practice were carefree. I found gratitude in my parents, my children, my job; these were the things that were part of my daily life. Then, I had to think a little harder. I had to dig deep inside of me and search like a miner looking for a diamond.
Everything in front of me became my teacher.
I learned to appreciate traffic lights, as they reminded me that I too had an internal traffic light system called self-discipline, which kept me on track and would tell me when to stop, go, or be cautious.
I discovered gratitude for my injuries, as they taught me to move with more awareness. Each injury was an opportunity to grow and to find alternate ways to do things. When my right wrist was injured, I would use my left. When I couldn't run, I found pleasure in a brisk morning walk. My pain taught me to be tolerant, patient, flexible, and compassionate with myself.
I learned to focus on the details.
I noticed the difference between a real smile and a fake smile, and that even thinking of a smile could lift my spirits.
I understood why I loved to walk on the beach because it reminded me of my childhood when my mom used to take us to the beach on Sunday, and wear her groovy swim cap with soft multicolored flowers. I loved the feel of the sand and the water between my toes, and the ocean breeze clearing the thoughts from my head.
I learned to pause and appreciate everything in my life—the good times, and the struggles.
This is how I transformed being overwhelmed into calm endurance. Each time I shared my feelings, I felt weightless and relieved. When we have a heavy load to carry, it becomes lighter when someone assists us. Similarly, when we feel grateful for something, sharing appreciation makes us delighted.
At the end of December, many of my friends related to me that they too felt the stress of the holiday season and how my messages helped them get through their day. They thanked me and encouraged me to continue. I had no idea that my posts had such a significant impact on others.
During these 25 days, I learned how powerful expressing gratitude was.
We use the words "thank you" all the time. We were taught when we were children that this was the polite response when receiving something. However, gratitude is so much more than just saying thank you. When someone looks at you with gratitude, you can feel it radiating as you look into their eyes. Gratitude is in your bones, in the core of your being; it's what my mom meant when she said, "say thank you like you mean it." It had to come from the heart.
Routine causes us to move through our days, like robots on a tight schedule, without paying attention to some of the little intricacies in our lives. Do we take a moment to notice the aroma of our morning coffee when we take our first sip or the bond we feel with our ancestors because of rituals and traditions?
I have continued with my gratitude practice. It compels me to maintain a habit that is valuable to my readers and myself. I post once a week, on Sunday morning, followed by an invitation to join me in my meditation.
Gratitude can't be taught. It resides underneath the surface of our choppy mind, and can only be felt when we take the time to feel it.
Pick up a pen and start writing. What may seem to be a challenging practice in the beginning will soon become second nature, and the benefits we reap will be priceless.
~