"Remember boys and girls. This impeachment inquiry is not centered around the transcript trump is releasing tomorrow. It is being centered around the whistle blower complaint that is about multiple calls made by the president.
Don't fall for right wingers trying to frame this as one call. It's not. It's about this whistleblower reporting on the corrupt actions of POTUS over multiple calls.
Also, don't forget to register to vote and to call your congressmen today…
Yep. And the whistleblower has asked to speak to congress directly." ~ Redditor
After months of wavering, the Democrats are about to take a stand.
I bet 90% of people just reading the headlines think, "Trump's gonna be gone!" That's far from the truth.
House Speaker Nancy Pelosi plans to announce momentarily an impeachment inquiry of President Donald Trump.
This announcement follows the allegations surrounding Trump's dealings with Ukraine.
@heatherscope: Intel Chairman Adam Schiff spoke after Pelosi. He told the caucus that Trump wasn't asking Ukraine to "dig up dirt," he was asking Ukraine to "manufacture dirt" on his opponent.
This ain't partisan. You can try to make it so, but that ain't helpful for America.
I'm all for them just waking up as if from a bad dream and becoming good humans who will work for all decent Americans and humans everywhere. That failing, yeah, they need to be held account for their own admitted actions.
Redditor: Here's a roadmap to at least the very basic Articles of Impeachment [Congress] should vote on.
This video will go live when Nancy Pelosi goes live:
Trump, basically admitting to the whole thing:
"That call was perfect. It couldn't have been nicer. Even the Ukrainian government put out a statement that that was a perfect call There was no pressure put on them whatsoever. But there was pressure put on with respect to Joe Biden. What Joe Biden did for his son, that's something they should be looking at," ~ Trump.
~
A republic, if we can keep it.
If you are an American, contact your representative. You can find them here: https://www.house.gov/representatives/find-your-representative
https://www.speaker.gov/contact
Direct to Nancy Pelosi
These two articles sum up so much:
Impeach Trump. But don't necessarily try him in the Senate. ~ Lawrence Tribe
Donald Trump vs. the United States of America. ~ David Leonhardt
"If there was ever a time to take 2 minutes to do this—this morning is that time."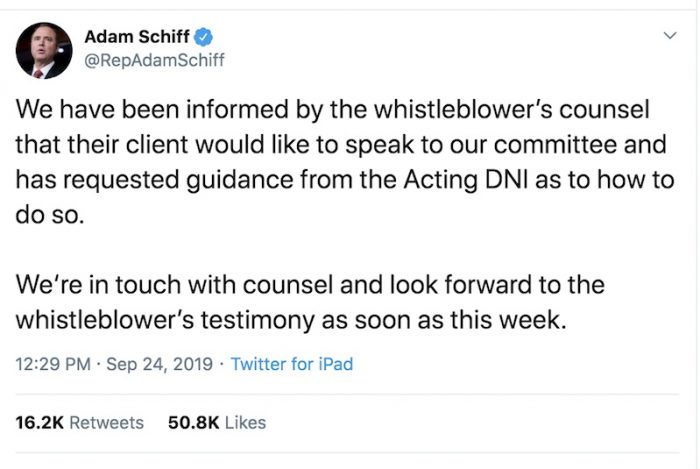 Via Reddit, some sources to read up on: 
More, via Reddit:
This formal impeachment inquiry brought to you by: 2018 Voters
You can join the 2020 crowd by registering to vote here: https://www.vote.org/register-to-vote/
It takes less than two minutes.
Even if you think you are registered, you can verify by checking here: https://www.vote.org/am-i-registered-to-vote/
Edit: If you voted blue in 2018, you literally made this happen. Your vote counts. If you didn't, that's okay. Wield your power the next election cycle, there's still a lot of work to be done. ~ reddit
Relephant bonus:
More: