This article is written in proud partnership with Je Joue—dedicated to your pleasure and empowerment. They kindly gave our editor their products to try, but all opinions are her own. ~ ed.
There's a lot more to Kegels than just "tightening our tacos."
Kegels are only important for women going through pregnancy…I don't have to worry about Kegels until I'm older…Men can't do Kegels!…I don't have incontinence so I don't need to do Kegels…right?
Wrong! These are just a few of the myths about Kegels that I had to unlearn when I was given the chance to take the Ami, bestselling 3-step Kegel set by sex and body-positive toy company, Je Joue, for a spin. (It is true, however, that men don't need balls to do Kegels—no pun intended.)
I'd heard about pelvic floor exercises from my yoga teacher and bumped into the K-word occasionally on wellness blogs, but as an advocate of women's sexual empowerment, I was surprised at just how many misconceptions I had about Kegels.
The idea of vaginal weights scared me a bit initially. What if they drop? What if it hurts? What if they get stuck in there? But I felt like I was in good hands with a product researched and designed in collaboration with midwives and gynecologists, who helped design products that are the perfect weights, shapes, and sizes to fit as many women as possible.
The whole ethos behind Je Joue is to encourage us to explore our bodies through beautiful design, education, and the finest quality materials. 
After multiple sessions with my new Ami (pun intended) and weeks of personal research, I believe all vulva-owners should be making use of these clever Kegel aids. Read on for the low-down on lifting weights with your bits…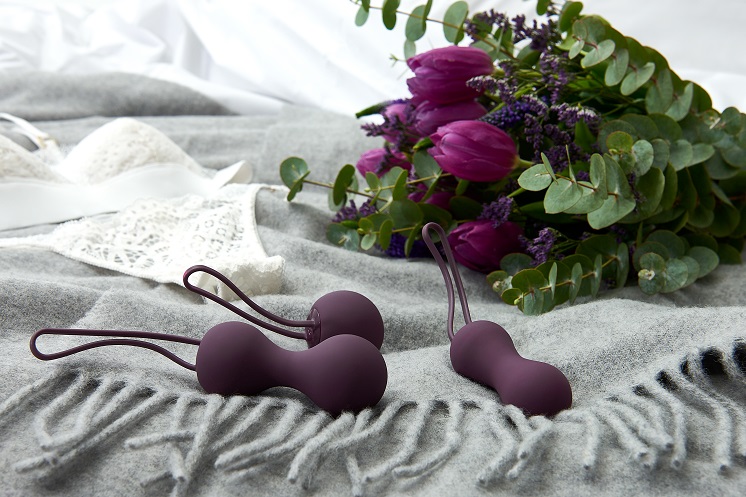 What the Kegel?!
Though Gwyneth Paltrow recently described Kegel balls as one of her "must-have items for the best sexual fulfillment," Kegels are not actually a new trend. In fact, they were first coined by a gynecologist named Arnold Kegel in 1948 over 70 years ago. 
The purpose of Kegel exercises is to strengthen the Pubococcygeus (PC), which is the hammock-like muscle stretching from our pubic bones to our coccyx, supporting our core, pelvic organs, and internal genitalia. Men have essentially the same pelvic muscles and can get similar benefits from Kegels when it comes to pelvic and bowel health. 
A strong pelvic floor can prevent those often hushed but hugely important intimate vulva-owner issues, such as urinary incontinence and vaginal prolapse. Kegel exercises can also prepare women for giving birth, speed up vaginal recovery after delivery, and even shorten delivery time itself.
Next-level Kegel
If you've ever tried pelvic floor exercises, you know how utterly dull and unsatisfying they can be. Am I doing this right? Is this helping me at all?
To my surprise, the Kegel exercises with Ami felt intimate and sensual—nothing like the workouts I've done laying on my yoga mat. With Ami, they became something else: simple, easy, and to my surprise—pleasurable! 
As a pelvic floor beginner who's never tried Kegel balls before, I was relieved to learn that the balls come in three different sizes and progressive weights—from soft weight single ball, to hard and heavy double ball. With more training, you can upgrade your status from beginner to advanced.
Like all Je Joue toys, Ami is a beautifully crafted luxury product made with the softest 100% body-safe silicone. With its velvety texture and elegant packaging and shape, it's the kind of intimate product I'd happily leave on my bedside table. 
My Top 5 Reasons to use (well-designed & sensual) Kegel Balls:
1. The Big O(…h yes!)
That's right—Kegels can deepen both your and your partner's sexual experience and sensitivity. If you have a male partner, kegel balls can take him to a whole new level when you use your improved PC muscle to grip and tease his penis during intercourse. 
Because Kegels tone and strengthen your muscles, you can also enjoy more intense, easier-to-achieve orgasms. Stronger pelvic floor muscle = stronger satisfaction. Hey, I'm not complaining. No wonder they sell over 35,000 sets a year—that's one every 15 minutes!
2. Get to Know your Body
This was the biggest surprise for me. Even after using Ami just once, I started feeling more confident and sensual in understanding how my body works. 
What makes using Ami really special is the little balls that rumble around inside you, creating a discreet, arousing sensation even while you're training your muscles…the best kind of workout. 
3. Health
Giving birth stretches the pelvic floor muscles, which are in control of holding urine. Though we might not talk about it much, incontinence is surprisingly common—affecting up to 50 percent of us after giving birth. 
In fact, you don't need to have given birth at all to relate: all vulva-owners experience a degree of urinary incontinence at some point in their lives. When the muscles lose their strength, the natural consequence is that they fail to do their job efficiently. With Ami, you can strengthen the PC muscle to improve bladder control and prevent future control issues.
4. Menopause
Did you know that strengthening your PC muscle can enhance your natural vaginal lubrication and sexual response during the physiological changes of menopause? Neither did I.
And of course, control the leaks mentioned above. Getting urinary incontinence under control is possible with muscle-strengthening tools such as Ami instead of purchasing bladder pads and odour control products can cost hundreds of dollars per year.
As a thumb of rule: Strengthening your pelvic muscles when you are young can help avoid pelvic conditions that may develop later.
5. Mindfulness
Kegels are not called exercises for nothing: they require mindful attention and effort. Wearing Kegel balls while doing daily chores may work for some, but I've found I prefer taking some dedicated time while doing mine. The key is to stay connected with your body.
Here's how to start: First, you'll need to locate your PC muscle. There are several ways to do this, the easiest probably being by practicing holding and releasing your pee. Once located, next coat your Ami with some water-based lubrication before insertion. There are many variations of position you can try: on your back, sitting, or standing up. Inside the Ami instruction manual are various exercises to get you started. Psst: Ami is also water-proof, making it possible to try under water. Using them the shower each day is a fun, private, and convenient way to start getting into the habit of doing them daily.
Ami is the perfect tool to empower vulva-owners to explore a new world of deeply intimate possibilities. It's a beautiful and pleasure-giving object, that actually works. Now, if you don't mind, I'll get back to my exercises…
4 your Pleasure:
Sex Positive, Sophisticated, Sensual Toys from Je Joue 1. Ami 3-Step Kegel Ball Set
1/4
With three progressive weights—from soft weight single ball, to hard and heavy double ball—Ami enhances pelvic fitness, allowing deeper and more intense orgasms alongside a range of health benefits, all at a self-selected pace. Get 50% off Lube with any purchase using code LUBEMEUP50
Shop Now