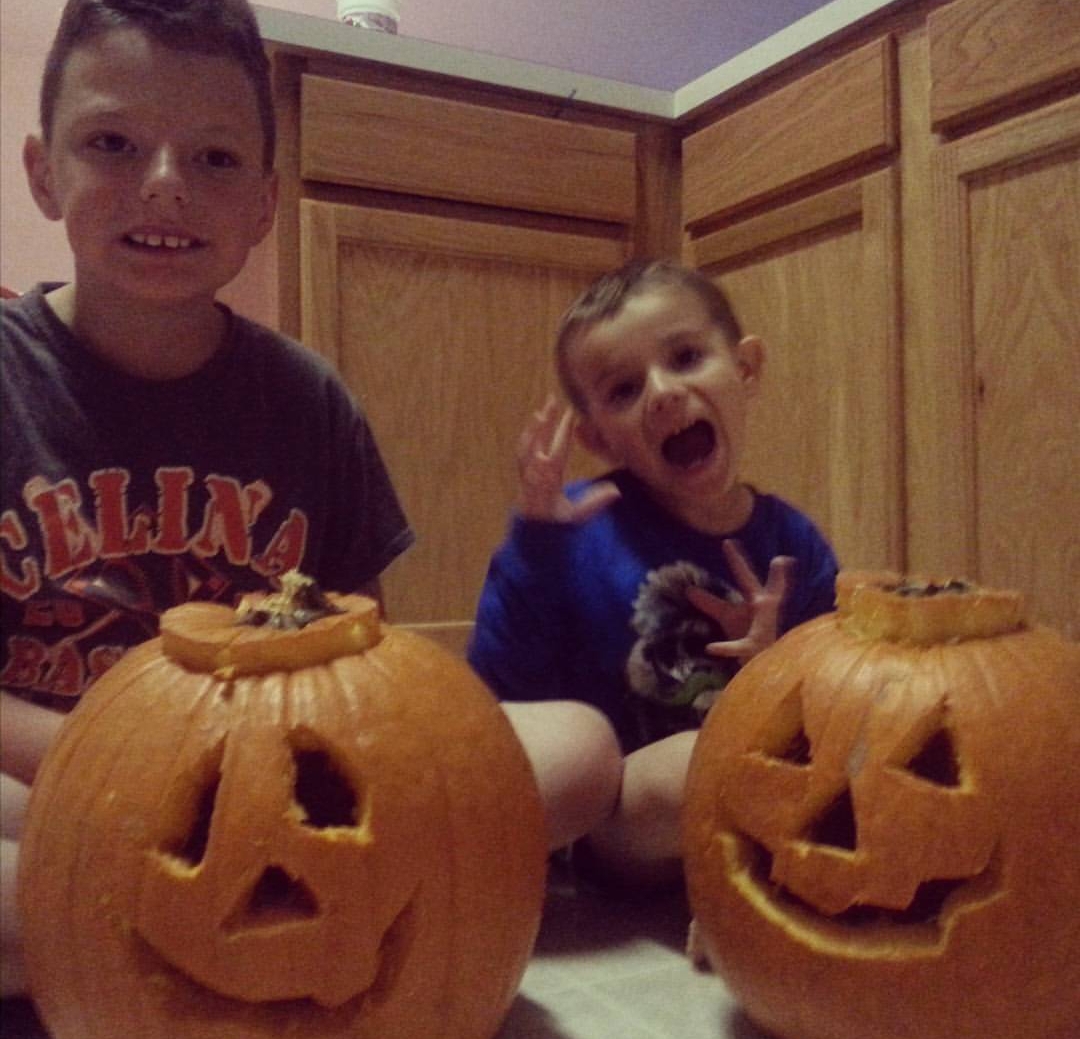 Door knocks on Halloween sound different when you're a kid.
It's the sound of your heart beating a little faster, excited and scared. It's the sound of the wings of the butterflies in your stomach flapping. It's the friendliest incarnation of the things that go bump in the night.
Unless you're an autistic child, then none of those things are true. Not one.
My oldest son, Slade, hates Halloween. He doesn't understand what he can't see, so masks are a fear he's not able to get past. With blue porch lights and blue pumpkins and the ability to shut the door and post a sign, I can protect him, provide him comfort. I am autism aware.
All too aware.
So is my younger son, Dax, my neurotypical son who, at five, desperately wanted to experience Halloween. He wanted to knock and feel all those spooky, ooky, creepy, kooky feelings.
And therein lies the problem.
As a single mom, I didn't know how to make them both content with Halloween. Slade needed to feel safe, and Dax needed the adventure. Yin and Yang. Oil and Water. Then I saw all the doors in my house—really saw them. Saw them and felt as Alice must have after she fell down the rabbit hole. This could be the start of a whole new adventure, Halloween style.
These doors that we barely noticed each and every day now held a different importance when closed. Dax's world and Slade's world would finally meet on this Halloween night.
Dax dressed up in his costume, Iron Man; Slade collected bags of candy. I closed the doors to my bedroom, their bedroom, the playroom, the laundry room, the bathroom, and even the pantry. Slade chose a room and stood silently behind the door. Dax dressed up as a six-year-old superhero holding a hollowed-out plastic pumpkin, walked to the laundry and giggled as he knocked. Slade hesitated. I knew he was trying his hardest in this unfamiliar situation to remember what he was supposed to do.
Dax knocked again and said, "Trick or treat," and I could see his ears lift as he smiled. The "Trick or treat" must have triggered something in Slade's mind and he opened the door, smiling. The smile was genuine and filled his face as he looked down at his little brother. Dax slid his mask upon his head so that Slade could see his face, and then he whispered, "put the candy in here," pointing to his empty pumpkin. Slade followed mini-iron man's instructions and Dax smiled his biggest adult-soul-in-a-child-body smile at his brother.
"Thank you."
Slade stared at him.
"Now you close the door," he whispered the instructions again.
Slade did so and I could hear him giggle behind it, alone in the laundry room that had momentarily transformed into the first Halloween door Dax ever got to knock on, and the first Halloween experience that hadn't terrified Slade.
The boys continued their version of Halloween all over the house, laughing so hard they couldn't talk when it came to the pantry door. At that door, Slade put a can of corn in Dax's pumpkin. Neither boy had ever experienced anything as funny and I'm not sure they ever have since.
Soon, it was over, but for about an hour the two worlds of my kids met. A little abracadabra, a little hocus pocus, a few closed doors, some giggly knocks, and Halloween made its way into our house for the first time.
~