This article is written in proud partnership with LUFT—they're dedicated to a healthier, more comfortable, and overall better night's sleep. Zzzzzz. ~ ed.
Whether you're a side sleeper, back sleeper, or one of those weird stomach sleepers (WTF?!) you can benefit from these 10 Natural Hacks for Better Sleep Health below….and possibly one free adult mattress + one free children's mattress from our generous partners! Share why you want a new mattress. Scroll down to comment and win.
A deserving recipient will be picked on December 31st. If you can't wait 'til then:
At 39 I was spoiled with blissful sleep, an occupational hazard of having spent 18 years in the sleep health and wellness space.
In a second, my life changed: one moment I was eating sushi, and the next my son Tim was having his first seizure.
My peace and deep, unadulterated sleep were yanked from under me. I would soon learn just how much sleep—or lack thereof—would affect my health.
In 2018, my son was hospitalized four times over three months. By the time Tim recuperated, I could no longer think from lack of sleep and therefore could not work. Six cups of coffee allowed me to function (I would say it was more like survive), I gained 30 pounds, I had high cholesterol for the first time in my life, my labs showed pre-diabetes, insulin resistance, high inflammation markers, and poor thyroid function.
Just like many of you, I assumed my poor health was simply from stress—not lack of sleep. How could I have missed that all of this was almost entirely due to sleep deprivation? After all, I knew better.
The reason is that sleep is the most overlooked root cause of health concerns and the first thing we sacrifice when life gets hectic.
Most of us do not know how closely poor quality sleep is linked to obesity, diabetes, systemic inflammation, cardiovascular disease, cancer, poor brain, and immune function.
Sleep was the only thing that could restore my health, and stress management has helped me maintain it. This journey has changed me in a profound way, and I have been able to learn so much from it. I can now relate to the thousands of people who have come to me seeking relief from their sleep problems.
As a Health Coach, Medical Mom, and Vice President of LUFT Beds, I now have an unwavering purpose and drive. It is my sincere hope that my story and some of my knowledge helps you or someone you love.
So, let me ask you: how well do you sleep? Is it a deep, uninterrupted rest? Do you get 7-8 hours a night? We are living with more demands than ever and we are a sleep-deprived nation. Below is my guide to the most common questions I get asked, and my personal blueprint for sleep recovery—from naps to supplements, and why your mattress matters.
Much like a fitness routine, my sleep health wanes and waxes with life's demands. I use the points below to bio-hack my body when needed, and a few to help me survive when life is getting the best of me. 
If you are looking to improve your sleep here are 10 things to consider:
1. Nap to survive, nap to thrive!
Napping is my favorite of all sleep interventions for many reasons.
First, if you are tired and craving a nap, then chances are you need one and have accumulated a sleep debt or deficit so taking a short nap is both listening to your body and self-care. Second, naps don't have to be long to yield big results. A simple 10-20 minute nap can improve energy, mood, cognition, and performance. Third, they feel amazing!
If you are going to nap be aware of a few things:
Most of us just need a cat nap so keep it short, around 10-20 minutes—any longer you will wake up groggy. Naps can be planned for longer durations to help offset severe sleep deprivation. If you are planning a longer nap I recommend planning for at least a full sleep cycle (90 minutes). Be aware you may wake up groggy or sleepy and that feeling can last up to 30 minutes (I nap at the same time the kids are if I am sleep deprived). 
2. What you and your family sleep on matters. Mattresses can be toxic!
I vividly remember Tim's doctor sharing with me the three most toxic things in a home: mattresses, carpet, and paint. He went on to say that mattresses have become the new lead paint of our generation. Most consumers are unaware that mattresses can be full of toxic chemicals, heavy metals, and carcinogens that off-gas traces of these harmful substances.
These things can affect everyone, but people with autoimmune issues, allergies, ADD, ADHD, asthma, ASD, Epilepsy, and NDDs are particularly susceptible. I was floored and disturbed, and immediately felt compelled to offer affordable non-toxic sleep products for consumers who care about what's inside their mattress.
At LUFT we build each mattress with the safety and quality standards below. After extensive research, I strongly believe these are the health recommendations that matter the most:
100% made and sourced in the U.S.A. Many mattresses today are partially or completely imported making their materials, and claims (including certifications) hard to trust. Many of the imported organic or natural products have been tested to find chemicals and fillers you would not want in your bed. 
Natural fire barriers

. We use cotton and rayon (same fabrics as clothing). No harsh chemicals!

Water-based adhesives

. If a mattress company tells you they do not use glue or adhesives, I would be highly skeptical of the product. It is either a single layer with fabric (uncomfortable) or it will get "

pregnant"

over time and develop a huge hump as layers shift in your bed. LUFT Mattresses use water-based glue to minimize chemical exposure for our employees and for you.

Third-party safety certifications. Okeo Tex Certification for fabrics: ensures there are no harsh chemicals, heavy metals, or carcinogens in the fabric you are laying on and breathing in. CertiPur Foam Certification: ensures the foam is certified to not contain dangerous chemicals (O-zone Depleters, VOC'S) and heavy metals (also certifies quality).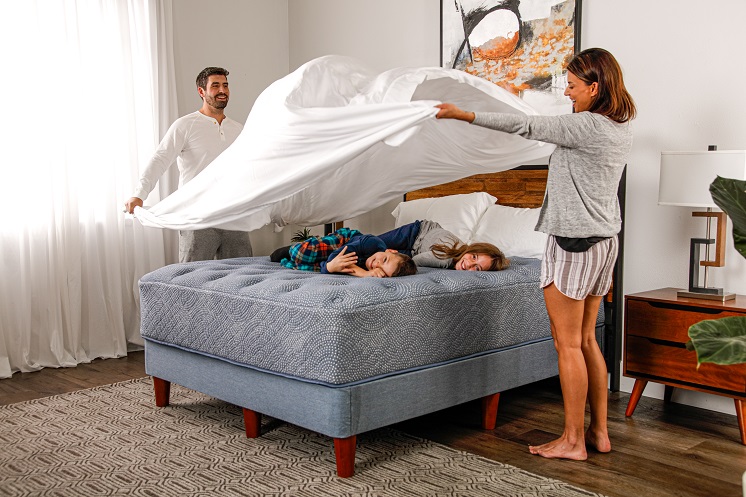 3. Supplements: my "go-to" for immediate relief.
I am a big believer in bio-individuality and discovering what works for you. I am also a big believer in using foods and supplements instead of medications and pharmaceuticals when at all possible. The supplements below have changed the quality of my sleep in spite of my increased stress. Always check with your doctor or qualified health care provider before starting a supplement and for dosage guidance.
Magnesium Glycinate: this form can help calm the nervous system, regulate melatonin, and work with Gaba to quiet the brain and encourage sleep.

Gaba: plays a critical role in relaxing the brain and central nervous system. It can help induce sleep and reduce physical and mental stress. Studies have shown that taken with 5HTP it can induce longer, deeper, better quality sleep.
5HTP: helps increase serotonin which helps to regulate mood and sleep-wake cycles. 5HTP can also decrease the time it takes to fall asleep.
4. Reboot your Sleep Clock with Red Light Therapy.
Mitochondria (fuel for your cells) is a big deal in my house. When it was suggested we get a red light therapy device for mitochondrial support, I was leery. One of the unexpected benefits was how much it impacted my sleep and circadian clock. I started falling asleep quicker and waking up with the sunrise. I get a fraction of the sleep I should, sometimes I think my sleep debt rivals our National deficit (so waking with the sun theoretically should not happen). When I researched it more I found that in clinical studies red light therapy has been shown to improve sleep, melatonin, and endurance.
5. Set up a sleep routine.
I have found sleep routines to be incredibly effective in restoring and maintaining healthy sleep. Especially during a stressful period of time. A sleep routine can (positively) hijack a stressed-out brain and signal the mind and body to start the sleeping process. Sleep routines can be as simple as incorporating nightly prayer or meditation before bed or they can have multiple steps to relax the mind and body like stretching, bathing, and reading. The key is to be consistent and make them realistic. 
6. Take a hot bath or shower.
Have you ever taken a really hot bath and noticed 30-45 minutes later you were near comatose tired? Raising your body temperature with a bath and then letting it naturally drop afterward can help trick your brain into thinking it is time to fall asleep, as your core body temperature drops naturally each night as the sleeping process begins.
7. Curate your sleep space.
Create a sleep environment that feels soothing and uncluttered.  
If possible, keep your bedroom dark and cool at night. We use blackout blinds and try to keep our bedrooms at 68 degrees.
No Electronics! Turn off your electronics at night. Do not allow cell phones or tablets in the bedroom and try to avoid watching TV right before bed. Electronics disrupt the circadian rhythms that affect sleep. If you do allow them, get blue light screen filters or glasses and set your phone to night screen mode. I also recommend turning off WiFi—we have a remote to turn it off while we are sleeping.
8. Avoid triggers for sleeplessness.
Stimulants like caffeine and alcohol. I know, not great news. I love coffee and wine. But consumed late in the day and evening they can inhibit sleep. Eating or exercising too late as a general rule of thumb should both be avoided three hours before bed to avoid hormone dysregulation and sleep disturbances.
9. Get the right sleep equipment: this includes your sheets, mattress, and pillows.
Mattresses are not a one size fits all commodity. You spend 1/3 of your life in bed. Get one designed for you!
Your mattress, pillow, and sheets should fit you like a great pair of running shoes. Sheets should be natural, soft, and cooling. Pillows should fit your shoulders and sleep position. Look for a combination that fits your unique sleep position, pain criteria, and comfort preference. Here is a simple guide* we use at LUFT:
Plush Multi Sleeper (soft): Ideal for couples, side sleepers, and those seeking to ease hip, shoulder and joint pain. This bed offers an ideal blend of soothing comfort, support and temperature relief. 
Luxury Firm Multi Sleeper (medium): Created to fit a broad range of individuals this bed is our best seller and works for couples of different sizes as well as side sleepers that like a slightly firmer feel and enjoy a balance in terms of pushback, hug, and contour. Also great for back and stomach sleepers that like a layer of softness with their support.
Firm Sleeper (firm): Was built for back and stomach sleepers and anyone with lumbar pain. Our firm bed offers support you can feel and comfort that only comes with quality components.
Little LUFT: Inspired by Tim, Little LUFT is made just for children weighing 35-150 lbs. It features a custom coil system designed to provide support without too much pressure on growing bodies and features Serene Foam that is Certi-Pur certified, non-toxic fire barrier, and Okeo-Tex certified fabric.
Every mattress needs an allergen/moisture protector—it protects your warranty and your bed from dust mites and air pollutants.
10. Don't add to your stress quotient.
Buying a mattress is, according to consumers, an extremely stressful experience. But it needn't be. 
Gone are the days of being forced to deal with commissioned salespeople, selections that are overwhelming and confusing, waiting hours for delivery and fear you will make the wrong choice. Look for a brand that has free delivery, returns, and exchanges. Also, make sure they offer a trial period so you have a chance to get to know your mattress before you commit to it. 
Watch Waylon's conversation with LUFT's VP, Nicole Slinger: