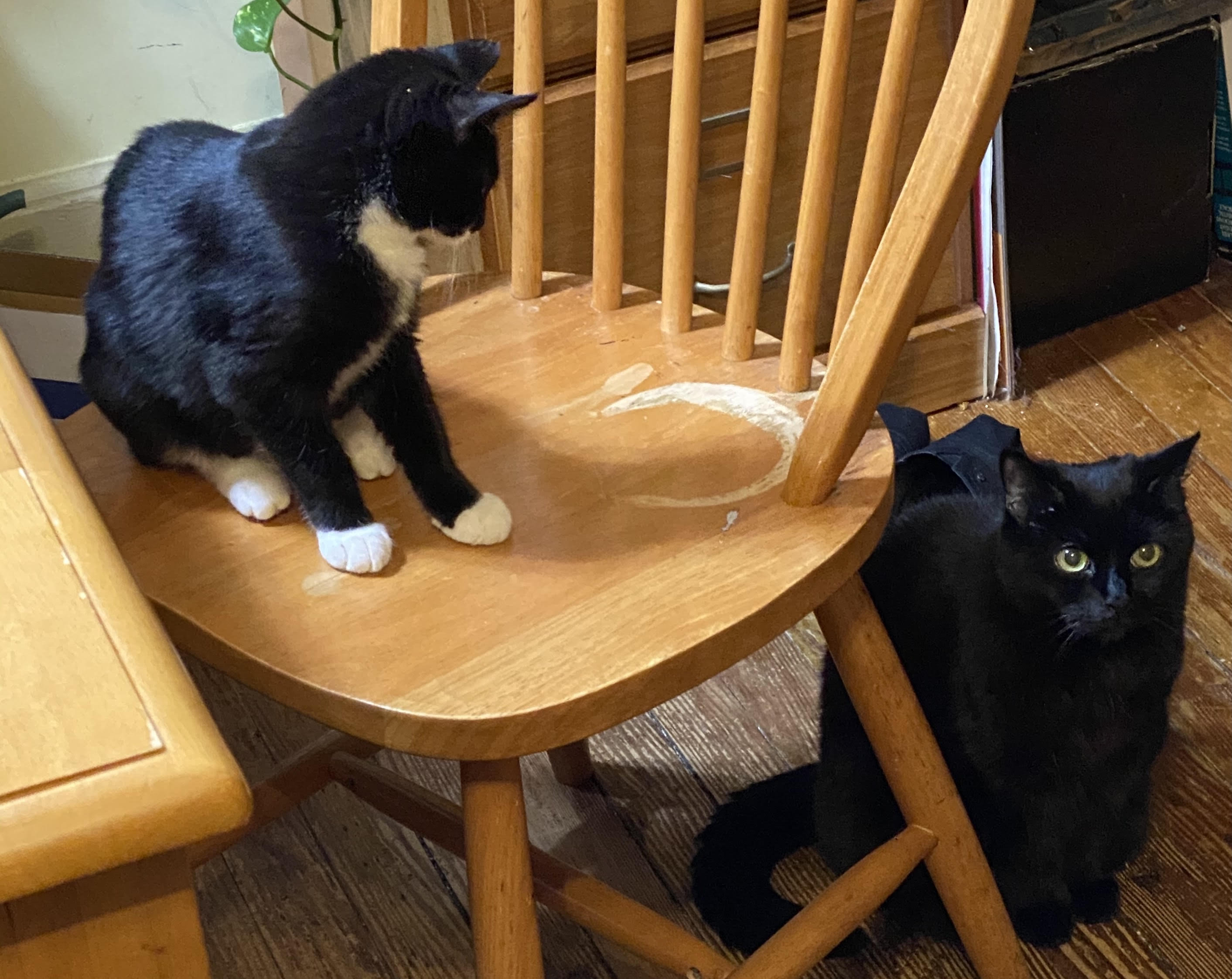 Her name used to be Scarlett.
She was discovered as a wee tuxedo kitten in a town six miles from mine. Her littermates were already adopted and Scarlett was three days post-op when the shelter appointment rolled around.
This tiny kitten weighs four pounds and has hazel eyes with long eyelashes. She instantly falls asleep in random places as if someone flipped a switch. She always wants the window seat.
Scarlett chose us.
She flagged us down through the hole in her cage and purred immediately when the handler put her in my arms. It's such a cliché, "They chose me," but it's not the first time it had happened to me. We were chosen by a pair of adult cats in the winter of 2009. I had brought one carrier but two towels, just in case.
Many years later, our marmalade cat died and the black cat was alone. Should I get my cat a cat? Or maybe a kitten? No small decision, but maybe Trishie would be happier with a little friend, while also giving a shelter cat a forever home.
We made an appointment to find a companion for our black cat who was adopted from that same shelter 11 years earlier. There is an adoption fee but it covers the medical and housing expenses, which for a kitten include a spay or neuter surgery. Since this shelter is a no-kill, open admission shelter, they need more people to foster and adopt all kinds of animals in their care. I had space for one more and this was the leading I felt—to try and make a home for one more cat and do my best to make it work.
The lengthy process to acclimate one cat to another can be frustrating at times, but I did find some useful internet resources to help.
The first tip was to make the new cat feel at home and give them a room separate from the rest of the house.
Moving from a cage to a new place is stressful. A bedroom was ideal, and she got her setup: a cat box, a scratching post, and her feeding dishes. She also got her new name, inspired by her zooming around her new abode.
Harley slept little as she crept around the room and examined every corner and climbed every ledge. The initial recommendations did not include the cat equivalent of childproofing, however. This tiny kitten leaped onto everything and wrestled with the computer cords. The existing cat is not involved at this point.
The next tip was to have the cats exchange scents before they met officially.
Harley likes socks and she can slide her head into a sandal. I had zero issues with getting her scent on an object. Trishie, the black cat, sleeps everywhere so she made plenty of scent deposits. Cats are territorial and scents mark their areas, getting them used to the other cat before they even meet face to face. Harley was a curious kitten and sniffed out the pillows I set out. Trishie took a whiff of the sandal and the socks and walked away in a huff.
The last tip was to gradually and slowly introduce them, making it a pleasant-ish experience with treats and limited visits at first.
The specifics for me included sliding treats under the door that separated them, riding out the moments of hissing and posturing, and waiting patiently for them to sort things out between each other.
Harley just wanted to be friends and watch the squirrels out the window. Trishie wanted to be left alone but appreciated the spike in treat volume. They are still in negotiations, but I see possibilities for them to be little buddies down the road.
Trishie is older now and I think she appreciates, just a bit, the entertainment value of a kitten (in small doses). Harley has her forever home with a keen view of the neighborhood rooftops from the upstairs window. There are plenty of squirrels to watch and treats to eat. Hallway zoomies are on the agenda regularly. I've got the kitten-proofing mostly sorted out and I have hopes that Trishie and Harley will become best girlfriends.
Four days after Harley joined us, someone illegally abandoned 20 cats outside the shelter that was briefly her home. A quick internet search brings up so many of these stories from all over.
With so many animals waiting to be adopted at any given moment, I had wanted to make a place for one of them in my own home just a short time earlier. Fostering animals is another option for those who want to help shelter pets, by getting them used to house environments and people. Then they can pick their own person to take them home.
~