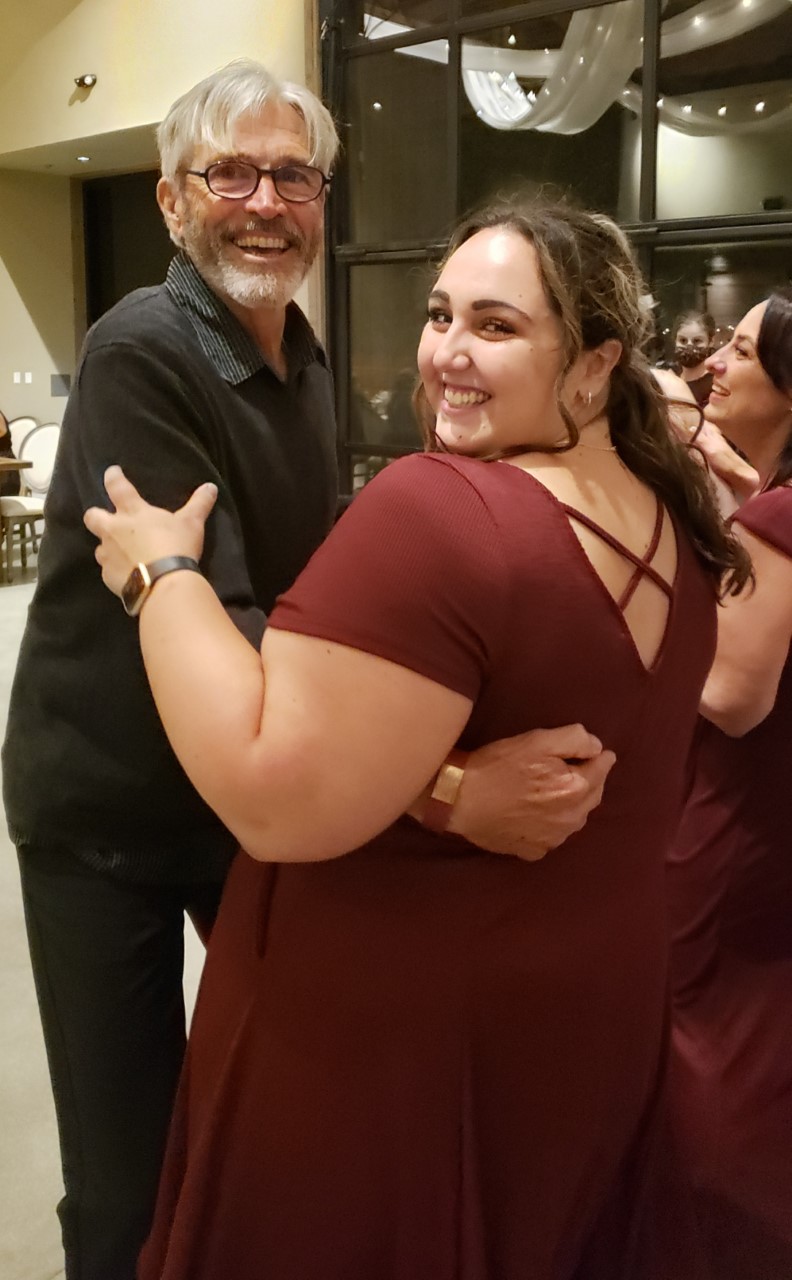 We're driving through Wine Country, in Temecula, on our way to our firstborn granddaughter's wedding.
It's a beautiful day as the weather is Goldilocks perfect—not too hot, not too cold—just right. The bright blue sky has won out over the smog on this day, in honor of our granddaughter and her groom.
She checked all the expected boxes of her life up to this point.
Adorable toddler, check. Precocious child, check. Troubled teenager, check. Young adult struggling to find her way, check. Meeting her perfect partner, check. Falling in love, check. Getting engaged, check. Graduating university, check. With honors, check, check. Landing her first "career creating" job, check. And, now, marrying the love of her life, check.
George and I have been head over heels in love with this girl since her birth 29 years ago.
We entered our marriage with children of our own—a girl and a boy from me, a girl and a boy from him. We became "The Brady Bunch" as we blended our families and raised these kids.
Like all parents, we did some things right and an equal number of things not so right. Raising kids is messy. Raising them in a blended family is even messier. We did the best we could, and somehow, we made it work.
The one thing we never got to experience together was the birth of a baby, so when our first grandchild was born, magic was in the air. We spent every free minute we had with her. We were no longer Kathy and George. We were now Mimi and Papa, and we wore those names—and everything they represented—with honor.
And now, on that day, we gathered to celebrate her marriage.
Devon was marrying Mat. We love Mat. He is the eldest son in a large Hispanic family. He checked all the boxes for us.
Friendly and outgoing, check. Sensitive and compassionate, check. Comfortable in his own skin, check. Close with his parents and his siblings, check. Moving forward in his career trajectory, check. Deeply in love with our granddaughter, check. Treats her with dignity and respect, check.
We thanked Google Maps for ushering us to the parking lot of the wedding, and just as we were ready to get out of the car, George turned to me and said, "I am not dancing. I don't want you to try to coerce me on to the dance floor. I want to be clear—I'm not dancing."
To which I said, "That's okay. I am dancing—a lot!"
There were lots of people there to dance with. Our daughter, our son, our other granddaughters, the maid of honor—whom we watched grow up alongside Devon—and all of Mat's family. I'd have plenty of dance partners.
Though, what I really wanted to say to him was, "Oh, yeah, right. You're not dancing. Well, we'll see."
What I know about him is that he loves to dance, and he has some pretty good moves, but since we don't often dance, he talks himself into thinking he can't dance, or he doesn't enjoy dancing.
So, on this night of celebration, George was choosing to sit it out, believing something about himself that just wasn't true—he didn't want to dance.
He told himself he couldn't dance as well as everyone else. Would he look foolish on the dance floor? Would everyone be watching him and judging him? I'm not sure exactly what his internal dialogue was; I just knew he would be depriving himself if he chose to sit it out.
This wedding was a hallmark moment—intimate but elegant and festive.
The bride was gorgeous. The two bridesmaids beautiful. The men handsome. The dresses, the flowers, the hair and makeup, the decorum of the ceremony—all picture perfect.
After the vows and all the pictures, we went to the reception room where dinner would be served, toasts would be given, and tearful mothers and grandmothers would look on with pride.
And then the music started—the first dance as "husband and wife," the moving mother-son dance, and then the DJ cranking it up and starting what would be a perfect mix of dance music to fire up all the generations in the room.
And guess who was the first one on the dance floor? Yes. It was George.
With a huge smile, he took my hand and pulled me out on the dancefloor. We danced and danced and danced—with granddaughters, with daughters, with a newly embraced family of the groom, and with the beautiful bride and the handsome groom.
The joy in the room was palpable. Everyone was celebrating this couple, celebrating being together after the long COVID-19 isolation. We were lifting one another up, committing to an ideal of love, and holding high the best of who we are.
George danced that night.
He declared himself to be an "I'm not going to dance" person, but he wasn't who he thought he was. He rose up, embraced the dance, and experienced the full joy of the night.
This made me wonder. What joyful dance are the rest of us depriving ourselves of simply by saying, "No, that's not who I am," or, "No, I'm not doing that"?
George taught me a lesson that night. He showed me how you can find a fuller experience of life when you embrace the moment and let it carry you away to something wonderful that you had never even expected.
So how about it, dear reader? Will you choose to sit out the unexpected wonders of your life or are you going to dance?