This article is written in partnership with Vella—they're dedicated to putting science in service of great sex, and closing the orgasm gap between men and women. We're honored to work with them. ~ ed.
~
"Can we just try tonight, babe?"
This simple question has pierced a hole in my heart where guilt has found a way to seep in on more than one occasion. When I'm struggling mentally, sex is the absolute last thing that comes to my mind, and it tends to stall my sex drive more often than I'd like to admit.
I love my husband, and I know how important intimacy is in our relationship; but when I'm in the trenches of depression, no amount of truth or reality is strong enough to overpower it. Your energy, your overall well-being, and your sex life are all pervaded by it—and the inability to get in the mood has sent me into a spiral of shame when I haven't had the words to explain why I'm putting it off again. What's wrong with me? Why do I hate how my body looks? Why can't I just get in the freaking mood?
The cycle has left me feeling completely helpless at times—and with the marketed "most wonderful time of the year" approaching, that means that SAD (Seasonal Affective Disorder) is upon us too—which has me anticipating that my libido tank will be running on empty once again.
I know I'm not alone in this. The last year and a half has been brutal—for everyone, in a myriad of ways. Many of us would've hoped the Covid landscape could've taken on a smoother shape by the holidays this year, but unfortunately, there's still a whole lot of blurred lines.
Travel is still restricted in places all over the globe, people are still combating the pandemic, job loss, and a host of other compounded stressors that are sprinkling a dose of gloom atop our usual SAD sundae. SAD a.k.a. "The Winter Blues" is taking on a whole new hue, and most of us haven't had the time to even process how deeply our minds, bodies, and wellness have been shattered by all the stress we've harbored since 2020.
Sure, there are plenty of ways we could attempt to mitigate the symptoms we're soldiering through, but there's one pretty immediate, science-backed way to offer ourselves relief: sex. According to Nicole Cirino, M.D., Associate Professor of Psychiatry at OHSU's Center for Women's Health, ​​sex could really be a savior for our ailing minds and bodies in some profound ways (1):
>> Lower blood pressure
>> Better immune system
>> Better heart health, possibly including lower risk for heart disease
>> Improved self-esteem
>> Decreased depression and anxiety
>> Increased libido
>> Immediate, natural pain relief
>> Better sleep
>> Increased intimacy and closeness to a sexual partner
>> Overall stress reduction, both physiologically and emotional
Okay, that sounds great and all, but how am I supposed to get to the sexy part if I can barely get out of bed in the morning?
An unprecedented proprietary pre-play topical women's serum for arousal, Vella, might just help answer that question. Backed by scrolls of research, and centered on stimulating the same smooth muscle that both men and women share, Vella is committed to giving women the boost that many of us are desperately seeking now more than ever.
In clinical studies, the minds behind Vella discovered that by delivering CBD deep beyond your skin to relax vaginal and clitoral smooth muscle tissue, 9 out of 10 women aged 18 to 75 reported increased ease, intensity, frequency of orgasm, and overall satisfaction from sex—despite the physical, mental, and emotional barriers between us and our sexual wellness.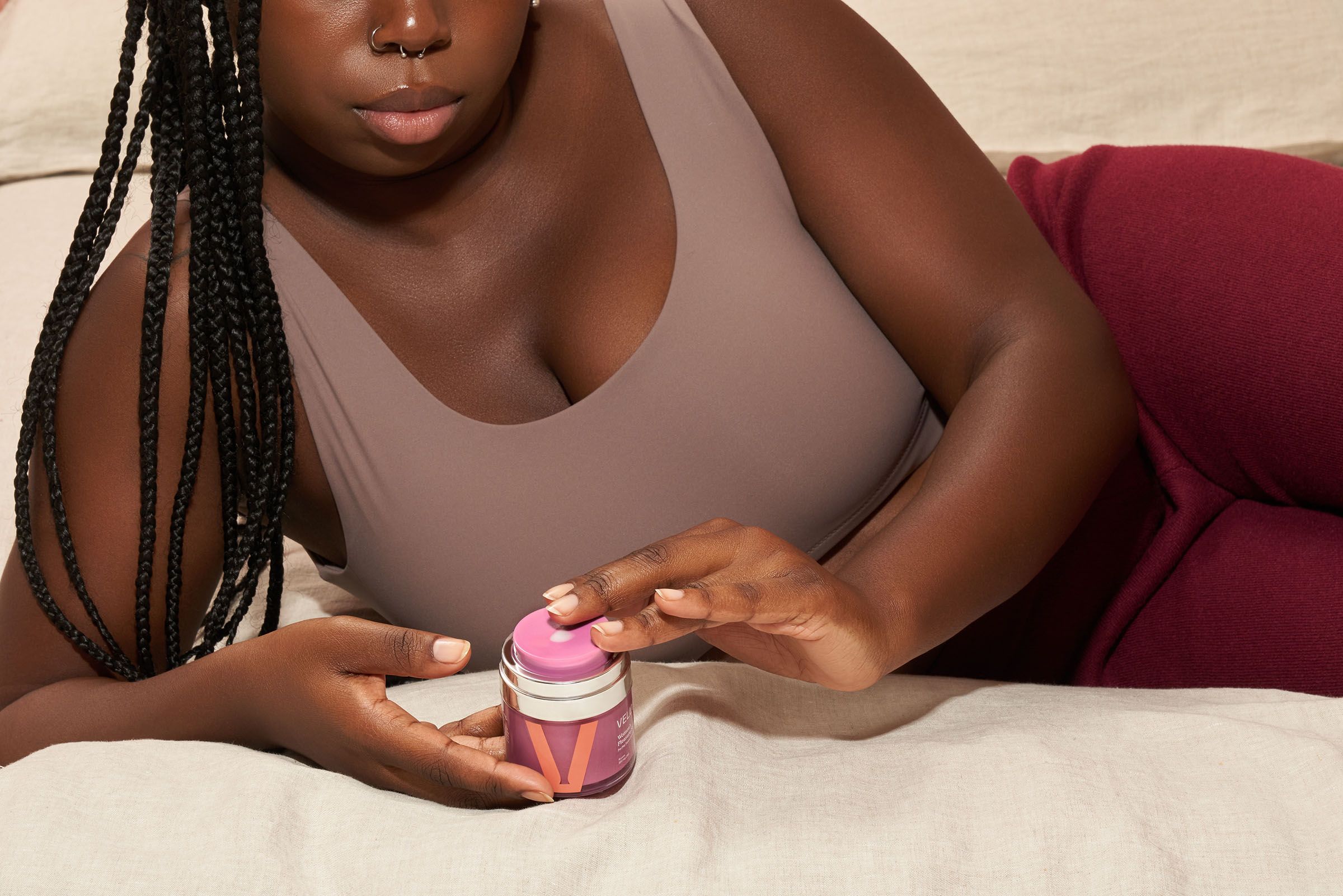 Mental Health isn't just in your Mind.
If you're in the throes of depression and/or anxiety, first of all—love to you. You're a warrior. You deserve all the benefits of sex, even if getting in the mood sounds loftier than climbing Mount Kilimanjaro with flip flops and a prayer.
There are ways you can navigate the physical, emotional, and mental rapids of depression and anxiety with the nurturing sensations and connection from sex—and a little help from sensual wellness in a bottle called, Vella.
1. Fight biology with sexual science. "Depression affects sex because of biology. It starts with chemicals in the brain called neurotransmitters. Neurotransmitters communicate between your brain, where sexual desire starts, and your sex organs. When your brain thinks desire, your body responds by increasing blood flow to the sex organs. Increased blood flow triggers arousal through an erection or vaginal lubrication." (4)
Even beyond the interrupted blood flow, a study conducted by Springer demonstrated that anywhere between 12% and 44% of women struggling with their mental health deal with Dyspareunia, or pain during intercourse as a result of the lack of lubrication. (3)
Yeah, we're dealing with enough sh*t already, ladies. We don't need physical pain on top of the pressure to pull off a Martha Stewart-level spread on Thanksgiving when we can barely stomach washing a dish.
This is where two out of three real-world Vella-lovers have said it has the potential to swoop in at the arousal segue into sex. The active ingredient in Vella isn't just CBD, it's a pure, nano-encapsulated CBD molecule. This allows the CBD to be delivered deep beyond the skin to work at the cellular level, right where the magic (arousal and orgasm) happens.
"Vella has given me an alternative to what I thought would be a lifelong difficulty of achieving physical arousal due to my SSRIs. Rather than having to alter the dosage of a medication, I am able to be intimate with myself or a partner without sacrificing my mental wellbeing." ~ Emma
2. You might just want your partner to come closer again. There's no argument about the biological impact of depression and anxiety, but the mental toll can cost us way more than a great orgasm. Seasonal changes like the one we're treading through now, hormonal changes like PMS, pregnancy and childbirth, and peri and post menopause all can put women's minds through the ringer. They're all recipes for lingering "bluesy" feelings that can make women feel distant, irritable, anxious, and straight-up burnt out. (4)
Speaking from experience, this can really throw a wrench in relationships, and if you're single, it's going to take a Herculean effort to lift yourself out of any one of those mental states. There's a flux of guilt and shame that accompanies the darkness of depression, and especially around body image.
Self-esteem takes a major hit when you're not able to see your wholeness with clear eyes, which makes it extra hard to disrobe in the bedroom. (2) It can feel impossible to appreciate the stretch marks that made you a Momma, or the wrinkles that earned you your wisdom, or the curves that make you beautiful when you're in the ring with feelings of depression.
Sometimes it takes treating yourself to something beautiful, like the aesthetically dreamy vibrance of Vella's bottle, to remind you that you're worthy of pleasure, of being desired, and of soaking in all the goodness the soothing afterglow of an orgasm has to offer—yes, even if you don't feel like you are right now, you deserve all the euphoria and then some.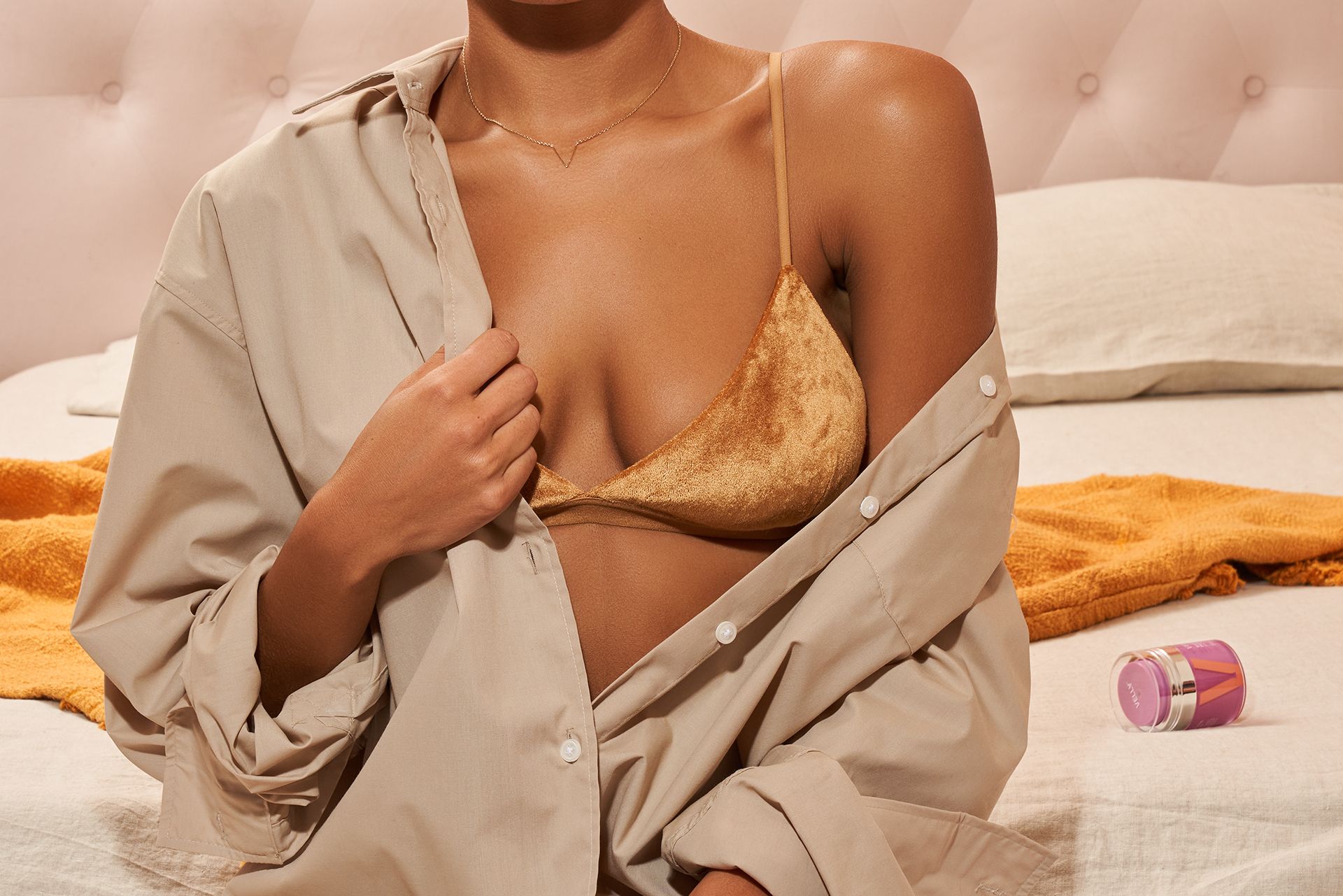 3. Remind your mind that sex is on the table. Depression is a whole lot more than just being sad. One of the hallmarks of traversing the treacherous roads of depression is loss of interest—in everything. Singing, painting, the show that used to crack you up without fail, and especially slipping into sultriness either alone or with a partner get cast to the wayside. (4)
How are you supposed to initiate sex when you feel worthless?
How are you going to giggle and interlock toes with your partner under the sheets if you're worried that they don't even want to be next to you?
Depression and anxiety are liars, and they send us messages that mess with our emotions on a cellular level. We know how healing a sexy session can be for our minds and bodies—that's why the best "O"s are called mind-blowing, right? That's where Vella users have suggested it has the potential to step in—right between the mental fatigue and physical arousal, to give you a much-needed leg up on the pleasure ladder.
"Vella restored the sex drive that I lost when I was taking anti-depressants. Before I felt that with anti-depressants I had to choose between my mental health and my sexual wellness, and Vella gives me the opportunity to have both at the same time." ~ L.G.
Sex and intimacy shouldn't be reserved for when you're feeling your sexiest, your happiest, or your healthiest. When you're in the thick of SAD, or any other brand of psychological struggles, you need the stress-squashing liberation of an earth-shattering orgasm more than ever.
Sure, it won't solve all of your problems, but some things in your life might come just a bit more easily.
Science in the Service of Great Sex.
1. Vella Women's Pleasure Serum.
A Balance of Beauty and Science.
1/3
No offense to good lube, but this serum is a lot more. Crafted by scientists, Vella works deep beyond the skin and relaxes your vaginal and clitoral smooth muscle tissue for more frequent, intense, and satisfying orgasms—for women at every age and life stage.
Get 20% off with code EJ20
References:
(1) OHSU
(2) Healthline
(3) Springer Open
(4) Cleveland Clinic
(5) Healthline