View this post on Instagram
"You have Multiple Sclerosis," said the doctor after several days of testing.
Those words in 2011 were like a whisper from a distant land, barely audible to my ears—but I heard them. Everything around me faded into static. I was in shock.
My life changed drastically at 29 years old, so drastically that all sense of self was lost in-between the black and white lines of my life—everything was suddenly gray.
I lost myself in the pool of grayness; I was drowning and sank into an abyss of darkness in those first seven years. It wasn't easy finding my will to swim back toward the surface between several relapses that came like a wrecking ball into my life.
Following my diagnosis, it felt like people around me were now treating me like a glass doll, afraid that I would crack and shatter in an instant. I couldn't blame them; I wasn't feeling unbreakable in those days. With every move I made I was told to be careful or to let someone else do the "its" of life as if I was incapable of doing anything. I did metaphorically crack multiple times—but I never shattered.
I started tapping into my sense of will, slowly learning that I wasn't so fragile, and that I could still do so much with my life.
In 2019, I started hiking. I mean, I really started hiking; not your average walk in the woods, but up to mountain peaks. In June that year, I journeyed 10 kilometers with 1,300 meters of elevation gain to the false summit of Mount Lady MacDonald within the Bow Valley Provincial Park in Alberta. Sure, I'd been "hiking" before, but nothing like this, never to be standing on the top of a mountain. Coming down from the false summit proved challenging; my legs were weakening. Despite the frustration, I pushed forward. I would do this of my own volition—and I did, collapsing into the truck when I returned to the parking lot, exhausted.
Everyone around me grew exponentially more concerned as I fell in love with being on the mountains, and my passion for hiking was ignited.
Over the next two years, I ventured up several mountain peaks of the Canadian Rockies. In March of 2020, I decided I was ready for a solo adventure and tackled the Horseshoe Loop in Bow Valley Provincial Park—approximately 11 kilometers with a 940 meter elevation gain. This was not a hike but a scramble (a worthy distinction), requiring the use of hands to climb over outcroppings of rock on Heart Mountain. It was nearly nine hours later before I returned to the vehicle feeling a sense of pure joy, accomplishment, and empowerment. If I could do this, what more could I do? A question for which the answer is full of possibility.
This past year, I had a few notable objectives that I conquered, with and without a partner; watching the sunrise on cold early mornings from the summits of Ha Ling (eight kilometers with 750 meters of elevation gain) and Prairie Mountain (seven kilometers with 670 meters of elevation gain); going up a mountain in the dark (with a headlamp) was a whole other experience—the deafening silence while the rest of the world slept was music to my ears. I could finally hear my inner voice tell me all her secrets about living a life that brings great joy; watching the sun rise along the east horizon, a divine reminder that with every new day there is new hope.
In the Rocky Mountains, autumn months bring a short window of time to witness the larch trees changing from their summer clothes to their autumn attire, from greens to yellows and oranges—a sight to behold in awe of Mother Nature. I had experienced it in the previous year, hiking in the aptly named Larch Valley, but this year I'd chosen to seek out these magical deciduous conifers at Pocaterra Cirque in Peter Lougheed Provincial Park. I had planned to go up Mount Tyrwhitt and do the Pocaterra Traverse, a massive objective, but halfway up Mount Tyrwhitt I had to admit that I could no longer safely navigate my way. I was having trouble route finding through the rocky terrain as I watched two other adventure seekers climb their way up.
After finding a suitable safe spot, I sat down on the side of Mount Tyrwhitt, taking in the expanse of mountains and valleys, and feeling disappointed that I wouldn't complete my objective as planned. As I sat there, I regrouped and decided I would cross the neighboring Highwood Ridge—seven kilometers with 860 meters of elevation gain and a scramble along a ridgeline—close enough to what my planned experience had been. I set off, coming down the side of Mount Tyrwhitt then climbing up, over, and down the wave of the ridge line.
The views were spectacular, as are all views from the top of mountains—a horizon of perfectly imperfect, seasonal beauty.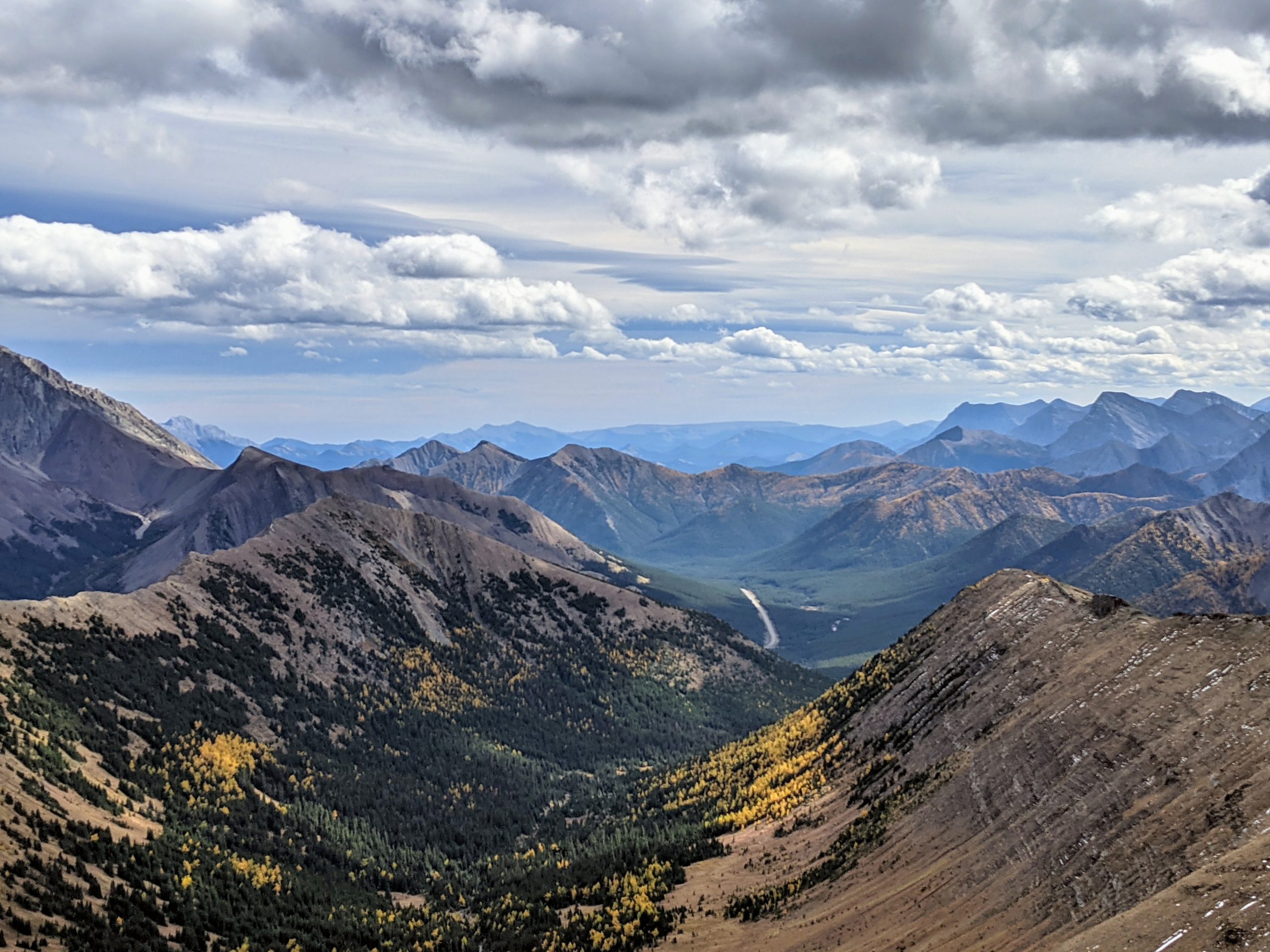 When I reached the summit, my left leg would decide it had enough of this adventure and called it quits on me—cue meltdown. I was in a tremendous amount of pain, overcome with weakness, and suddenly overwhelmed. How would I get myself off this mountain feeling like this?
Turning around was no longer an option as I watched a weather system creeping its way in. Putting all my weight on my "good" leg, tears rolled down my face, and I gasped for air as fear crept over me. The voice of defeat was yelling in my ears over the sound of my heart pounding in my chest. I had proverbially bitten off more than I could chew that day. I toyed with the idea of hitting the SOS button on the GPS device I was carrying, but stubbornly talked myself out of it. I would not be rescued.
I told myself, "Warrior up!" I took a deep breath and began strategizing my way down, seeking out the safest and easiest route. It was obvious I wouldn't be able to walk myself down the mountain as I exclaimed loudly from the pain in my leg. Muscles shaking, I sat down to gather my courage, breathing deeply and slowly, controlling the panic dancing around the edge of my consciousness, and using self-talk techniques to begin my descent; "You got this!" "Look how far you came!" "Don't give in now. You're so close!"
As I started the long bum scoot down from the ridge, I could hear rockfall from somewhere above me. Hyper-aware of my surroundings and how vulnerable I was, I reassessed my path regularly. I took comfort in my preparation, my pack equipped with anything I might need if I didn't make it off the mountain until the next morning—a possibility I would not dismiss. I began to sing with abandon, "You are my sunshine, my only sunshine, you make me happy when skies are grey." I wondered if anyone could hear me, if they wondered where the melody was coming from, who was singing it and why.
In between the words of the song and a steady stream of profanities later, I finally set foot on even trail. I stood up with the help of my poles and my heart danced with joy. I had made it! Take that multiple sclerosis (MS)! I looked back at the now carved-by-bum trail and was overcome with gratitude—smiling, despite being covered in sweat and dirt. I limped back to the vehicle with tears in my eyes, knowing that despite the circumstances I was able to return safely, albeit in a significant amount of pain—a seven-hour journey I would not soon forget.
My physical recovery took place over several weeks. I would consult physiotherapists, my neurologist, and get an appointment to see a physiatrist—the never-ending medical appointments those with MS are all too familiar with. Having MS and being active comes with challenges. My left leg is particularly affected by symptoms, including foot droop, muscle spasms, clonus, and weakness. On the mental side of this equation, with depression and anxiety regular visitors in my life as well as the signature fatigue that accompanies the illness, it's a never-ending tug-of-war between "I can't" and "I will."
You may be asking, why subject yourself to adventures that tax your mind and body like that?
Because if I can, to whatever degree that is, however it may look, I will. I want to look back on my life and know I lived.
A close friend once said to me, "It's like you live in spite of MS," and she was right. It wasn't always like this though. I have had my years of struggle, allowing this illness to consume me as its victim. Over time, I learned how much of a bittersweet blessing it would become. I've lived more fully in the last three years than I have in my entire life.
Going up mountains has become a metaphor for my life with MS. The hurdles are there (gosh, are they ever), but I persist regardless. The reward, more than views from a summit but also a demonstration of what I can accomplish despite the challenges. That I am resilient. A perspective I treasure, one that cannot be taken from me.
I will live my life in the most adaptable way possible. I will live a full life despite this illness.
I'm coming for you mountains, I hear you calling me.