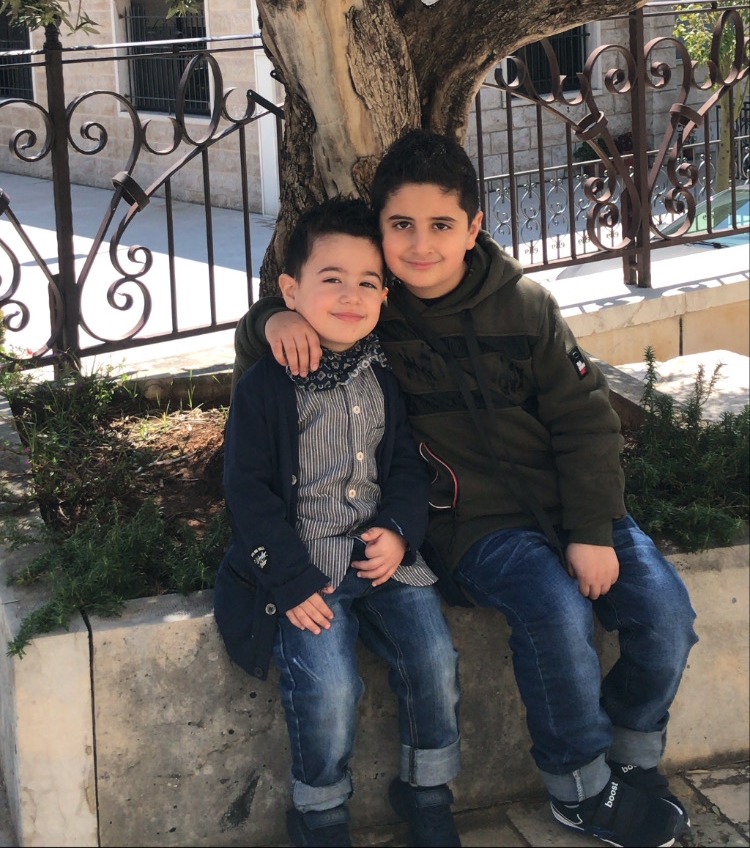 Being an aunt of two active, loud, smart, and sweet boys has been the greatest blessing so far.
In 2013, our lives had turned upside down. My brother-in-law lost his youngest brother in a car accident, and it was a terrible thing the entire family had to deal with. After days of grief and dealing with the loss, my sister went into labor and delivered her first baby boy, Charbel.
He grew up to be my family's favorite person in the world, the boy who brought the gift of life after the dark days of dealing with the death of a loved one.
That was until the birth of his brother, Joe, in May 2018. While Charbel is the academic smart, sweet, artistic, and quiet boy, Joe is the loud, funnily cunning, and the most lively boy in the world.
Each one of the boys turned out to be their own person, and yet, they feel like different parts of the same puzzle.
They fight but love each other unconditionally. They laugh together, cry together, get angry together. When one of them is upset, the other is there for him, and when one of them is happy, they share the enthusiasm and let the whole family know why they are excited.
But I gotta admit. When my sister first told me that she was pregnant with her first child, I was scared. It makes sense that she would be even more scared as a mom, but she's one of the toughest people I know.
I was scared because my sister lives in the building right across from ours, and I knew that my nephew was going to spend most of his time in our house. While his mom was at work, I was faced with the responsibility of watching him grow and making sure that he was raised right.
What did right mean to me?
It meant that I had to answer his numerous questions with gentleness and care.
It meant that I had to protect him and teach him to be strong if he faces bullies at school.
It meant that I had to highlight things he needed to pay attention to while discovering the world, like creepy strangers, unhealthy habits, and toxic ideas that boys usually grow up with.
His parents are doing a great job, but part of the responsibility also falls on me and my mom during the time we spend with the boys. I was 19 years old when Charbel was born. Now, I'm 28.
You could imagine the long way I've come since he first came into the world. How much I grew up with them. How much I taught them and they taught me.
While I taught the boys to be at peace with their feelings and not hide them just because they're boys, they taught me that I should be okay with mine too. They always try to cheer me up when they sense that I'm upset, and I end up crying/laughing at the same time while watching them do silly faces and dancing to trendy music.
While I taught them that life isn't always about winning and there will come a time when they lose (playing twister or cards), they taught me that not every decision I make will bring the best outcomes. And that's okay.
So here are three major lessons my nephews taught me about self-love that I don't think I will ever forget:
1. We don't have to doubt ourselves and dwell on self-hatred if we make a decision that leads to unpleasant consequences.
I haven't always made the right decisions in my life. Although, I do consider myself a perfectionist, this thing sometimes backfires. I look at all possible consequences of the decisions I make, but things don't always turn out the way I envision them.
Some things are out of our control, and it isn't our emotional intelligence or intelligence in general that is damaged. We cannot possibly know everything that will happen in the future.
I remember thinking about Charbel when he came back with a report card that didn't have an excellent grade, although he had studied hard for this exam. And let me tell you, my nephew is a straight A student. So coming back with a grade that wasn't an A+ meant that he had done something wrong. At least, that's how we've been wired. But his response to his mom's question of why he wrote the incorrect answer (even though he had answered the same question correctly the day before) was: "It's okay. It's not a big deal. I lost focus for a second, and I'll do better next time."
My sister and I stared at him and smiled. He was right. It's not a big deal. What mattered was not the grade but that he did know the answer.
2. Let's love ourselves and be comfortable in our skin so much that we need not care what anybody thinks.
I've seen Joe put on sunglasses at night at restaurants (crowded and loud ones, not the quiet ones where people complain about kids being noisy), put on some music on his dad's phone, and dance like there's no tomorrow. He would say hi to other people who found it pretty cute, and kiss his mom and tell her he loves her every five to 10 minutes.
Do I dare do such a thing?
It doesn't have to be dancing on my own in restaurants with no stage. But it makes me think of the times I was in public and wanted to let out some energy but would think several times about it because people might talk. Hell, even at the gym, I'm pretty self-aware how I'm working out, although everybody's busy doing their thing.
After watching my nephews act however they want with no fear of judgment, I started allowing myself to be a little looser. I didn't have to be rigid all the time.
3. Loving the details in our bodies is part of self-acceptance.
I still laugh at the video of the boys drawing faces on their tummies and making them dance and talk, creating a whole play out of it. Soon enough, I joined them in the fun and noticed how comfortable I was holding my stomach in front of them.
I wasn't thinking about how my body would look like in a bikini; I didn't wrap myself in a towel at the beach; I didn't reprimand myself because there was a tiny stomach protruding and that looked nothing like a model's flat and muscly stomach.
As much as I was anxious if I was going to be a good enough role model for my nephews when they were first born, I realize now that they've been my teachers all along.
And I couldn't have asked for a better example to follow.
~