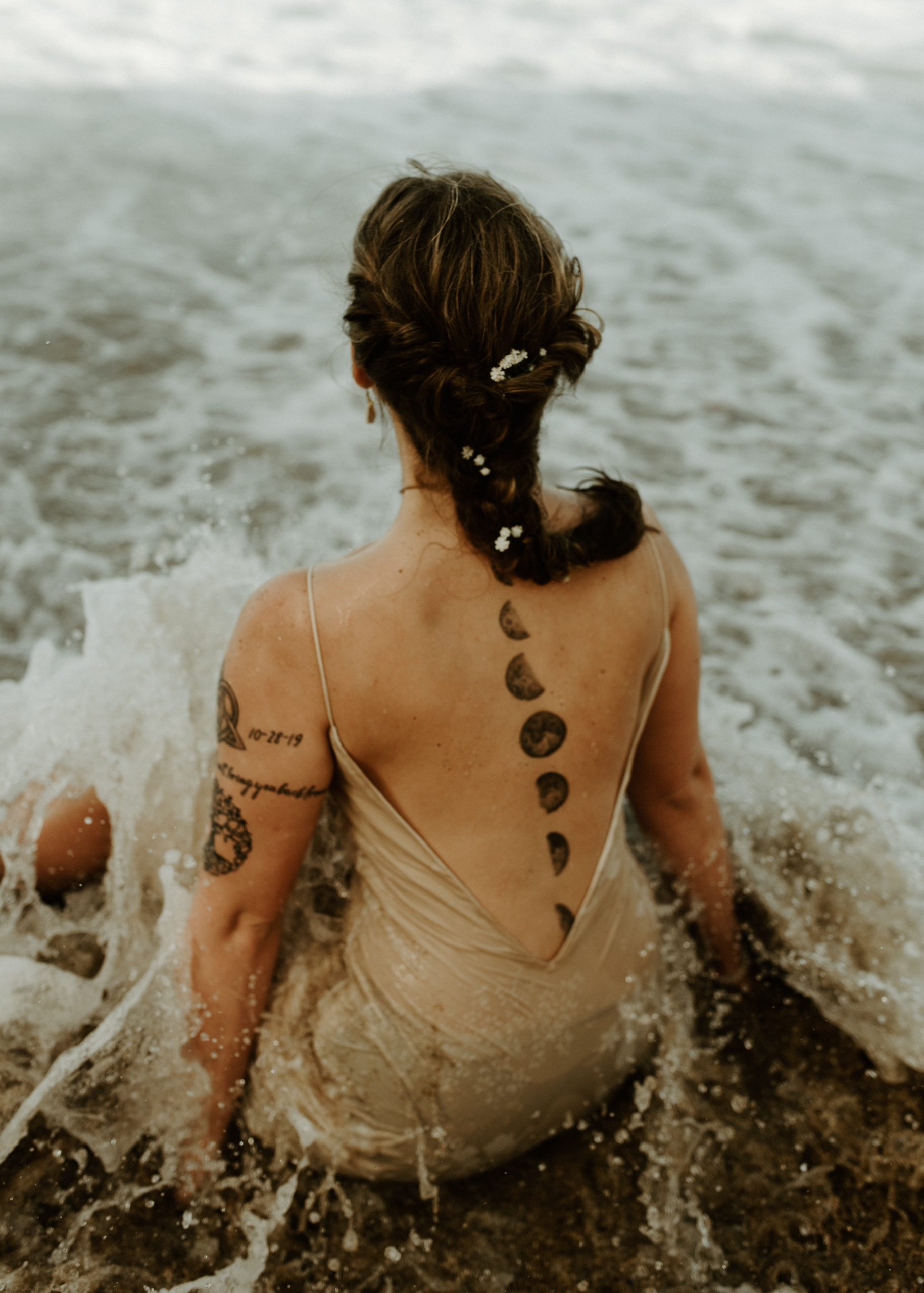 People say mountains call out to them. I believe that.
I like to think of mountains as ancient, rocky, living beings with raw wisdom to offer us.
They have a heartbeat, a magnetism that pulls us close, that draws us from afar; it's like a hot breath of truth on our thirsty cheeks.
So it makes sense they have a voice, a song that we can hear. Lyrics that enchant and heal.
If we dare to listen.
They called out to me six years ago when I moved to western North Carolina, and they called out to me today.
I left work early to drive up the sun-dappled winding roads, and I swear I could feel the mountains already — pulsing, beckoning. Whispering in subtle, low hums only my soul could hear.
As I arrived at the top, it hit me. Fresh, untouched perspective with a side of incomprehensible beauty.
Shattering to the senses, in the most wild, wonderful way.
I perch on the edge of a green bench, surrounded by the expansive canvas of trees and sky.
I like how fierce the breeze is up here. How the air is at least 10 degrees cooler, suddenly brisk against my sweaty skin.
It's like feeling the echoes of the universe, and my place in it. Small, but meaningful. The mountains are enormous, and my problems begin to shrink.
These mountains, oh so vast and deep and blue, I feel like I could ask them a thousand questions and get a thousand answers. But I don't. Instead, I just sit still for once.
In stillness, everything happens. 
The internal takes center stage.
Stress wrings out like a sponge. Worry melts back into primordial mud. The noisy fear-monsters in my head dissolve. 
But I don't feel boneless or spineless or merged with everything — no, I feel…defined. Alive. I feel clear — crisp — in my sense of self.
I like that. It's a comfortable sort of separateness. I have my lines drawn. The boundaries are set. I am a part of all things—but not lost in them.
I feel stirrings from deep inside — secrets I can't decode just yet.
Letting the currents ripple and dance, shadows play and honesty becomes absolutely everything.
I feel all the changes sweeping through my life: a breakup, finishing my first school year as a school counselor, the constant shuffling of clients that is the life of a private practice therapist, feeling summer ripening before my eyes.
And — of course — a world that feels completely in crisis.
Sleep hasn't come easily lately. I've tried to grab her with my usual lasso of ease, falling into precious dreamscapes once my head hits the pillow.
These days, I feel shaken up. Restless. There is edgy, fiery energy snaking through my bones.
There's so much I don't know. Mystery spills, long and silky — in front of me.
I'm not so good at this part. I like things settled. Known. Certain. Secure. 
But life is precarious—filled with messy hair, belly flops, tough years, terrible moments, laughter, friendship, beginnings, endings, and unmistakable joy. And learning. So much learning. The growth never ends.
Change keeps beckoning. Forcing herself. I try to welcome her, but sometimes I just want to cower in the corner. Sometimes, I feel targeted or trapped. But I am not meant for stagnation.
Embracing change is as necessary as breathing.
It is connecting with the wildness that howls in all women, since the beginning of time.
It is the first inhale of inspiration that pushes us to be even more who we are, less who we are not.
In moments like this, facing the vastness of the mountains, I feel a renewed sense of bravery. It's small, just a pearl, but it's palpable.
And good thing, because there is so much to face.
What will happen next?
That is so often my question. 
Where will I be next year at this time? Will I find lasting love? What would that even look like? 
The questions come easily; they roll right off my tongue — but the answers…not so much. They are complicated, elusive. They lurk in shadows, hidden just beyond the horizon, tucked into green masses of tress, perfumed by the mist of early morning fog.
They are hidden, right beyond my awareness.
But maybe that's okay. I think questions are meant to bloom in our hearts and we're meant to hold them close, in the cave-like churning of time.
Questions take on a different quality when we allow them to be there. When we aren't rushing to dissect them and solve things, but we simply sit with the curiosity itself.
Yes. That expands in my chest. It slows me down. 
Instead of speeding ahead, instead of manufacturing answers and certainty, I'd like to sit with the tenderness. The not-knowing. The human passion and thirst and imperfection and messiness.
Instead, I'd like to actually be here and write this singular sentence. I'd like to fly on this magnificent breeze, bathe in these golden sunbeams, and focus on the magical mountains in front of me instead of getting wrapped up in the arms of worry.
I am not after the neat bows to tie it all up, the grand ending. What I need most are necklaces of moments.
Yes. This is what I wish to remember. Simple and profound; obvious, but not easy to put into practice.
I close my eyes and try it for awhile.
Sensations rush in. It's the way words are like cameras — how they can capture the multifaceted magnitude of the moment. So that we can feel it, taste it, be with it, explore it, let it linger and touch us to the depths of our core.
It all happens in stillness. With the mountains and trees and grass as my witness.
No, I don't have the answers. But I have something I cannot name. Maybe it's just the ability to sit with all of this. To hold space for my becoming.
As the moment ripples out and changes into something new.
As I ripple out and change into something new.
~
Please consider Boosting our authors' articles in their first week to help them win Elephant's Ecosystem so they can get paid and write more.