"Climb the mountains and get their good tidings. Nature's peace will flow into you as sunshine flows into trees. The winds will blow their own freshness into you, and the storms their energy, while cares will drop away from you like the leaves of Autumn." ~ John Muir
~
This favorite quote, purchased as a print including illustrated mountains and trees from an Etsy seller, hung in a gold leafed frame on the wall in my dearly departed 7-year-old son's bedroom.
Prior to placing it there in efforts of turning his room into a place of loving, healing connection in the wake of his recent passing, it was adhered by 3M command strips in the miniature gallery wall of our self-outfitted camper-van. In our "adventure rig" and "cabin on wheels," we traveled as a family all over Colorado and parts of Wyoming.
Through mountains and trees we laughed in the face of adversity, truly living like he was dying without actually saying it out loud.
The mountains and trees felt like home in their awe-inspiring majesty—until one day they didn't. We were being physically rejected from the places that once provided the joy only read about in novels. Migraine headaches, sinking pits in our stomachs, and feelings of utter repulsion tapping at our gag reflexes replaced the lightheartedness and aching cheeks from laughter.
Simultaneously, my husband and I were being drawn to water. Specifically, the ocean. Spending most of our lives in the Midwest, prior to our three-year-stretch in Colorado, annual trips to Lake Superior were the closest sea-like experiences we had together.
Tempted by the expansive allure of the Pacific Ocean and the moody-yet-friendly skies of the Pacific Northwest, we hastily sold our home in Colorado and rented a place in Portland, Oregon—conveniently on the northwestern city outskirts and just over an hour away from the coast.
Getting to know and spending quality time with the sea has soothed our shattered hearts in a powerful, medicinal way. In most situations, spontaneous cross-country moves within a year—let alone under five months—after tragedy are generally not suggested. Pushing the boundaries, as we did with our miracle of a son, has once again paid off.
Having spent the past three months exploring the Oregon coast in its entirety, as well as much of Washington and the San Juan Islands, my husband and I have cultivated what feels like a relationship with the force of love living in the Pacific.
I share the below quotes as a toast in gratitude to our new friend—a friend who is helping our battered hearts to heal:
"The sea, once it casts its spell, holds one in its net of wonder forever." ~ Jacques Cousteau
"We are like children building a sand castle. We embellish it with beautiful shells, bits of driftwood, and pieces of colored glass. The castle is ours, off limits to others. We're willing to attack if others threaten to hurt it. Yet despite all our attachment, we know that the tide will inevitably come in and sweep the sand castle away. The trick is to enjoy it fully but without clinging, and when the time comes, let it dissolve back into the sea." ~ Pema Chödrön
"A smooth sea never made a skilled sailor." ~ Franklin D. Roosevelt
"The sea does not reward those who are too anxious, too greedy, or too impatient… Patience, patience, patience, is what the sea teaches. Patience and faith. One should lie empty, open, choiceless as a beach—waiting for a gift from the sea." ~ Anne Morrow Lindbergh
"As the sea is beautiful not only in calm but also in a storm, so is happiness found not only in peace but also in strife."~ Ivan Panin
"The ocean has always been a salve to my soul…the best thing for a cut or abrasion was to go swimming in saltwater. Later down the road of life, I made the discovery that salt water was also good for the mental abrasions one inevitably acquires on land." ~ Jimmy Buffet
"The heart of man is very much like the sea, it has its storms, it has its tides and in its depths it has its pearls too…" ~ Vincent van Gogh
"The sea is emotion incarnate. It loves, hates, and weeps. It defies all attempts to capture it with words and rejects all shackles. No matter what you say about it, there is always that which you can't." ~ Christopher Paolini
"There must be something strangely sacred in salt. It is in our tears and in the sea." ~ Kahlil Gibran
"A wave does not have to die in order to become water. She is water right here and now. We also do not have to die in order to enter the kingdom of God. The kingdom of God is our very foundation here and now. Our deepest practice is to see and touch the ultimate dimension in ourselves every day, the reality of no birth and no death." ~ Thich Nhat Hanh
"[The waves] move across a faint horizon, the rush of love and the surge of grief, the respite of peace and then fear again, the heart that beats and then lies still, the rise and fall and rise and fall of all of it, the incoming and the outgoing, the infinite procession of life. And the ocean wraps the earth, a reminder. The mysteries come forward in waves." ~ Susan Casey
"For whatever we lose (like a you or a me), it's always our self we find in the sea." ~ E.E. Cummings
"The sea is a desert of waves, a wilderness of water." ~ Langston Hughes
"It isn't that the waves stop coming. It's that because you train in holding the rawness of vulnerability in your heart, the waves just appear to be getting smaller and smaller, and they don't knock you over anymore." ~ Chögyam Trungpa Rinpoche
Amidst the hundreds of miles of Pacific Northwest coastline beaches strolled and cliffsides hiked, a deep presence has always been felt. Different from my son's spirit—a distinct liveliness, sunshine-y energy effervescence that elicits a palpable lightness to my heart—it feels of comfort and healing.
During high or low tide, wandering a sandy beach with tide-pools or traversing a rocky cliffside where whales can be sighted, the nurturing love is cloaked over us like a heavy, well-worn quilt.
A couple weeks back, whilst exploring the southern Oregon coast for the first time, my husband suggested we check out the landmark Face Rock. Suppressing the urge to preview photos on Instagram, which I've come to feel often ruins our experiences when seeing natural wonders for the first time, I was curious and unsure what to expect.
Pulling into the landmark parking lot in Bandon, Oregon, the soft sandy beach at morning low-tide was lined with sea stacks of various sizes and shapes—one of the largest in the close distance resembled a chiseled face, appearing to levitate out of the water.
My heart leapt out of my chest, the way it would after making in-person eye contact with a long-lost friend, reunited lover, or someone you've known and loved but haven't had the pleasure of meeting in person. In that moment, he, she, or they have officially been personified in my mind.
While maybe not always necessary, isn't it heartwarming to put a face to a name?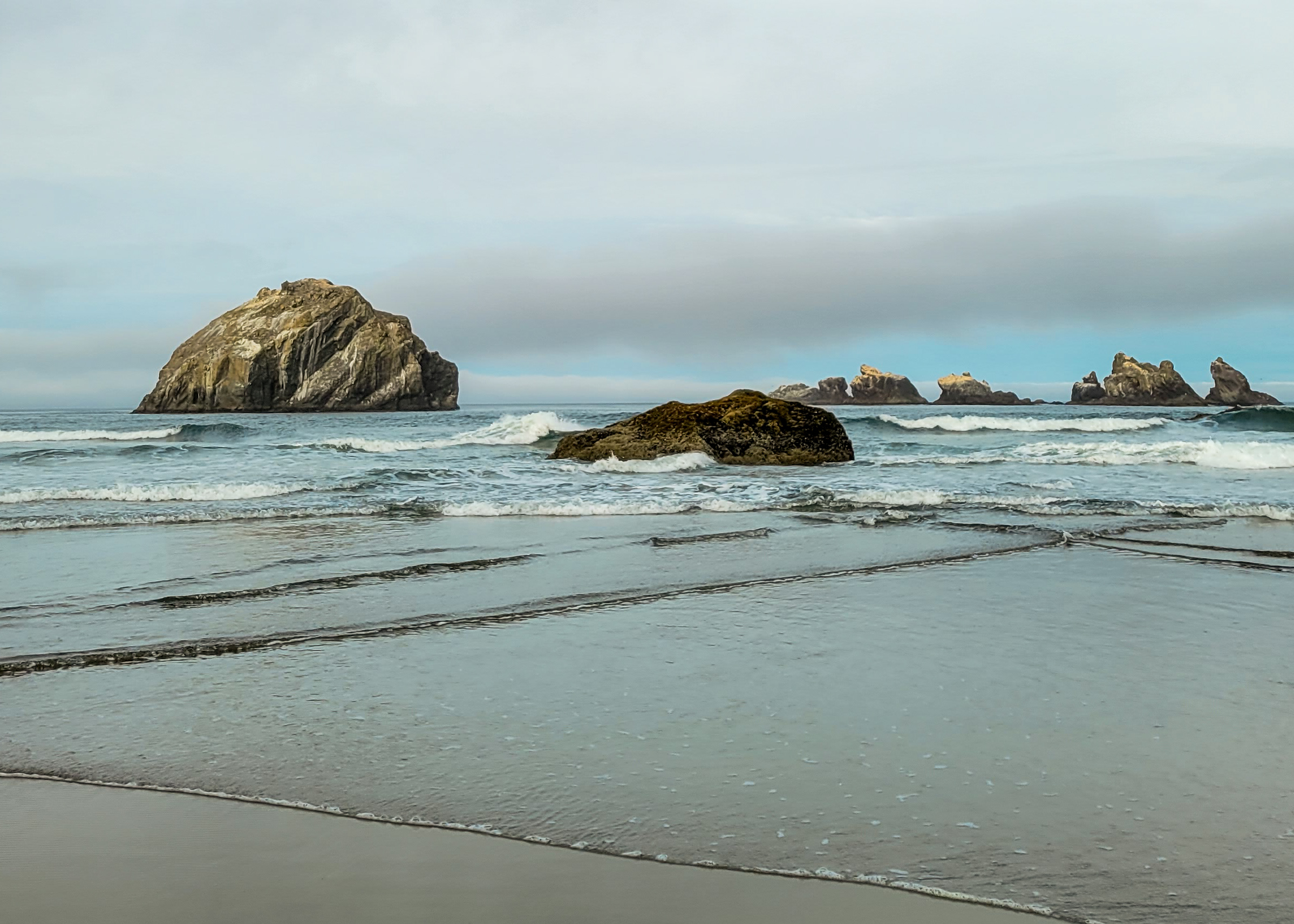 ~
Please consider Boosting our authors' articles in their first week to help them win Elephant's Ecosystem so they can get paid and write more.
~