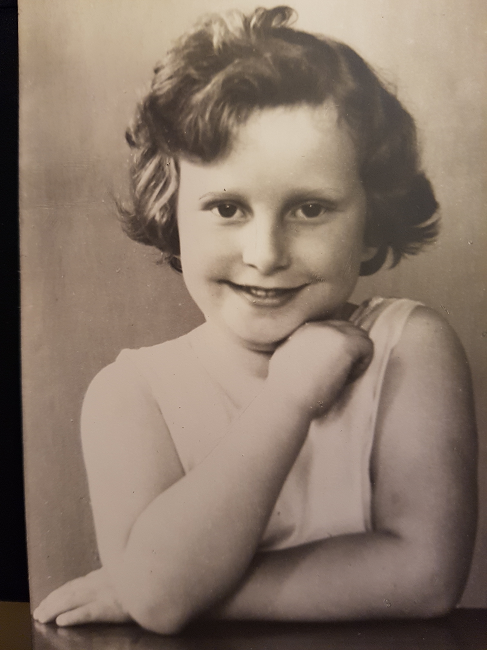 I can't say I remember the exact realization of my mother's absence.
I just remember that one day, this undefinable energy that kept me connected to everything in the Universe, this warmth that surrounded me and through which I was able to understand what was outside of myself…was gone.
This understanding kept developing over time, this un-tethering, until my life had no context because she had been what made me "real."
I was five when my mother died of cancer—too young to comprehend her absolute and everlasting absence.
The last time I saw her, she was at the gate of the sanatorium in her nightgown and robe; I, on the other side with my grandmother, shaking the wrought iron spindles, wishing I could find myself beside her. Of course, she looked perfect to me, but now I imagine she must have been thin and weak, grieving the life that was cruelly ebbing away. I wonder at how her heart must have broken at my innocence and incomprehension of what was to come. Because I am a mother, I know that her tears burned hot on her cheeks.
I sometimes felt guilty that after days, weeks, and months had passed, I stopped asking for her, stopped crying, eventually living like any other child I knew. I played, laughed, lived in that one-room apartment with my grandmother as if nothing monumental had happened.
In later years, I wondered what her last thoughts had been, or if she had been too exhausted and in pain to have any thoughts at all. I wondered if anyone had held her hand or been with her in those last moments. Because of the time and place of her life and death, it is reasonable to assume that she had suffered too much. I wondered who was there for my father who, a few short years later, succumbed to grief and died by suicide.
The truth is, for many years I had pushed my loneliness for her so far beneath my skin that I didn't identify as "orphan" or having lost my north star. I was busy surviving my adopted reality, seeking beauty in whatever I could so that I could protect my heart from hating life. In fact, by some merciful miracle, I was filled with an unusual amount of reverence for it.
It wasn't until my adoptive mother passed that I finally pulled out pictures of my parents. My maternal grandmother had sent letters stuffed with photographs once I'd left home and established contact again. She even marked my mother in group photos with pen, in case I'd forgotten which one she was. I so very much wish I'd been able to hold my old Babcia's hand and listened to her grief at losing a daughter—reassured her that I still felt my mother's presence when I sat still.
I've heard my clients say that losing a mother to any sort of "death," such as illness, senility, accident, mental illness, abuse, neglect, leaves one in that context-less abyss. I know that what they say is true because of course it had happened to me.
I also know that this forces us to create context for ourselves.
We create our worth, our self-love, our "place" and "home" from somewhere deep inside. I imagine it as knitting myself whole with yarn that flows from my belly button where once she and I were connected.
In meditation, I summon her, allow what I remember of her to fill me, and listen for the heartbeat that filled me with assurance in the womb. I recall my scant memories of her—having a temper tantrum when she wouldn't buy me a toy trumpet, sitting with her on a sofa insisting I wasn't tired while I yawned non-stop, walking hand in hand in the park, asking for a pair of red shoes she found too expensive. Red is still my favorite color. My strongest sense of her is on any kind of cement ramp leading to a building, or the smell of carnations. After 55 years, this still calls her in sharply.
There is a gentleness and kindness that has informed me through the years that held me together, and it flowed from my mother through the mystical veil that separates us. It came from the things I know about her—that she loved and taught ballet, to sing, to dance, to write, to perform and play Chopin at the Place of Culture in Warsaw. My mother, a vivacious Aries, birthed a shy, non-performing Scorpio-child, but her granddaughters inherited her talents, and that fills me with awe.
In retrospect, nothing has been able to extinguish our bond; I am bone of her bone, flesh of her flesh.
I find peace in her beingness, however short it was; she lives in every one of my heartbeats. The older I get, the more I think about her as not only my mama, but also as a young woman during the war, a woman falling in love, giving birth, having fights with my dad, and even small things like running to the store to buy cigarettes. Maybe she also loved red shoes.
Mother is a big theme in my astral chart. It's actually quite surreal to see the way planets and asteroids point directly to my experience and path. It's also reassuring to know that what I have lived are not random events, but part of my cosmic tapestry.
In meditation, I find gratitude for this curious life I was born to.
I give thanks for the womb that birthed me.
I give thanks to even briefly have known the woman who carried me for nine months. I am honored to be of her lineage.
I give thanks for the grief, too, because it points back to the inextinguishable love that birthed me.
I give thanks for the path the grief set me on; it taught me humility and compassion.
Because of her, I strive to be a good ancestor.
Beyond the story of the path struck when my mother passed is the story of how incredibly fortunate I was to lock eyes with her when I arrived Earth-side.
~
Please consider Boosting our authors' articles in their first week to help them win Elephant's Ecosystem so they can get paid and write more.