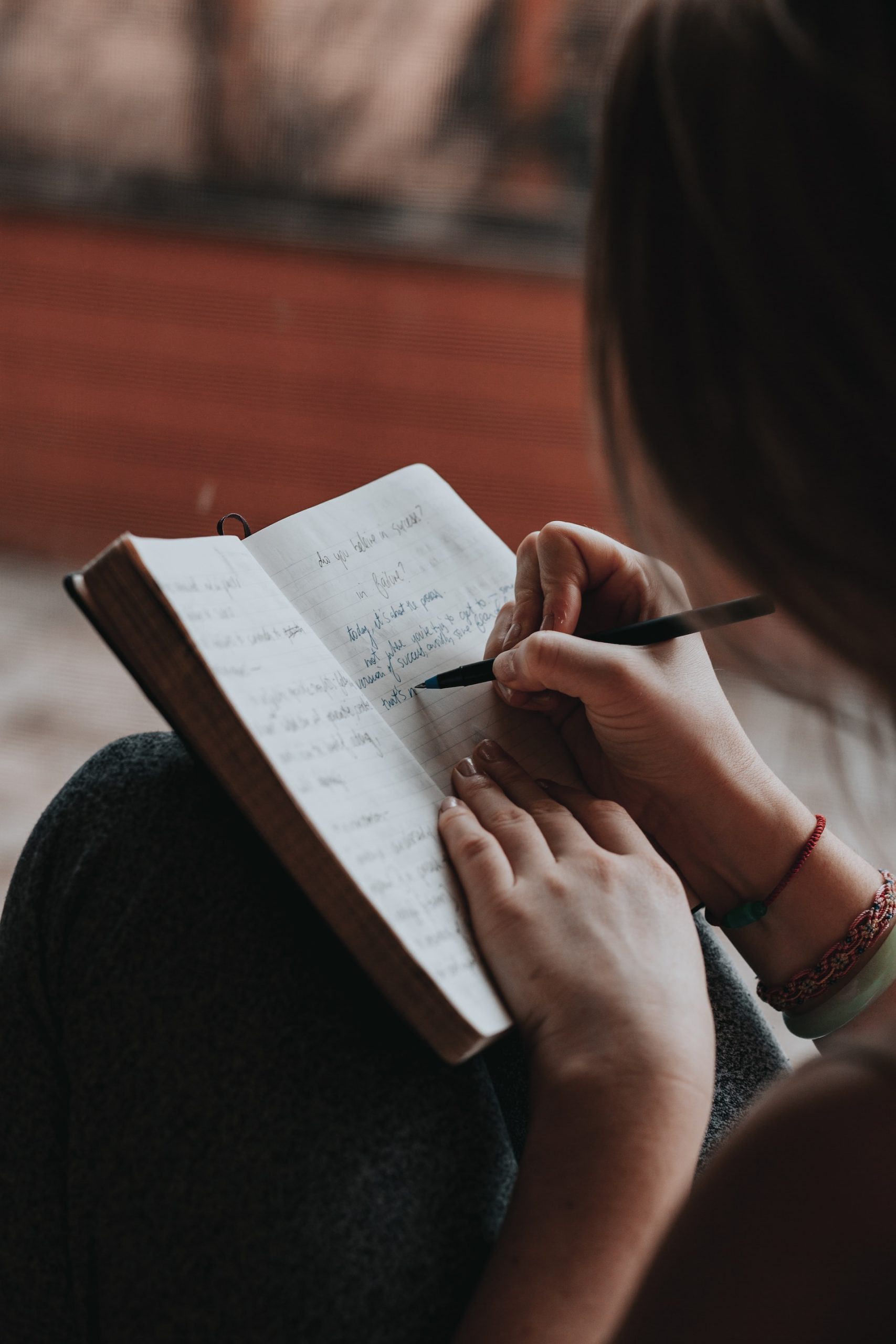 "Write. Just write."
I hear the voice in my heart nudge for probably the seventh time today.
I look around my living room, scattered with colorful toys, like a plush avocado with a smiley face on its brown center, and then down at my dog, Apollo. He stares up at me, another food-themed toy hanging from his mouth. I think it might be his stuffed Oreo, but can't be sure.
As I get up from my cozy spot on the couch where I've been reading, I set my book aside, throw off my blanket, and stretch my arms overhead, yawning. Apollo mirrors me, yawning and stretching into downward facing dog like the yogi he is, then reaching one back leg behind him at a time. Watching him stretch brings inexplicable satisfaction to my own stiff limbs.
The book I've spent the last hour reading is one my dear friend, Danielle, wrote and recently published. It tells of the spiritual and life lessons she learned along her nomadic travels following breaking up with corporate America. As I dove into it, I was surprised how little it resembled Eat, Pray, Love, and instead was Danielle's authentic voice.
Perhaps it's simply that Danielle's book has sparked my own inspiration, or maybe even a tiny ember of competition within me. Maybe that's the internal voice urging me to just stop thinking and write already.
Whatever it is, it hasn't left me alone all day. It's now 4:30 p.m., and I can feel the energy of the day winding down. Apollo looks at me, eagerness flooding his dark brown eyes. He is ready for his favorite part of a day like this, when I might take him on a long walk over the winding hills of our neighborhood.
"Ok, buddy," I say. "Let's go." I grab his braided leather leash and corral him to get his harness on. As much as he wants to cooperate, Apollo is merely an 11-month-old puppy—and not just any puppy, but a German Shorthaired Pointer, famous for their extended adolescence, boundless energy, and intense need for mental stimulation and physical exercise. Having spent most of the afternoon indoors with me, he now has so much pent-up energy circulating beneath his skin that he can't begin to sit still or concentrate on the task at hand.
After wrestling him into his harness, Apollo and I finally set out for an afternoon power walk. This has become a ritual that we both look forward to, one that I benefit from at least as much as he does. Yet, I struggle to make it happen every single day, even though I know we both need it.
The first half of our walk typically consists of ample opportunity for training and correction, as Apollo strains toward every enticing scent, from the fire hydrant on our street that every dog in our cul-de-sac marks, to a jogger on the opposite side of the road.
By the second half, or about 30 minutes in, Apollo has expended enough energy to be a courteous walker. He walks (mostly) in step with me, leaving slack in the leash, looks up at me often for validation that he is being such a good boy, and doesn't try to jump on top of our neighbors' mailboxes.
Once we get to this part, our walk transforms from resistance to ease. With Apollo no longer trying to pull me in every direction except straight, alarming my kneecaps with each jolt, and instead with him trusting me and our steady pace, my experience is transformed into a meditation of sorts.
The chaos of joggers zipping by and dogs barking behind fences as we pass fades. Suddenly, the world is quiet and peaceful. We pass grassy hills dotted with white tail deer, and tranquility washes over me. The deer see us, too, and instead of looking frightened, it feels as though we are exchanging messages of peace and blessing.
It is during this half of my afternoon walk with Apollo that my brow relaxes as my mind unfurls. It is this time of day when I am reminded of who I am and where I am going. It is also during these sweet few minutes alone with my dog when I am open to hearing my internal navigation system.
"Write," the voice whispers to my heart. Before I have the chance to come up with excuses for why I haven't yet, the voice repeats itself, this time a little louder, "Write! Write. Now is the time. Just write."
The voice is kind, but I can tell it is not f*cking around.
When we get back home, I give Apollo his customary post-walk bowl of cool reverse-osmosis-filtered water and wipe down with eco, organic puppy wipes. (I am the literal meme about Millennials and their dogs, and I don't even care.) Satisfied, he sprawls out directly under the ceiling fan, reveling in the contrast the cold temperature of the wooden floor beneath him provides the warmth of his body.
Seeing his satisfaction satisfies me, too. Apollo catches my gaze for a long moment, and I can feel his gratitude. "Worth it," I think. Time given to Apollo is always so worth it.
"Write," the voice is back. Oh, yeah. I pry my eyes away from Apollo's and head upstairs to my office. As I sit down at my desk, I decide to write daily for one week and see what happens. Aside from that, I don't give myself any rules. I also don't have any particular idea of what to actually write, but I figure that will work itself out in time.
I not only commit to writing every single day for one week, but to two other things that the voice has nudged me about as well. Because why not? If I am going to truly live by my intuition, as I declared on New Year's Eve, I may as well go all-in.
In addition to writing, I agree to go for a walk and to meditate every day. These are things that are not abnormal for me to do, anyway, but that I have thus far treated more as a luxury than a necessary portion of my self-care. On busy days, meditation gets skipped. On rainy or cold days, walks do not get taken.
"Write, walk, meditate," sounds like a book title, and seems like a decent enough action plan to live by for a few days. Deciding to be intentional about these three practices, making them pillars of my life instead of fickle habits, feels really good to me and seems to pacify the voice. I get started immediately, unsure of where this experiment will leave me by the end.
Fast-forward one week, and I have written nearly 20,000 words. I have walked over 20 miles. I have meditated at least 20 minutes each day. I am effectively astounded by these results, by what one can accomplish just sticking to something as simple as writing, walking, and meditating daily for a week.
I wasn't sure what to write about, so I tried to tune into the voice for guidance. It gave me a vague idea to work with: "Just start at the beginning and write everything you can remember." Slightly intimidated, I sat down at my desk on that first day, cracked my knuckles, and began writing down my oldest memories.
My memory goes as far back as my sister's birth, when I was three-and-a-half. So many memories flowed onto the page from there—things I didn't even know I remembered. As I wrote out everything I could access from my childhood, I realized that I was simultaneously processing unresolved emotions and traumas.
My parents were involved in a nearly fatal car accident when I was in the fifth grade. Writing about that event, and my experience of it, though challenging, proved enlightening. I was able to piece together details and emotions that I hadn't realized were not only still affecting me as an adult, but largely explained so much about me. I uncovered the roots of vast parts of myself that I'd always assumed were merely quirks of my personality.
Aside from delighting Apollo, walking daily helped me process the events of my childhood that I was unearthing. That consistent physical activity really helped me clear my head of what I was drudging up, and the act of literally moving one foot at a time in a forward direction helped me feel like I could emotionally move on from the past.
Meditating daily, in addition to my voice's assignment to write, was a tremendous gift, as well. It served as a grounding time to breathe, regulate my nervous system, and come back to the now. It was also a time during which I didn't have to think about what to write or how I felt but could simply allow myself to be.
I'd had no idea when I decided to walk and meditate daily during my weeklong writing marathon that walking and meditating were just as crucial as the writing itself. That those practices allowed me to write from a raw place without being triggered, overwhelmed, or consumed by the process. That walking and meditating were a balm to my heart—reverse-osmosis-filtered water and a cold wood floor to my heated body.
By the end of the week, I felt like the truest version of myself. Light and free. I felt like I had unshackled myself from years of heavy, burdensome shame I hadn't even realized I was carrying.
I am fascinated by how, deep down, we always know what we need. Aside from valuing time to write, walk, and meditate often (perhaps daily), my biggest lesson from this week is gratitude.
I am grateful that this time around my intuition's voice was persistent and clear enough for me to hear it. I am grateful that I trusted it enough to follow its lead. I am grateful that I saw this weeklong commitment through, and that I continue to reap its benefit.
~
Please consider Boosting our authors' articles in their first week to help them win Elephant's Ecosystem so they can get paid and write more.
~