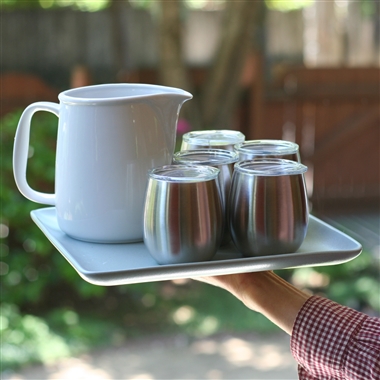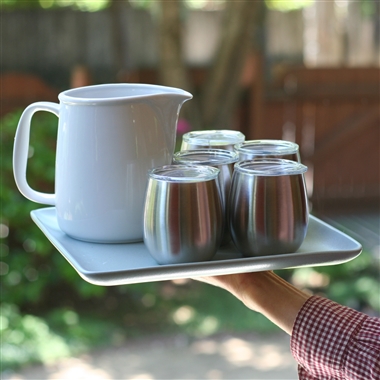 Set yourself up for zero waste success! We've narrowed down 7 products you can use to start living a more sustainable lifestyle. Seriously, it's that easy.

1. Reusable water bottles
So long plastic water bottles, hello reusables! Here's a (not so) fun fact: every year the average American uses 167 plastic water bottles and spends about $225/year. Stainless steel water bottles not only cost less, but last longer–so dehydration on-the-go is a thing of the past. Think about how much "green" you can save just by going green and choosing reusable!

2. Ditch the plastic wrap and turn to beeswax wrap!
Up next is one of the most versatile zero waste products we've ever come across! Upgrade your kitchen to Bee's Wrap, a sustainable food storage alternative to plastic wrap. This fancy cloth is made with GOTS-certified organic cotton, sustainably sourced US beeswax, organic jojoba oil, and organic tree resin. Go ahead, wrap your fruits, tuck in your sandwiches, and keep baguettes fresh. The heat of our hands mold the beeswax wrap that's easily washed when you're done! Just rinse with cool water, and reuse it again (and again, and again).

3. Stop sucking with bamboo straws!
Did you know that in the USA, we use nearly 500 million plastic, non-recyclable plastic straws every day? While that tiny plastic straw may not seem like a big deal, over time they can have horrible environmental impacts in our oceans, landfills, and natural habitats! Stop sucking with reusable straw alternatives like bamboo, stainless steel, glass, and much more. They let you have all the joy of straw sippin', without all the plastic pollution.

4. Minimize your 'forkprint' with reusable utensils
About 40 billion plastic utensils are produced every year, with most of these sitting in landfills or oceans for years without decomposing or breaking down. When you bring your own utensil set when picking up takeout or grabbing a bite on-the-go, you can reduce the amount of trash you produce, and have a totally non-toxic lunch (plastic utensils can contain yucky chemicals!) We love our reusable bamboo utensil sets for anything and everything. Plus they come with an adorable carrying pouch, perfect for tossing into your lunchbox, purse, or backpack as you walk out the door!

5. BYOB: Bring your own (reusable) bag
Fact: pretty much everyone has a never-ending supply of plastic grocery baggies in their junk drawer. Skip the plastic-clutter when you make the switch to sustainability! Thin plastic bags can't be recycled in your home recycling bin, meaning only one plastic bag out of every 200 actually gets recycled. By switching to a reusable shopping bag, you're helping to eliminate some of the hundreds of thousands of plastic bags that exist in our landfills, oceans, and scattered around the planet.

6. Protect your produce with plastic-free baggies
Way to go, you remembered your plastic-free grocery bag! But what about all that produce? Fresh produce should stay exactly that–fresh–not suffocated in chemical-filled plastic. Next time you go to the grocery store, grab these on your way out of the house. Not only are they reducing your plastic use, but we have some made from recycled plastic as well (that's a eco-friendly double whammy!)

7. Say good-bye to single-use coffee cups!
Did you know that half a trillion disposable coffee cups are created every year worldwide? That's over 70 non-recyclable coffee cups for every person on the planet! Break the cycle of waste with a portable coffee maker, with a double-filter brew that makes a coffee-shop quality cup every time. Whether you're on-the-move, or just sitting down for a lazy morning with a cuppa' Joe, you can reduce your waste with this simple sustainable essential!
Ready to get started living a less wasteful life? Start slow, make it count, and share your progress with friends!
Browse Front Page
Share Your Idea
Comments