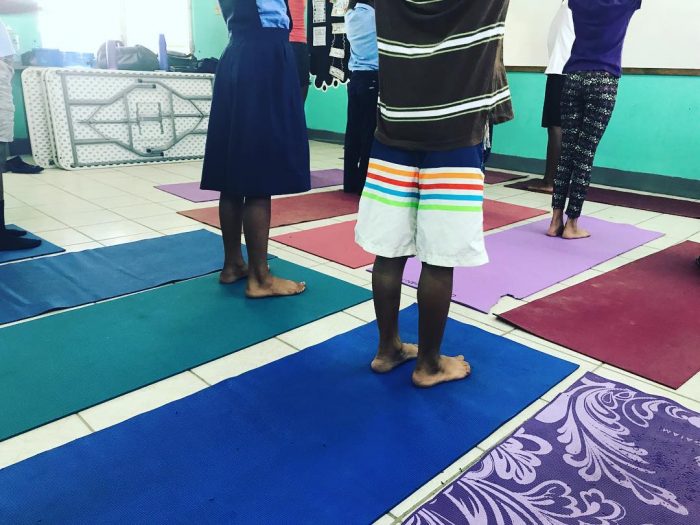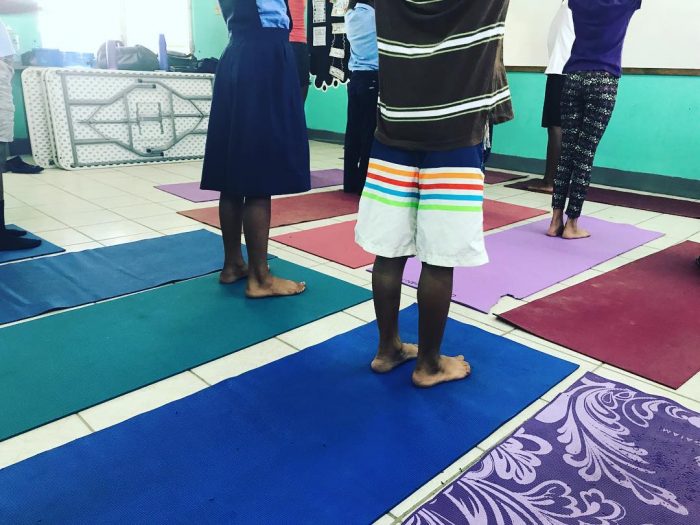 Scene: I've just finished teaching a yoga class, something I've done hundreds of times before… but this time I'm shaking.
This yoga class is unlike any other I've taught, as the participants are from another country, mostly speak Spanish and do not know if they can trust me, unlike my regular students at home.
You see, I'm far out of my comfort zone in the South where I live in Alabama, in fact, I'm in Belize teaching at the Central Prison for a not for profit called Rhythm of Change. Though this is a "cool adventure" to tell friends at happy hour: nothing can prepare you for what it really feels like when you dive deep out of your comfort zone.
As the class concludes, we open the floor up for conversation, the first woman who spoke  brought my shaking to tears of happiness:
"I thank God for bringing you here and treating us like civilized humans, and helping us find our peace," she said.
How can I relate to this group? I thought. We are worlds apart, speak different languages and only a few of us do not live behind bars.
Authenticity came to my mind.
After the women expressed what yoga meant to them. I shared my story. How I had gained fifty pounds, recovered from heart break and started to shed the weight and the emotions that came with each pound the years prior to this visit. Their eyes softened and they saw me as an equal, as we all are on our way, that is, learning our ways back home.
This yoga class has been making a difference twice a week for over a year now in Belize Central Prison, which serves the entire country, whose population is approximately 350,000. Of that number, which is similar to a medium size city in the United States, there are fewer than fifty women in jail. Most of which were in our yoga class.
While that inmate population seems miniscule to those of us that are desensitized to the number of people we see get 'locked up', a lot of these women did not make a wrong turn, they were taken.
Of the fifty women, nearly half are in prison for immigration offenses, or illegally entering the country. What seems to be commonplace for these women is a desire to escape their home countries for a better life, but end up in a world of sex work in a bar. Women either run away from home on their own, or fall victim to human trafficking, which leads the individual into sex work. A world that gives these women no other option for freedom is broken.
Most women incarcerated are taken into prison after bar raids by Belizan police, which will leave them with an option to pay $1,000 (BZE) or spend six months in jail. Six months of time in Belizan prison costs the country four times as much as the $1,000 fine.
Other crimes that have led this group of fifty women together include drug trafficking, crimes of dishonesty such as stealing and other non-violent crimes. No matter what led the individual to the prison, or rehabilitation center as Prison CEO, Virgilio Murillo describes, they are all equal in this yoga class.
"I've seen a significant decrease in behavioral issues with the women since we began our yoga classes," Mr. Murillo said.
Murillo believes any kind of support he can give to the marginalized provides encouragement. One of those programs is the twice weekly yoga class for women which is led by Rhythm of Change Belize (ROC), a not-for-profit organization.
When asking the women from the yoga class, what yoga meant to them, a common theme was being able to manage their emotions. The women have been able to find a place of calm and a place of focus. One woman even shared she feels she can 'breathe now'.
"Even if just for a moment, you can find peace of mind," shared one woman as she looked upon the teachers with appreciation.
Another student shared, "I felt anxious prior, so this program has taught me to breathe. When I feel like I'm going to react, I refer to the breathing techniques I've learned."
These women have benefited greatly from the work that Rhythm of Change Belize (ROC) is doing, helping to heal the country with yoga, mindfulness and meditation.
ROC is a completely volunteer based non-profit that works avidly to heal their country through mind body connection methods. Their programs are sufficiently expansive to cover all corners of the country. Currently, ROC provides yoga and mindfulness classes to the inmate population, the Princess Royal Youth Hostel (juvenile detention center) and primary schools located in areas of Belize City affected by gang violence. The organization also offers trauma-informed, restorative and mindfulness workshops.
"One of our most ambitious goals is our economic component, in which we work with small business organizations to support program's graduates with their desire to own businesses, including but not limited to yoga studios," Michelle Williams, ROC founder stated,
"I'm not here to sell a dream, I'm here to provide tools," Williams shared. Williams founded ROC in Spring of 2016, This would be a surprising vision to her younger self, who went to a rehabilitation clinic the United States when she was struggling with depression and anxiety.
"Since my recovery, I have an intense drive to give those who can't afford it a chance to receive the same tools that helped me. ROC has been blessed with an amazing group of dedicated people who make up the board and who have also have also found healing through yoga and mindfulness, including my mom, the secretary of ROC," Williams stated.
Just as Belizeans are turning up for ROC classes and events, williams and her organization are clearly turning up for their country.
Since this trip, I have been turning up for others and myself in brand new ways. I think that anytime we leave our comfort zone, whether that's taking a new route home or flying to a new country – we find a piece of ourselves that may have otherwise gone unnoticed. It was an expansive, often intense few days in Belize – but the message was clear to me that yoga truly does heal. Patience is key, but if we let it, we can start to lay down our masks and become our most authentic selves.
May we all find our external purpose, and may all beings be happy and free.
For more information on donations, or to volunteer your time or services you can visit Rhythm of Change Belize website at yogahealsbelize.com
Browse Front Page
Share Your Idea
Comments