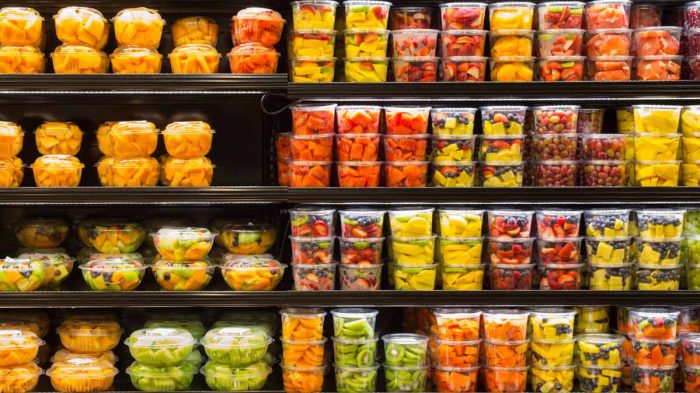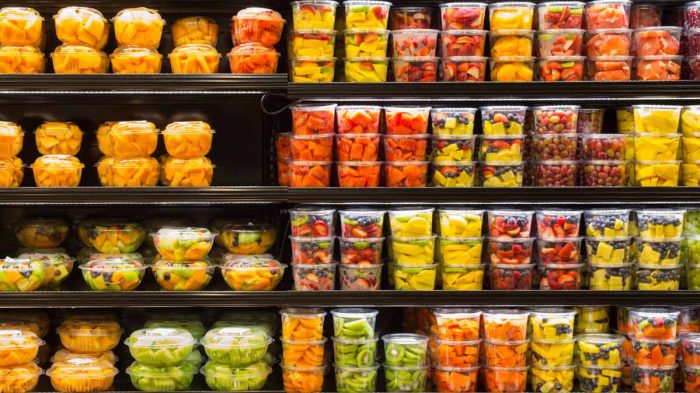 I'm happy to be the outreach coordinator for my community's zero waste campaign in Jackson Hole, Wyoming. We're working to minimize what we send to the landfill. I educate people about the 3 R's to reduce, reuse and recycle and explain to them about composting their yard and food waste to conserve resources and recover valuable materials.
I believe in what I do and what I'm asking my community to do. Even so, there are times, on my way home from a long day, when I find myself in danger of betraying it. I stand just inside the entrance of the grocery store and stare at the giant display of pre-sliced cantaloupe and watermelon. The glistening red and orange morsels sit there, inches from my basket, ready for my kids to put straight into their mouths. Buying them will save time and keep me from having to wipe up sticky juice and slimy seeds from the kitchen counter. But they're boxed in so much plastic. Easy to carry, hard to recycle, costly, excess plastic that's just waiting for a tired parent like myself to give in to the convenience and ignore the lasting impacts of my actions.
This display is selling everything that I encourage my community audience to walk away from. Many of them probably do. And usually I do too. But, sometimes, I don't. It won't smell or taste as good as what we cut open ourselves. What's stopping me from moving on to the whole, wholesome, plastic-free fruit just a few feet further into the produce section?
In order to answer this question, I decided to look more closely at what's driving my choices. Hoping to find some easy answers about how to take control of my behavior for good.
When do I waste the most?
When I'm in a hurry.
When I'm confused and don't want to look stupid.
When I'm in a bad mood and just don't have the patience.
Every busy weekday.
Saturdays when I want to treat myself to some laziness and convenience after a stressful week.
Sundays when I'm panicking about the upcoming busy week.
And always when I travel.
What do I waste the most?
Time. I'm an avid procrastinator and terrible at planning ahead.
Money. I fall for expensive shortcuts, like pre-sliced fruit, all the time. I'm sure that the convenience is going to be worth the expense. All it buys me is guilt over the wasted money and more guilt over what I'm sending to the landfill. "This is the last time," I say, every time.
Whole Food. When I become fed up with myself for purchasing conveniently prepared and packaged food, I react by trying to change all of my habits at once. I go and buy from-scratch ingredients on the organic aisles at the grocery store and the farmers markets. I bring them home in reusable bags, wash everything, and put it all away in the refrigerator with good intentions of feeding my family. Ten days later, I'm standing at the same refrigerator, throwing out the wrinkly, moldy food that got tired of waiting on me while I had a string of long days where I didn't feel like cooking. Farmers and sunlight and soil and water and those without enough to eat, I'm sorry.
Clothing for Band Concerts. When I hear that the sixth-grade performance is in three days, and my twelve-year-old has to have black pants and black shoes, I spend the first two days being angry with the teacher. Has she never experienced the frustration of shopping for clothes for awkward middle school bodies? For man-length legs and child-sized waists? Then I spend the last day purchasing brand new pants and shoes that will be worn exactly once because, by then, it's too late to track down a friend or neighbor or thrift shop rack with something to get us by. (It's possible that my frustration did not end after the first two days).
And Paper. I love to print things out and write on them with a pencil and I love all kinds of journals and I love to buy and keep books in stacks all over my house and not have to give them back to the library—see wasted money above.
When do I waste the least?
On the rare occasion that I've spent my time wisely and planned ahead.
When I'm feeling happy and empowered and able to contribute to something larger than myself. 
What do I waste the least?
Other people's time and other people's money. From a distance, I can see how valuable these things are and how managing them carefully is important and leads to better choices and less waste.
Anything when someone is watching. Accountability seems to work for me.
Paper towels. Replacing paper with cloth was an easy substitution in my household. It means more laundry to wash reusable kitchen towels on a weekly basis, but they work better than paper and aren't the burdensome kind of laundry that has to be ironed or folded just right.
Single-use water bottles and coffee mugs. Carrying a reusable bottle or mug is the cool thing to do in our town. Locals of all ages sport their favorites every chance they get. I usually steer clear of what's popular. In this case, the one-up-ness is working in favor of zero waste, so I've joined in.
Plastic shopping bags. This is one of those situations when I needed to accumulate more things in order to waste less. I started strong with a set of reusable cloth bags that I carried proudly through the store. But I kept forgetting my bags at home whenever I washed them. Once I decided to add a second set, so I could rotate them through the laundry, it's been easy to stay on track. I also have a few of the ones that stuff really tiny and fit in my purse for unplanned shopping stops.
Straws. I've stopped using straws this year with encouragement from StrawFreeJH, a new local advocacy group. No straw please! It just doesn't get any easier than that.
Recyclables. Because I work at the Recycling Center, I'm well informed about what's recyclable and what's not in today's markets and how important it is to clean and sort all of the items correctly. I have to admit to recycling audiences that it's a big job. When done correctly, it's well worth the effort, so I try to simplify things as much as possible. I share insider tips to make it easier. P.S. Yes, all the peanut butter has to be rinsed from the jar. Use a spatula to scrape it clean and then send it through the dishwasher.
In the summers, on Wednesdays, I don't stop at the grocery store on my way home. Instead, I help with the waste station at one of our local farmers markets. It's a partnership between the zero waste program and our local food system. I stand by the multi-bins in a neon yellow work vest wearing my black rubber gloves. I point out, Vanna White style, where people should dispose of recyclables, food scraps that will be fed to pigs, reusable plates and cups, and landfill bound trash.
Through this sorting process, I engage in conversations with old friends, new friends, locals, and tourists about anything and everything. Some are very curious about the zero waste program. Some are in a hurry and straight to the point. Some are older and have fond memories of feeding kitchen scraps to pigs and composting in a backyard garden. Others are world travelers and savvy social media followers who give me great tips from elsewhere about new zero waste sites and trends.
It's on these nights that I find the answers to my questions. It's here that I end my isolated, self-exploration of why and when I waste and join with others who are also questioning their actions, growing their awareness, and doing the best they can. I will not know within my lifetime whether or not my zero waste efforts make a difference in the health of our environment. My reward for moving past that ready made fruit in the grocery store may never be realized, but trusting that my best effort matters as part of the best effort of my community is real right now.
Browse Front Page
Share Your Idea
Comments