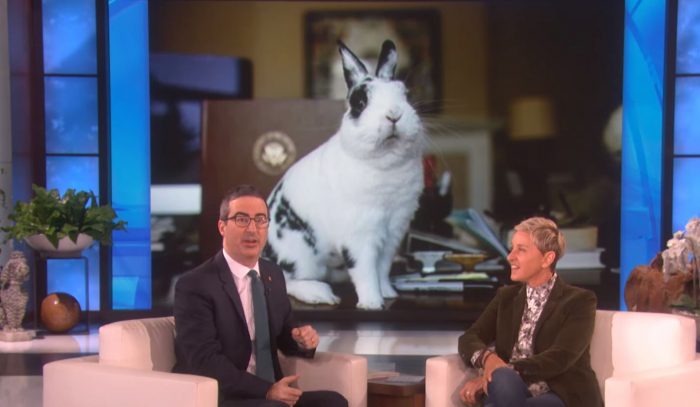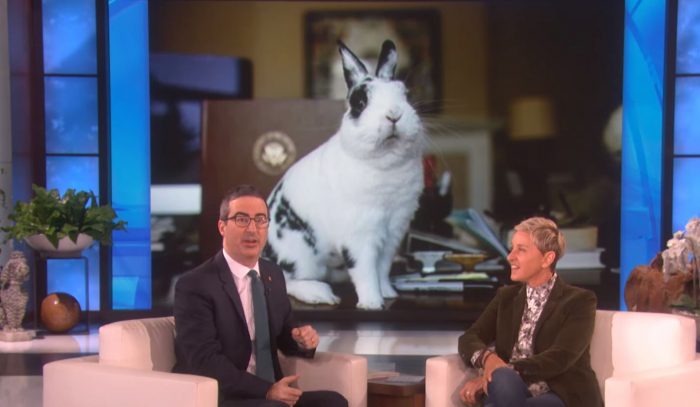 John Oliver holds a special place in my heart. He treads where most don't have the nerve or the imagination to walk, and he does it with aplomb.
Mr. Oliver's recent book release to coincide with the release of the children's book telling the story of BOTUS—the bunny of Mr. Vice President Mike Pence—is a saga that perhaps isn't promised a storybook happy ending.
The difference between the books? Happy you asked. The book released by the Last Week Tonight team features a boy bunny with an adorable bow tie. In the story, BOTUS falls in love with another boy bunny, and while they want to get married the stinkbug that is in charge of all the animals won't allow it.
The video trailer for the book hints at all the animals working together to somehow defeat the stinkbug and his obnoxiously bad attitude.
The dual book sales are being compared and the results are making me gleeful, almost hopeful, for—well, for change. For love. If we need anything right now, it's love.
In fact, the sales of the LGBTQ-friendly version of the book are so much higher than anticipated that they have sold out and are now selling advance copies of an unexpected second printing.
Read more here:
Children's Book About Mike Pence's Gay Bunny Jumps to No. 1
John Oliver Made Pence's Kids' Book Gay and Now It's Outselling the Original
Browse Front Page
Share Your Idea
Comments