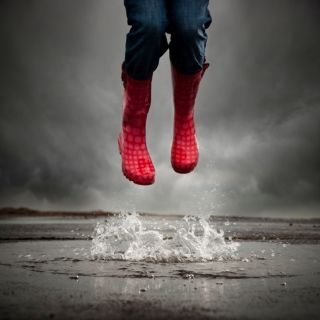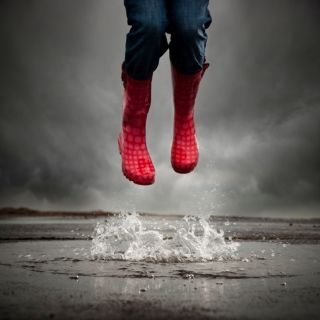 My mid-week small decision, would require "text support" from a trustworthy friend. 
Do I trek the four miles on my bike to teach Yoga in Takoma Park, or do I take an Uber? 
My weather app is predicting fifty percent chance of rain.
What is a crazy girl, wearing a sundress, knee high black boots, without a helmet, and rusty chains, supposed to do? 
I was on a short timeline.  
I made a "Hans Solo" decision, before my "Luke Sky Walker" had an opportunity to weigh in.
I texted my friend,
"I am biking. YOLO." 
Mind you, I am not a fan of acronym's, and only use them if I am sarcastically stabbing the literary shortcut through the heart. (YOLO= You Only Live Once.) 
Even still, desperate times call for desperate measures, and I was two feet into my "risky" biking adventure. 
With a proud, "I made my own decision" grin, I put my cheap headphones on, and spun the wheels to my angry Halsey-Kat Dahlia play mix. 
I arrived at my final destination with just a few raindrops, that made my skin dewy and hair wavy.  
After teaching back to back classes, I straddled my bike to return to the Nation's Capital.  
The sky was a formidable gray to the right, but the magical fire flies, backdropped a late, "night before solstice," June.
I remembered when I used to catch fire flies in jars, running barefoot through humid Texas summers. 
An innocence blew freedom through wild hair, before the world tried to tame her. 
In pure wonder, I'd watch the glow bugs light up on my bedside table, until my mom told me they would die, and I always set them free. 
Fast forward.
As the wind began to pick up, I knew Armageddon must be near.
I was mesmerized by the fire flies, hypnotizing me into childlike, Lone Star State, Wildflower picking wonderment. 
The first drop did not fall lightly, but was an immediate torrential, "This is happening now," downpour. 
Instead of regretting my "small biking decision," I turned my head towards the sky, big mouth opened wide, and in maniacal laughter signed an acceptance treaty with the rain gods. 
My semi flat tires, splashed ferociously through all the sidewalk puddles, and I welcomed the water slosh into my black leather boots, that I promised I'd retire months ago because it's 90 degrees outside.
Freedom baptized my bones, into a book character that I always wanted to be, because she welcomed spontaneity and transformed eyes into stars of shooting astonishment. 
I was "that girl" who looked insane from the outside, but her soul was an ageless, endearing, wrinkle-proof gem of beauty.
I am grateful to the seven year old, puddle jumping warrior, who still lives in my bones, and breathes tender love into my marrow. 
No matter how "realistic" life gets. No matter how much stress, responsibility, heartbreak, and anxiety,
Never lose your birthright to bask in mystery and wonder.
Remember the little one in you, who imagined worlds through trees, comic books, big dippers, my little ponies, play-dough, midnight-blue colored crayons. 
She is waiting for you to come play with her.  He is begging you to see him and be kind. 
Our world is in desperate need. 
It is our time as the "adults" to fight for freedom, with knives piercing through calloused fear, that has built up around our collective heart. 
Let's get on our bikes to ride or die, 
No matter how rusty the chains, and how looming the storms may be. Fear is not a reason to implode. Fear is a liberation banshee call to rise. 
"Life isn't about waiting for the storm to pass. It's about learning to dance in the rain." 
Browse Front Page
Share Your Idea
Comments