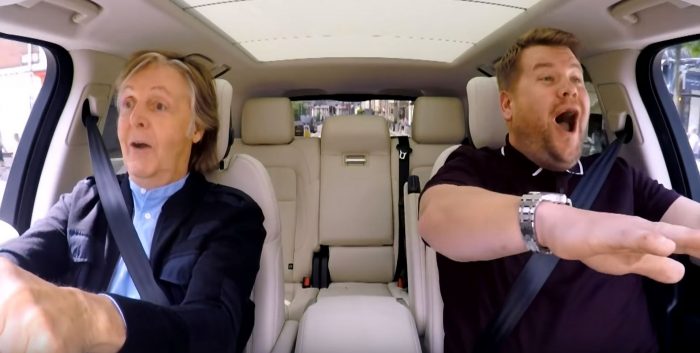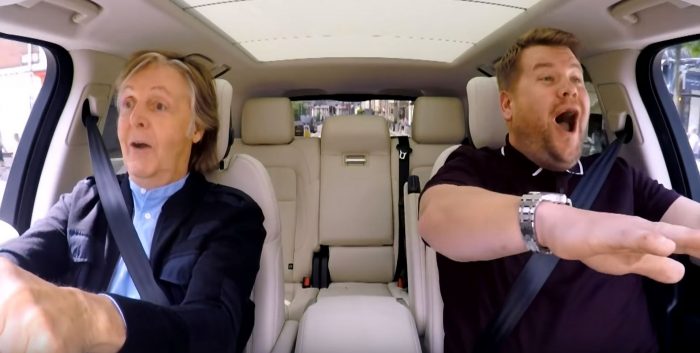 Bonus: Paul looked hot in a beard. Seriously:
~
Bonus two: have you ever listened to and loved Hey Jude? It's beautiful and ecstatic and powerful
and…it was recorded live, the famous version, and it's right here, and it's worth actually watching the whole thing with focus. It's so amazing when they all pop up and crowd Paul. Watch it. You'll have a moment:
~
Like nearly every other human I know, I love James Corden's Carpool Karaoke.
What's not to love? People making ever-so-slight fools of themselves on camera, stuck in a car? They're also the perfect reminder for us that we can be silly, let loose, and stop taking ourselves quite so seriously.
In today's world, I'll take that reminder any day of the week.
But when I saw that his latest guest was Paul McCartney? Oh, move aside Hulu. YouTube lured me away and into the magical world of McCartney's London.
Liverpool was suddenly the center of my world for the few precious moments I got to tag along for the ride.
I laughed.
I cried.
I was less than five minutes into this video before I knew I wanted to share it.
Feeling like a voyeur in the best way, I was drawn in like a moth to a flame.
At one point the conversation turned to the relevancy of McCartney's music and that Corden believes they are, perhaps, more relevant today than they have ever been. And I thought about that. It's oddly true. The messages and the music, they feel like a sucker punch because they still, after all these years, feel like they have the pulse of our current events and society running through them. How is that possible? I don't know, but it is.
They still speak to us.
They're timeliness.
And they continue to have a hand in shaping our lives.
The man left me in awe. He was so fresh, so frank. So exactly what I hope for when I hear his music.
He shared the story of his mother coming to him in his dreams after she had passed away and telling him that everything would be okay…" just let it be." He'd never heard the phrase "let it be" before so he wrote it into the song. I think we all know how that ended, so I won't write the spoiler.
James Corden teared up.
I teared up.
A handful of very overcome women at the performance at the end of the segment teared up.
They started to sing and I started to cry. Not sobbing, alligator tears, but small, silent tears that were stirred by the words, the music, the story. The moment.
And that's the thing: the moment.
The music Paul McCartney brought to us feels to me like I'm a part of history in being granted the opportunity to not only listen to it but to hear him speak about it.
As he was leaving the segment at the end of the video McCartney stops and waves to the crowd of people who were waiting for a glimpse of him before he got into his car. The last thing he did as he slipped into the back seat was flash the crowd a peace sign.
Cliche? Perhaps. But you know what? It was the perfect ending.
What if we had a little more music that spoke to the hearts and souls of us all, and a little more goodwill.
What if we saw love whenever we're given an opportunity to choose and what if we practiced flashing a little more peace ourselves in our lives?
What if we were to also trust that our actions, our voices, will last and reverberate far into the future?
Watch the video. Laugh. Cry. Smile. Cry a little more.
I promise it's worth your time.
May it empower us all to use our voices to make our love and our messages heard.
"And when the brokenhearted people
Living in the world agree
There will be an answer
Let it be
For though they may be parted
There is still a chance that they will see
There will be an answer" 
  ~ Paul McCartney, The Beatles 
Image: Youtube Still
Relephant Watch: The Simple Buddhist Trick to being Happy.
Browse Front Page
Share Your Idea
Comments