"I, Rick Perry, Governor of Texas, under the authority vested in me by the Constitution and Statutes of the State of Texas, do hereby proclaim the three-day period from Friday, April 22, 2011, to Sunday, April 24, 2011, as Days of Prayer for Rain in the State of Texas."
Sponsored by an anti-Islam, anti-Gay Rights group: The Response, though controversial in its thorough blurring of church/state lines, saw at least 40,000 seats in the stadium unfilled.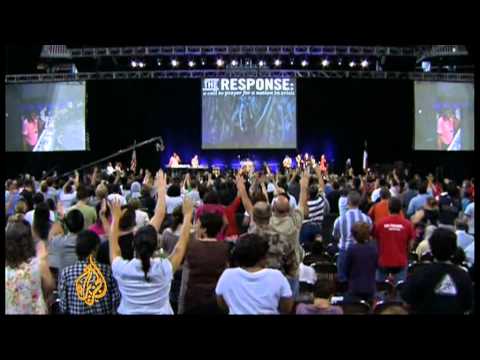 A rally in the US state of Texas has been criticised for crossing the line between religion and government.

It was sponsored by Republican governor Rick Perry, who is expected to enter the presidential race next month.

He prides himself on his faith, and he is urging followers to call on God to save the country.

Al Jazeera's Rob Reynolds reports from Houston.

Bonus videos:
Loved it? Leave a tip!
4 Responses to "Gov. Rick Perry's "Protestant Christians only" Response Rally."