get elephant's newsletter
This video has 1,000 views. Prediction: by end of week, 100,000.
Enjoy the mystery. Which dog did it?
Tank (English Mastiff)
Jed (Judge) American Staffordshire, blue/white spots
Xena mut dog, all black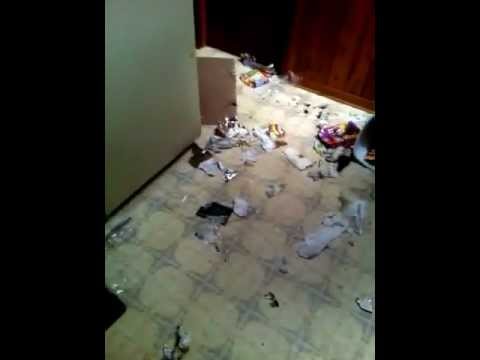 Love this dog owner. "It's my fault, I left the trash open." Same with my dog…he loves to get into the trash and make a huge mess, even if he's eaten and exercised and has farmers' market bones…trash everywhere. I used to get mad. Now, I just clean it up and get mad at myself for having left the lid unlocked. Reminds me of this lesson in dog training.
trending on elephant
The New Dating Rules & Why I Refuse to Play by Them.
Young Yoga Teachers: We are Missing Something Important.
A Letter to my Partner about my Depression.
From Divorce to New Relationship: 4 Lessons I Learned about Love.
How to Stay Single Forever.
Mindful Sex & Meditation.
A Male Perspective on what Breakups Teach Us.
How to Offend Authentic People.
How Group Sex can be a Tool for Personal & Spiritual Growth. {Adult}