"The HemLoft – a secret treehouse, hiding in the woods of Whistler."
You will take me there or I will take you there and we will do our laundry and shower naked in the cold stream and dry in the sunlight and clink our beers (cold from same stream) and light up the candles and then we will…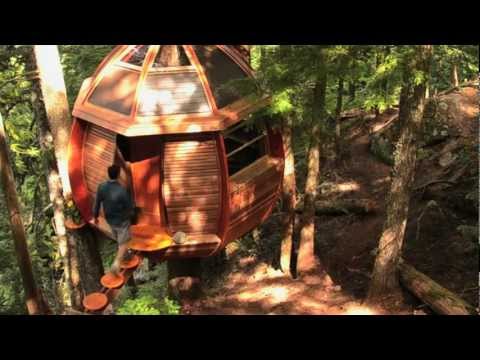 If you liked this real fantasy, you'll like this, too.
~
Info:
"The HemLoft is a self-funded secret creation that I built over the last few summers. Since I built it on crown land, it is now in danger of being taken down. Please visit http://thehemloft.com for more info. Thank you for your support!"
Via What:
…the HemLoft — "a secret treehouse hiding in the woods of Whistler" — in 2009, and it served as a private retreat for him and his girlfriend for several summers. But ever since Allen went public with his creation in Dwell Magazine, the HemLoft's future is uncertain — turns out, it was built on Crown land…
Loved it? Leave a tip!
3 Responses to "This is Where We will Fall in Love."