get elephant's newsletter
Will someone please tell me how Nazi-charged taunting directed at the opponent's fans demonstrates loyalty of the team you support?
The "Tottenham Hotspurs" are a soccer team in the English Premier League in the UK, known historically for having a large Jewish fan base; they even proudly refer to themselves as "The Yids."
On November 21st, the Spurs travelled to Rome for a tournament against Lazio, an italian team. That night, in a popular pub, seven Spurs fans were attacked by a large group of youths (believed to be Lazio ultra-fans) wearing helmets and armed with knives, clubs and knuckle dusters.
According to eye-witness accounts, the assailants shouted "Jews" during the assault.
Some reports said the attack was carried out by as many as 50 youths; Rome Mayor Gianni Alemanno condemned the attack and called on police to find the culprits.
Four days later, back in the UK, fans of the West Hams (the opposing team, also in the English Premier League), hissed anti-semitic chants…literally:
"West Ham fans were heard hissing to mock the gas chambers used during the Holocaust. They were heard chanting, 'Can we stab you every week?' and singing ''Viva Lazio.'" ~ stuff.co.nz
They were also heard chanting, "Adolf Hitler is coming for you." And unbelievably, they were seen doing Nazi salutes aimed at Spurs fans: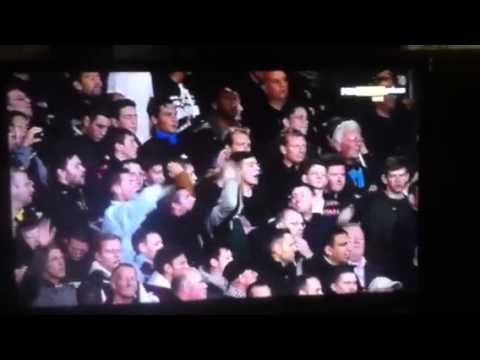 Now, I understand heckling; that's practically a sport in itself. And I get that European soccer fans are as rabidly fanatical and loyal to their teams as many Americans are to our baseball and football teams.
But can someone please tell me how wishing murderous violent deaths on an entire ethnic group (babies and young children included) is considered "support?"
Below: Oct. 16, 1941 A Jewish mother and her two children herded for mass execution, in Lubny, Ukraine
Source: jewishvirtuallibrary.org via Kathie on Pinterest
I've always been haunted by a story I saw on the television show "Who do you think you are?" featuring Lisa Kudrow. She traced her great-grandmother back to the jewish town of Ilya, Belrus, where she and most of her family, perished during the Holocaust.
There was an elderly woman who remembered Lisa's family and recounted some of the horror stories from that time; the elderly woman wept as she recalled hiding a five-year old girl under her bed from a Nazi soldier who was looking for her.
When the Nazi soldier found the little girl, he threw her, alive and crying, into the fire.
Below: Naked Jewish women, some of whom are holding infants, wait in a line before their execution by Ukrainian auxiliary police.
To those individuals that who attacked the fans in Rome or hissed and nazi saluted:
Congratulations! Your beloved team must be very proud of you for mocking the systematic extermination of millions of innocent people, who endured unimaginable terror, in their honor.
They must be swelling with pride that they have such dedicated fans who, sportingly evoke the horrific fate of men, women and children who were starved, butchered or worse, just for being Jewish.
They must be really patting themselves on the back for inspiring such obvious loyalty by the likes of you. Hats off.
*At the time of this publishing:
1. Police in Rome detained several Italians suspected of taking part in the raid and searched the homes of around six of them. MPs urged the Italian government to report to parliament on the assault. ~ lifeinitaly.com
2. A West Ham statement said: "One of those fans has since been identified as a  season ticket holder and has, this afternoon, been sent a letter containing a  banning order from the club. Any other individuals identified can expect a  similar swift and robust response." ~ talksport.co.uk
Jennifer Townsend is Co-Chief of Clan Townsend, noted for its wee heathens and furry beasties. She is fond of saying "verra." She is verra determined to visit Scotland (particularly Eilean Donan Castle) before too long. Finn Brothers' music is good for her soul and she can be found most days editing articles for elephantjournal.com or blogging about her obsession with Jamie Fraser on her website www.OutlanderFan.com or its corresponding facebook page here.

~

Ed: Bryonie Wise    *emailed author re: credit for feature photo
trending on elephant
The New Dating Rules & Why I Refuse to Play by Them.
Young Yoga Teachers: We are Missing Something Important.
A Letter to my Partner about my Depression.
From Divorce to New Relationship: 4 Lessons I Learned about Love.
How to Stay Single Forever.
Mindful Sex & Meditation.
A Male Perspective on what Breakups Teach Us.
How to Offend Authentic People.
How Group Sex can be a Tool for Personal & Spiritual Growth. {Adult}