They're free. We've all got them. And we all so very much want and need them from time to time.
They make us feel safe, and sometimes help to 'reconnect' our body with our mind.
They bring us closer in this one small space of interconnectedness—and, make our hearts smile, big.
They have the power to completely transform our sense of being, within just one single moment.
And no words, or often very few, are ever exchanged in order to confirm that one simple point—that in this space, you are loved.
And, look! Look at how much joy they bring!
So why not take one moment today, to reach out and really touch someone?
In doing so, you might just find that two arms, outstretched, is the shortest distance between two souls.
So, go ahead—go hug someone today.
Bonus: Super amazing hug video!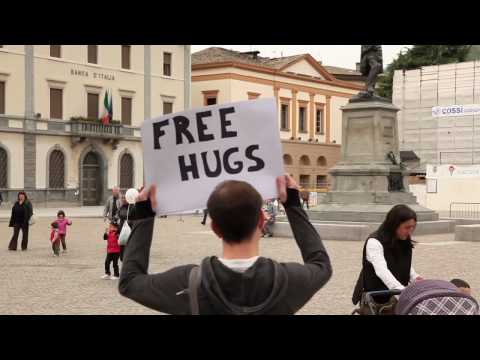 Ed: Bryonie Wise
---
Incorrect source, offensive, or found a typo? Or do you want to write for Elephant?
Tara Lemieux
is a mindful wanderer, and faithful stargazer. Although she often appears to be listening with great care, rest assured she is most certainly forever lost in thought. She is an ardent explorer and lover of finding things previously undiscovered or at the very least mostly not-uncovered. When she's not writing, you can find her walking in the woods and sometimes changing the way we look at things, one simple moment at a time. If after all of this, you still wish to seek Tara out, you can contact her at
www.taralemieux.com
, OR read her
SUPER-AMAZING DAILY blog
or, take one second to "LIKE" her on Facebook at
Tara's Facebook Page
. Or email her directly at
tara@taralemieux.com
. All roads will lead to one home, and rest assured she (and Nudnick, the wonder dog) would LOVE to hear from you.