Source: Uploaded by user via Tara on Pinterest
"Sometimes," said Pooh, "the smallest things take up the most room in your heart." ~ A.A. Milne
Meet Mr. Bacon…Mr. Chris P. Bacon, that is.
Born without the use of his hind legs, this little piggy (pardon the pun) was destined for a life of misery. His owner, overwhelmed by the newborn piglet's condition, felt the best and only thing to do was to have the little guy put down. In her heart, she felt there would be just no way for survival.
But survive, he did. And luckily, he charmed the heart of the vet who was asked to put him to sleep.
And, just who wouldn't love a charming little guy like this?
Thankfully, Mr. Bacon found much love, patience, and a bit of good, old fashioned ingenuity in the hands of Dr. Len Lucero, who—upon first meeting Mr. Bacon—just knew there was much potential inside that sleepy little head.
So, instead, Dr. Len asked the owner if he might please take over "guardianship" and, in exchange, he gave his promise to do his very best to keep this little piggy alive and safe.
And, the rest… is history. Well, almost—as there is that small matter over a box of K'NEX.
It's amazing what miracles might happen in the wee hours of the very early morning, and with just a little bit of determination and patience.
Dr. Len's ingenuity gave a little piglet his life back—and, in exchange, Mr. Bacon taught all of us a lesson in the true power of resilience.
Now, the little piglet who was once destined to death has found a new life, and new-found mobility, in the helping hands and heart of his new owner.
And they lived happily ever after.
Three cheers to Dr. Len!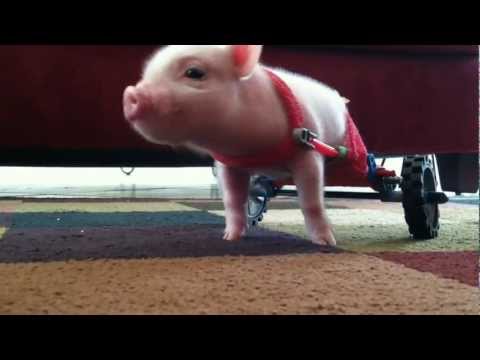 Mr. Bacon.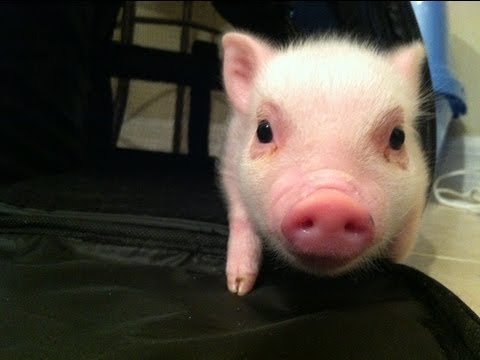 Mr. Bacon, at play.
Ed: Lynn Hasselberger
---
Incorrect source, offensive, or found a typo? Or do you want to write for Elephant?
Tara Lemieux
is a mindful wanderer, and faithful stargazer. Although she often appears to be listening with great care, rest assured she is most certainly forever lost in thought. She is an ardent explorer and lover of finding things previously undiscovered or at the very least mostly not-uncovered. When she's not writing, you can find her walking in the woods and sometimes changing the way we look at things, one simple moment at a time. If after all of this, you still wish to seek Tara out, you can contact her at
www.taralemieux.com
, OR read her
SUPER-AMAZING DAILY blog
or, take one second to "LIKE" her on Facebook at
Tara's Facebook Page
. Or email her directly at
tara@taralemieux.com
. All roads will lead to one home, and rest assured she (and Nudnick, the wonder dog) would LOVE to hear from you.