Playboy Yoga.
Photo here–they're really quite good. 
"Ms. Hemingway and other featured women in the issue are unretouched. Playboy photographs have long been triumphs of technology, giving models a sheen of perfection that is unobtainable without lots of carefully placed lights and aggressive airbrushing. That is over…"
~

A few years back, Playboy did…Yoga. Coverage:
Yoga Gone Wild.
Now we've seen it all: Playboy Yoga videos with Sara Jean Underwood.
It was only a matter of time…the ultimate challenge to those "Yobo" fans who say that Yoga for Weight Loss, Disco Yoga, Bikram, Adidas Yoga with (my friend) Rainbeau Mars and Yoga without all that annoying Granola, Chanting or Sanskrit may not be "traditional yoga" (a moving target in and of itself)…but nevertheless may help open the door to those who might not ordinarily be interested in pure yoga, true yoga, quality yoga.
Well, Sara Jean Underwood, a young lady who won the 2007 Playmate of the Year award, has inaugurated a new series of yoga videos that are all over the Playboy.com site. Yup, there's a new url in town:
http://www.playboy.com/yoga
Just the url itself is enough to provoke convulsions, grimaces, grins, vomiting and/or ogling. Beauty—or otherwise—is in the eye of the beholder.
This is provocative stuff—it raises some tough questions about the Future of Yoga (some of which are addressed by elephant, yogadork, itsallyogababy, joellhahn and, in comments, by our readers in the links above).
In any case, as the Buddhists say, it's our obstacles or enemies that are our best friends, provoking self-examination, questioning and growing pains.
Now we've seen everything.*
*Actually, no we haven't. If you like what you see, you can become a member and watch all her instructional videos in the nude (I mean her, not you, you can naked yoga it up—in the privacy of your own home, please—any old time you like).

(SFW) Videos: [the originals have been deleted so this is best I could find]
"Playboy's 2007 Playmate of the Year Sara Jean Underwood is a dedicated yoga enthusiast. She demonstrates some of the yoga poses that keep her body in such good shape. For more poses visit www.playboy.com/yoga"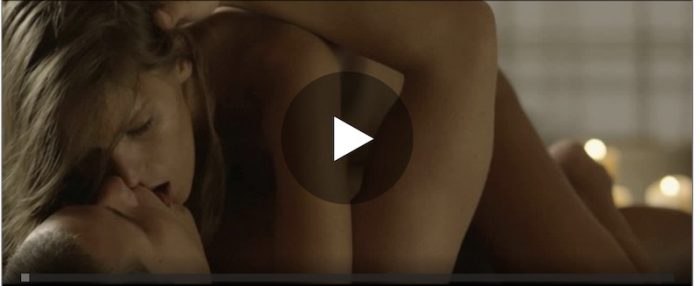 This is straight-up porn. But is it porn?
This is porn. There's nudity, penetration, oohs and ahs, and…a happy finish. But is it porn? There's something loving and ordinary about it, too.
Bonus, nothing to do with yoga, but that eternal question of what is the difference between sex and porn? Or making love and porn? Or sex and art? Or…
To me, this isn't quite porn. This is making love, moreso. It's ordinary, it's intimate, and it even includes that savasana of making love at the end:
[Adult]
~
Relephant Mindful Bonus: