get elephant's newsletter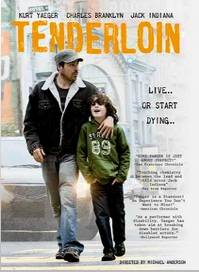 I want to make more people aware of this film. It's deals with relevant issues that aren't talked about a lot in the mainstream.  When you throw a kid in the midst of a divorce, an Iraqi war vet attempting to integrate back into society and a melange of characters trying to "make it" through life in one of the sketchiest neighborhoods in San Francisco, you get "Tenderloin".
You'll get a dash of trannie, drugs, strip clubs, community, fun and heart. If you like heartfelt, alive and edgy I would suggest putting this film in your netflix queue. Everyone who was at the premiere had great things to say about it.  Also, Netflix won't order copies to circulate it until they have enough demand. So let's demand it!
And just so you aren't surprised ( and understand where I am coming from), I play the lead character's ex-wife in this film. I can attest to the 'awesomeness' of the cast and crew who made this project happen.  Michael Anderson (Dir) , Ned Miller (Writer) and Sam Rider (Producer) are all extremely lovely people and are the artists that we should be supporting in this day and age.
Here is the trailer:
And here is the movie's website http://www.TenderloinMovie.com
Enjoy!
Aurora