get elephant's newsletter
I know we are all nuts but you thought Fiona was just about granola!  Her newest creation goes way beyond cereals and energy bars. If you're ready to get really nutty, look no further.  These inspirational little treats are the perfect new addition to your taste buds.  Healthy, affordable, and locally made, these tasty nuggets will soon become your new favorite snack.
Fiona believes in being as earth-friendly as possible, from production through packaging.  At her bakery, all the ingredient bags and boxes are either composted or recycled.  The 12 oz. retail boxes and the outer cases are made from 100% recycled fibers.  The minimum post-consumer content is 35%, and all the boxes are 100% recyclable.  The retail boxes are printed with soy-based ink in a Colorado factory that is 100% wind powered.
You can find her nuts at, Lucky's Market, Niwot Market, Berry Best Smoothies, and Simply Bulk in Longmont.
Her nuts are Gluten-Free and Vegan.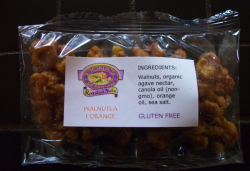 Cinnamon Almonds:
Cinnamon and almond are two great flavors that work well together. Bathed in an aromatic cinnamon and pure agave, your taste buds will be jumping for joy. Sweet and sassy, with a chewy crunch, these nuts will make it into your pocket everywhere you go.
Walnuts A L'Orange:
These shiny golden nuggets are a crunchy, citrus-infused treat that will expand your culinary horizons.  Bursting with pure orange essence, these exotic little tidbits are a heavenly delight for your senses and will please even the most discriminating palate.
Chipotle Pecans:
These zesty little gems are the perfect answer to your need for a little spice in your life.  Even those with not-too-adventurous taste buds will fall in love with this unique blend.  A dash of salt and a dash of spice…ooh, so nice. She uses chipotle chili from the heart of Nuevo México – even Pancho Villa would be proud.  Olé!
Rosemary Hazelnuts:
Warning: these crunchy little morsels might be addictive.  Aromatic and herby, unique and satisfying, our hazelnuts will satiate your munchies.  Sprinkled with fresh rosemary and pure sea salt, we can't imagine a better snack!
Ways to enjoy:
Cinnamon Almonds and Walnuts a L'Orange:
As a topping for plain Greek yogurt, fruit salads, ice cream, and gelato
As a mid-morning snack
In lunches in lieu of other sweet snacks
As a topping for oatmeal and other hot cereals
As a portable, healthy (sweet) snack for the movies
As a topping for spinach salads and stir-fry
Chipotle Pecans and Rosemary Hazelnuts:
As a topping for salads, pasta dishes, and stir-fry
Paired with goat cheese or an assortment of cheeses, as an elegant appetizer
As a mid-afternoon snack
In lunches in lieu of other savory snacks
As a crunchy addition to stuffings and casseroles
By themselves with a glass of wine (we even approve of beer)
As a portable, healthy (savory) snack for the movies
As a midnight snack

Alex Hanifin is a Boulder local. She climbs rocks to get off the ground. She bakes to enjoy herself. And her work comes along with it all.