get elephant's newsletter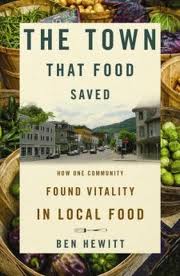 A Review of The Town that Food Saved.
As Americans become more interested in where their food comes from, there is a need for more producers. Ben Hewitt, author of The Town that Food Saved, published by Rodale, writes about Hardwick, Vermont—a town that has gained publicity recently for undergoing an agricultural transformation.
The book explores the history of Hardwick as a rough town that never rebounded from the loss of stone quarry and lumber industries. Hardwick has recently been home to a smattering of what Hewitt calls, "Agripreneurs" (business minded, college educated, sustainable farmers).
Hardwick is fertile ground for a seed saving operation, and the dairy that has recently been started. However, it is also an interesting place to explore the tension between the back-to-the-landers of the 60s and this new generation of producers. Hewitt captures the hostility between the low profile community centered farmers and the agripreneurs that export premium cheeses across the country. This common rivalry never registers for most consumers.
Hewitt focuses on the idea that the Hardwick model needs to be exported to other communities if we are to free ourselves from the industrial agricultural system. He doesn't waste time addressing the abuses of the industrial system; there are other books to read, if you need to be convinced of that. He does put the focus on producing food rather than simply changing our habits as consumers, which hardly gets any play in the 'green revolution'.
Hewitt, like many writers, does not focus long enough on food equity. He explains that the cost is not artificially low and mentions the fact that Hardwick has not created a 'local' food revolution since most of the people living there cannot afford to eat the food produced there, but he doesn't offer any real solutions to this problem.
The book may inspire people to head back to the land as Helen and Scott Nearing's book did years before, or maybe we will start with more home gardens and flowerpot tomato plants.
John Cahill is a writer and educator in Chicago. After spending a year living in the Berkshire Mountains, learning about local food systems and volunteering on farms and ranches, he returned to the windy city and continues to promote availability of local, fresh food to the community through volunteer work. You can check out his letters here.