get elephant's newsletter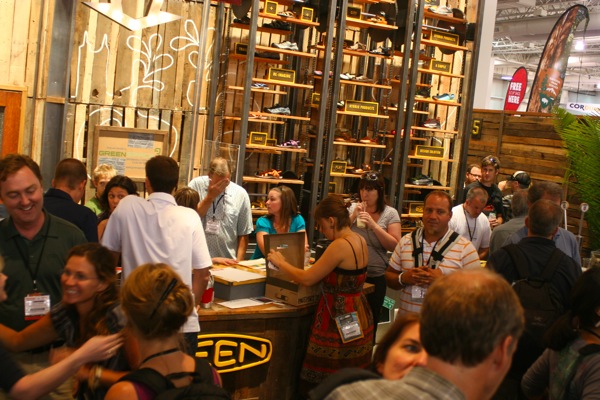 It only comes twice a year, and yet those of us that work in the industry are known to say "oh, is it already OR again?"
OR, officially known as Outdoor Retailer, is the outdoor industry's biggest trade show. Think of all the outdoor brands that you know of, then imagine them all in one big convention center showcasing their latest lines, add to the mix a bunch of representatives from environmental non-profits, buyers from retailers big and small and a whole bunch of professional athletes, artists and filmmakers that find inspiration in the outdoors and you start to get a feel of what this whole thing is all about.
Check out #orshow on Twitter in the month leading up to the show and you'll quickly see that some of us are OR obsessed. Why? Because it's the chance to connect with the brands that keep this industry alive and see some of the people that are all committed to playing in and protecting the places that they love.
Sure, OR is the chance to showcase new products. I'm sure there will be a flurry of waterproof-this, seamless-that, but after the hustle and bustle of this week dies down there's always one main thing that I take away: it's the environment that counts. As brands in the outdoor industry get bigger, they have more influence, both on large and small scales. They influence political leaders to take action to protect wild spaces at the same that they inspire individuals to get outdoors and reconnect with nature. In a consumer driven society, these are all good things. Business has to take a stand, and many outdoor companies are proving that they are committed to doing just that, even if it's one small step at a time.
So what are some things that we're looking forward to at this year's Winter OR? Here's a little preview:
Conservation Alliance Breakfast
Conservation Alliance welcomes writer Craig Childs, with his presentation The Secret Knowledge of Water. Childs has been steeped in water issues, recently returning from Patagonia where he took part in the Rios Libres initiative, documenting the adventure and beauty of the Rio Baker, scheduled to be dammed in 2013. "To understand a place, you need to drink from its many waters," wrote Childs during last year's expedition to Patagonia. More info here.
Understanding Influencers
"With marketing and sponsorship budgets constricting, print publications consolidating, and more and more consumers turning to new media as a buying resource, understanding and embracing influencers is more critical than ever." Our good friend and outdoor new media goddess, Sara Lingafelter, will be tackling this topic, taking a look at how individuals are changing how companies market and sell their products. Super interesting if you ask me. More info here.
1% For the Planet
If you don't know about 1% For the Planet you've been living in a cave. Started by Patagonia founder Yvon Chouinard, the initiative's motto is "Keep Earth in Business." They do that by getting businesses to commit to donating 1% of sales to environmental groups around the world. They'll be hosting a happy hour at OR to celebrate their efforts. After watching [one percent] of the story this weekend at the Wild and Scenic Film Festival, I couldn't be more excited about throwing back a beer for the environment.
That's not all...
There are TONS of things going on at OR. If you happen to want to check out some of the fun events + happy hours you can check out a full list here. And if you want live show updates, follow us over on Twitter: @undersolen